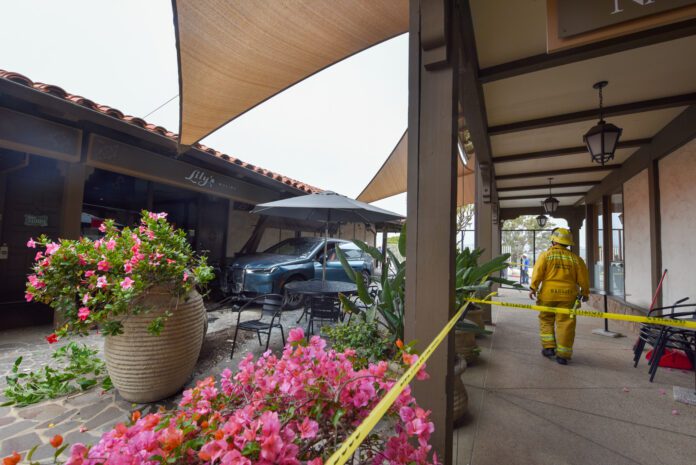 On Tuesday, July. 11, Malibu/Lost Sheriff's Station and the LA County Fire responded to an incident that involved a vehicle that crashed into the Point Dume Village shopping center near Lily's Malibu.
Los Angeles Fire Station 71 Captain Mike Rivera said the driver was sent to a nearby hospital for precautionary measures. "She was a little shook up about what happened," he said.
"Around 9:45 a.m. a vehicle that was attempting to park, it was unknown exactly what happened, but instead of backing out, it went forward, and took out three pillard's that support the roof, luckily no one was injured, we had two tables nearby but luckily no one was sitting there," Rivera said. "Right now we're just waiting for engineering to come out to deem the building safe and make sure it's safe."
Rivera said the shops nearby will be closed for at least three or five hours.
"We're here making sure it doesn't collapse," he said.
63-year-old "Pulp Fiction" actress Rosanna Arquette was involved in the incident, according to Foxnews. Arquette was transported to a nearby hospital.
A notice was placed at Lily's Restaurant where the incident occurred.
"Temporary closed by city due to safety concerns from accident on 7/11/23 when a car drove through patio area, updated soon, thank you, Lily's," the sign reads.
Article was updated to correct the fire personnel and to add additional information.