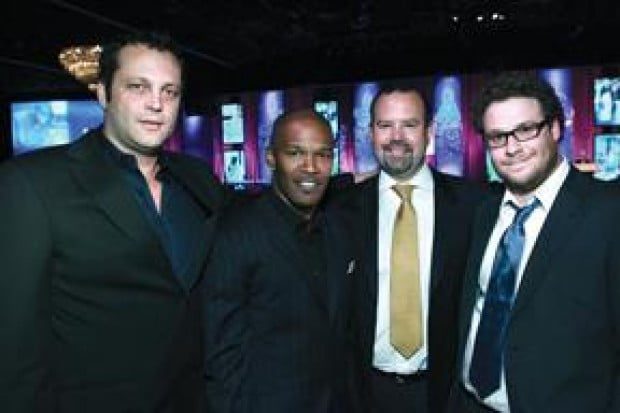 SHINING STARS
Vince Vaughn may play Santa's naughty brother in the holiday movie "Fred Claus," but the actor couldn't have been nicer at the Fulfillment Fund's 2007 STARS gala. Nearly 1,000 well-heeled revelers turned out at the Beverly Hilton Hotel to fete this year's honorees, including Universal Pictures Chairman Marc Schmuger.
The evening featured a live auction with exotic beach getaways to Cabo San Lucas and the Aloha state, a coveted Les Paul guitar, a snazzy Cartier tank watch and a cute VW Beetle.
Proceeds will help economically disadvantaged kids get a leg up through special mentoring and education programs. Many Fulfillment kids not only graduate from high school, but go on to become college grads.
Claudia Bonilla delivered a moving speech about how the Fulfillment Fund and a beloved mentor changed her life. Before FF came along, Claudia lived with her seven family members in a one-bedroom apartment in a gang-dominated L.A. neighborhood. Thanks to FF, she became the first in her family to graduate from college and is now a proud Senior Associate in Entertainment and Media for PricewaterhouseCoopers.
Vaughn was up next, taking the stage to introduce Schmuger. There were words of praise for the entertainment titan's who has been a longtime friend to the organization.
"Marc Schmuger is an extraordinary role model and dedicated supporter," said Fulfillment Fund CEO Andrea Cockrum. "The internship program at Universal Studios has provided incredible opportunities for so many of our students and we are forever grateful to Marc and his team."
Screen legend Sidney Poitier presented the Visionary Award to the Fulfillment Fund's Co-Founders Cherna and Gary Gitnick as gala goers tucked into a first-class feast. The inspirational evening wrapped up on a high note with a performance by jamming hipster Jamie Foxx.
LADY IN RED
Love the '80s? Then don't miss a retrospective of one of the era's biggest fashionistas. A yearlong exhibit saluting the style of former first lady Nancy Reagan is underway at the Reagan Presidential Library in Simi Valley.
You'll see Ms. Reagan's fave frocks from her clan of divine designers like Bill Blass, Carolina Herrera and Valentino to name a few. The exhibit features that scene stealing lipstick red scalloped gown that Ms. Reagan wore to the annual President's Dinner and it looks as good 20 years later as it did the day it was worn.
There's also the pink chiffon ensemble the first lady selected for the 1981 wedding of Prince Charles and Lady Diana, designed by James Galanos, as well as the black and red sparkler she sported for a state dinner for Margaret Thatcher. The exposition contains more than 80 pieces, including her 1952 wedding gown.
While much in the world has changed since the days of shoulder pads and pouf skirts, the classics from Ms. Reagan's size two wardrobe remain timeless.