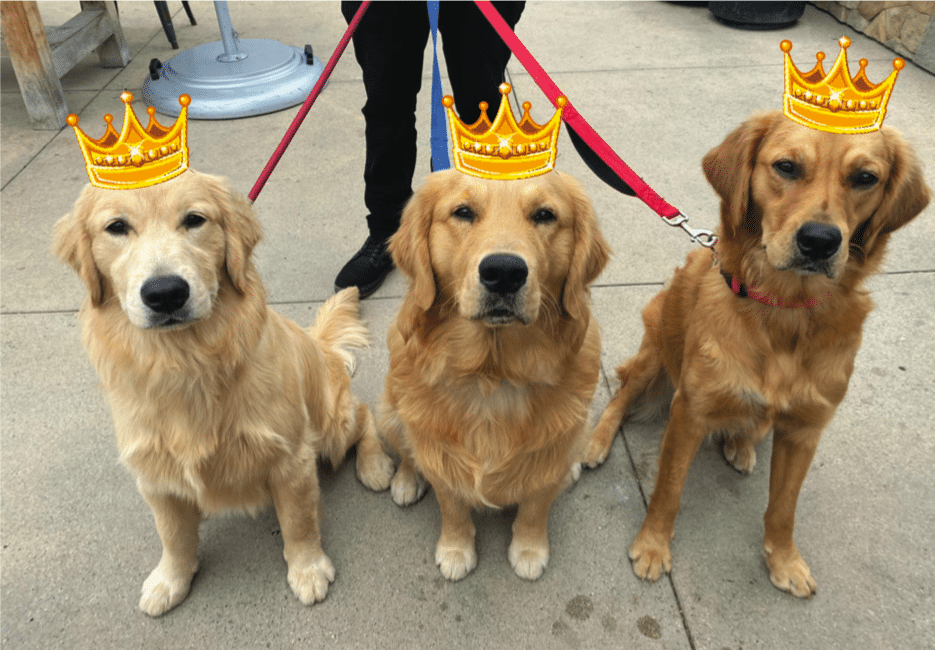 For the first time ever, three dogs will share the spot as Malibu's top dog. Siblings Tessa, Enzo and Dulce earned a triple crown in this year's contest, edging out ahead of the pack despite fierce competition from some of Malibu's cutest canines.
And it's not just their striking good looks that earned them the honor. 
It all started when Reni Baitenmann, a Malibu resident of six years, began looking for a way to adopt a new best friend.
Baitenmann, originally from Mexico City, had dogs when she was living in Mexico and brought her senior dog, Lola, with her when she moved to Malibu. But as Lola aged, Baitenmann realized it was time to bring some new pups into the pack.
That's when she discovered Goldens Without Borders, a golden retriever rescue organization that delivers dogs from slaughterhouses in China to become family pets in the U.S.
That's how Tessa and Enzo, biological siblings, came to Malibu's shores—back in early January, just days before the U.S. border with China closed due to the novel coronavirus pandemic.
"When they arrived, they were scared," Baitenmann described. "They were thin with a ton of skin conditions. It's amazing to see how far they've come and how well adapted they are to the Malibu lifestyle and how spoiled they are. They are the most thankful and just incredible dogs."
As for Dulce? She was a latecomer to the pack, joining the family in June. And while Tessa and Enzo are all set for a life of leisure, Dulce has a job to do.
"She was being trained to be a service dog," Baitenmann said. "My mom, who lives mostly in Mexico but comes to visit me in Malibu, has MS and rheumatoid arthritis … Dogs are smart and perceptive and intuitive, but Dulce goes above and beyond and she's incredibly eager to learn and just such a good student."
So Dulce practices every day to prepare for her important task of helping Baitenmann's mom. And that includes one big job—joining the family at the 2021 Tokyo Olympic Games.
Baitenmann's mom, Erika Baitenmann, competes for Team Mexico as a paralympian. She has been participating in para-dressage competitions since 2010, including qualifying for the London 2012 and Rio 2016 games.
The family is looking with hope toward the rescheduled 2020 olympics, which are planned for next summer in Tokyo, where "hopefully, Dulce will be part of the team" as Erika's support animal. 
These days, when her studies are done, Dulce joins her siblings to enjoy all the fun a Malibu lifestyle has to offer: playing in the pool, running on the beach and even hikes—although with their abundant coats, ticks can be a problem.
"It's great to see that Malibu is such a dog-friendly place," Baitenmann said. And amid COVID-19, Tessa, Enzo and Dulce have been an especially integral part of the family. "I don't know what I would have done in this time without having dogs in my house. It was the best thing that could have happened, timing-wise, because I dont know what I would have done all these months with no dogs."
Those who frequent Trancas Country Market may already be familiar with the high-spirited pack, who spread their good cheer to those they meet during their daily Starbucks visit to enjoy a "puppuccino." 
"We just have fun every single day," Baitenmann said.
The three pups with share the Best Dog of Summer prize package, which includes:
•Two full-day care sessions (for one dog) from Canine Connections, valued at $88
•One free car wash from Eco Car Spa, up to $25
•One free bath (for one dog) from Sherman's Place
•$100 gift certificate to Dioji: K-9 Resort & Athletic Club
•$100 gift certificate to Paradise Cove Beach Cafe
Guinness named runner-up
This year's runner-up is Guinness the doberman, a lifelong Malibu resident and loyal pooch to the Rochin family.
"As a puppy, he was playful, energetic, fiercely loyal and incredibly affectionate. We were smitten by his good looks and feisty fun personality. And it took our family of four to raise him and keep up with him. Daily hikes on Puerco and beach romps kept us all in good shape, but barely put a dent in his energy!" mom Deborah Collodel wrote.
Guinness is protective of his family, barking at an intruder who entered the family's property shortly after the Woolsey Fire. "We never saw that intruder again," Collodel wrote.
Finally, Guinness is a faithful companion. When Deborah was undergoing cancer treatments in 2019, he never left her side.
"The comfort he brought me during those darkest of days was immeasurable," she wrote. What a good boy!
We at The Malibu Times wish to congratulate all of this year's contest entrants and look forward to your submissions again in 2021!