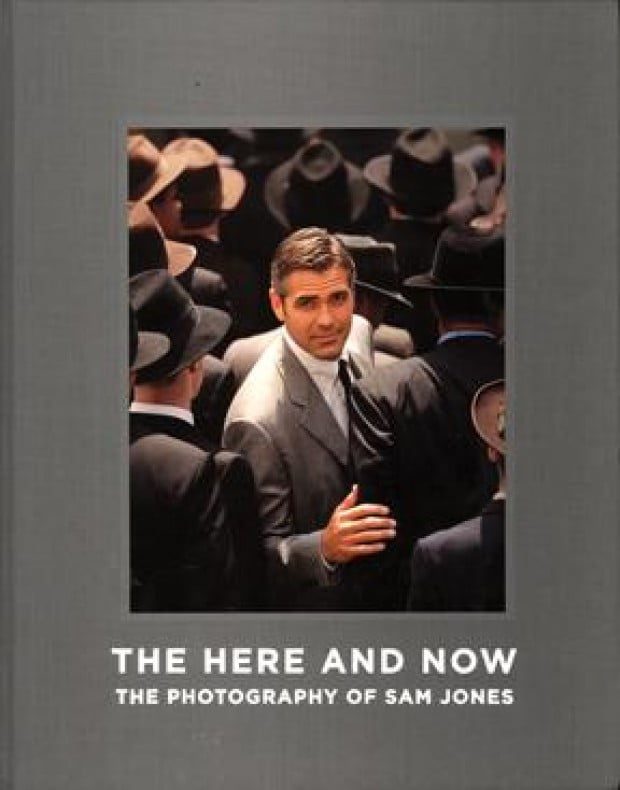 Celebrity photography at its best.
By Laura Tate / Editor
Stars, celebrities, powerful and glamorous people have always drawn the attention of even the most disinterested people in the goings on of the famous. Most of the time it's either a lurid scandal, sad downfall or an illicit romance splashed everywhere, from tabloids to television to the radio and Internet and so on, or the highly greased PR trail promoting a new film or project that gets all the attention. Along with such exposure, there are the photos and video clips of the under-wearless Britney, the nipple-exposed Janet Jackson, jailbird Paris, the ample behind of Hewitt … the list goes on.
But fresh air has entered the marketing of celebrity-hood-the pictorial book "The Here and Now: The Photographs of Sam Jones." While I write fresh, many are not new photos, some taken years ago; many had been taken on assignment, such as the cover of the book, which features George Clooney, a shot that was taken for the cover of Esquire magazine. But the collection of photos together is an appealing look at the people who are idolized for their work in front of the camera or microphone, or for other artistry.
The book contains photos of the some of the most alluringly famous actors, artists, musicians and athletes, including, in addition to Clooney, Jack Nicholson, Laird Hamilton, Bono, Kobe Bryant, Malibu's Sam Elliott and Katharine Ross, even Paris Hilton. There are so called "glamour" portrait shots, but most catch the subjects in moments of fresh comedic stances, unposed casualness and just stare-you-down looks in black and white, similar to portraits that Irving Penn shot. In fact, Jones states in a press release by publisher Harper Entertainment that he tries to combine what he loves about portrait photography-like that of Penn, Richard Avedon and Annie Leibovitz-with his love of street photography and photojournalism such as in the work of André Kertész and Henri Cartier-Bresson, "men who could walk around the streets and find some poetry in a situation where the subjects didn't even know their picture was being taken," Jones says.
Jones, whose first ambitions were to either emulate his heroes in the band The Clash or become a professional skateboarder (as he writes in the introduction of his book), began his career as a stringer for the Associated Press, later being hired as a staffer. Jones details in (also fresh) straightforward chronology in his introduction how he came into his career as a celebrity photographer by way of a chance assignment that was published in Vanity Fair. Actor/producer Tim Robbins saw his work and asked him to be the still photographer for his film "Bob Roberts."
His photography work has since been on the covers of magazines such as Vanity Fair, Rolling Stone, Time and Men's Journal and GQ. He also now directs and is slated to direct the film "Infinite Jest," based on a book by David Foster Wallace.
Sam Jones will appear at Diesel, A Bookstore, Sunday at 3 p.m. More information can be obtained by calling 310.456.9961.