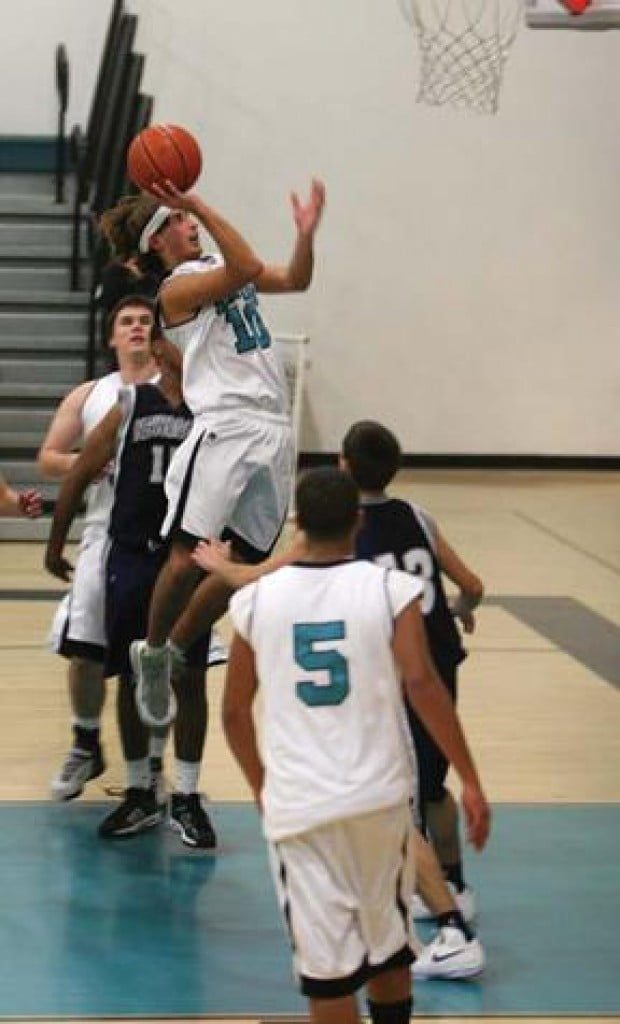 It was a thrilling day for Malibu High School basketball on Friday against New Roads, with the boys junior varsity and varsity teams pulling out wins and the girls varsity squad playing hard in a double overtime loss.
The boys junior varsity team (1-2) played first. Although the Sharks began the game slowly, they were able to come from behind to seize the win, 55-44. Malibu fell behind in the hard-fought first half, going into the locker room down 30-29. After an inspiring halftime talk by their coach, Patrick Miller, the Sharks came out strong in the third quarter, going on an 18-8 run. The Sharks held New Roads to only 14 points for the entire second half, while scoring 26. Sophomores Garrett Eamer and Max Flores, with 10 and 13 points respectively, led the Sharks, although the entire teamed looked strong, with each of the nine players scoring and the team going 10 for 10 at the free throw line.
The girls varsity squad (2-5) next took the floor against New Roads. After a strong performance in regulation, the team, coached by Andy Meyer, went into overtime with the score deadlocked at 63. The Sharks fought hard, and despite losing one of their leading scorers, Cheyenne Weekly, to fouls, they went into a second overtime at 70-70. A collision led to an injury to their second highest scorer, Danielle Bush, and the Sharks were unable to sustain their effort, ultimately losing 82-74. However, Malibu has high hopes for the season, led by Dominique Magee, who finished the game with 33 points, Weekly added 20 points and freshman sensation Bush scored 21.
The nightcap featured the boys varsity team (6-1), which sought to avenge the girls' loss to New Roads. Malibu opened the game with a slim lead in the first quarter, 9-8, and went into the half up 26-22. In the third quarter, the Sharks blew the game open, going on a 20-3 run, which put them up 46-25. They were able to efficiently maintain their lead, finishing the game at 64-37.
The Sharks' leading scorers were seniors Ryan Walczuk and Chris Peck, with 16 points apiece. Sophomore Chandler Abbott had 14 for the night. Peck dominated the boards both offensively and defensively, while Walczuk controlled the tempo of the game on offensive side.
Earlier in the week, the boys freshman/sophomore team defeated New Community on the road by a score of 74-16, and then Viewpoint in a nail biter coming down to a last-second block by James Ayala to clinch the win. The Sharks junior varsity boys team suffered a disappointing loss to Valley Torah last week on Wednesday, but the varsity team followed by avenging the loss with a 65-60 victory over the Valley Torah varsity squad.