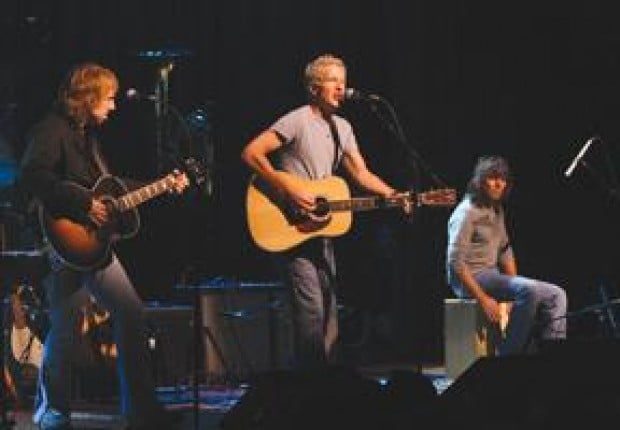 The Malibu Performing Arts Center rocked last Friday night with many legendary performers and local Dick Van Dyke serving as cohost of the event that raised funds for The Midnight Mission, a homeless shelter and rehabilitation center that has operated continuously since 1914.
MPAC teamed with the Conscience Entertainment Group and Norman Harris of "Norm's Rare Guitars" (who, by the way, plays keyboards, but not guitar) to present "From Malibu With Love II," benefiting the mission.
"The Midnight Mission is not just a sermon-and-a-sandwich kind of place," Van Dyke said. "They really rehabilitate and send people on to productive lives."
Van Dyke, famous for his role as chimney sweep Bert in "Mary Poppins," opened the evening with a hip-hop rap about the music about to be performed. "You ought to all come down for Santa's Village at the Midnight Mission," he said. "There are some good people down there."
Friday night's line-up began with young Canadian singer/songwriter Shawn Hlookoff, whose sweetly compelling vocals were backed by cellist Ana Lenchantin.
Hlookoff's self-deprecating stage presence might have set a relaxed tone for the evening. But his strong pop composing skills, ease at moving between keyboards and guitar, and pretty-boy image bespeak a great future.
"I wish I could tell you there's a great story behind this next song," Hlookoff said. "But I can't. I wrote it after watching 'Grey's Anatomy' one night." And he launched into a heart-tugging ballad called "The End."
Cohost and KNBC weatherman Fritz Coleman was also on hand Friday. "I have the easiest job in the world," he said. "I'm a weatherman in a town with no weather. So I have some time and desire to give to a place like The Midnight Mission. They gently prod you back into life. It's a wonderful, full-service agency."
The rest of the evening's acts represented about 200 collective years of rock and blues from some of the most accomplished musicians alive.
Laurence Juber's acoustic guitar work had echoes of classical guitarist Laurindo Almeida and he has accompanied some of Paul McCartney's best songs during the Wings era.
Freebo (a.k.a. Daniel Friedberg) has performed with stars from Bonnie Raitt to Dr. John to Crosby, Stills and Nash and hooked into his musical chops from bass to ukulele to tuba ("I play it because I can," he said). Freebo's songs tend to reflect social concern, such as one tune titled "Before the Separation," which explores the deep divisions in our politically divided society.
Longtime rockers REO Speedwagon, slide guitarist Rick Vito and blues meister John Mayall unplugged it for the second half of the concert, reminding everyone that age and experience are the true friends of real musical excellence.
Rock iconography was evident in the outstanding items offered for both the silent and live auctions. "The Fender people really came through for us." Harris said. "They donated a number of things and are really behind the Mission."
The auctions featured an eclectic array of prizes, from classic guitars to tickets to a Texas Hold 'Em tournament to candid photos of The Beach Boys' Brian Wilson and Rolling Stones drummer Charlie Watts.
"I think The Midnight Mission is a cause this community could get behind and I would have liked to see a few more Malibuites out here tonight, but it's a tough time," Harris said, acknowledging the city's recent devastating fires. "This time around, we sold all our auction items, but maybe not at the prices I would like to have gotten."
The musicians were uniformly enthusiastic about their cause, however. REO Speedwagon's Dave D'Amato said, "Richie Sambora hooked me into Norman's concert and The Midnight Mission. They're great. Whatever we can do to help them out is our pleasure. And it's a lot of fun."