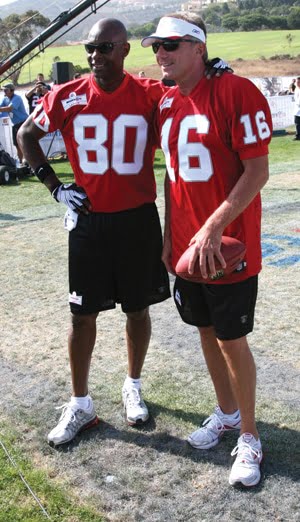 Hall of Fame football player Joe Montana and his wife, Jennifer, stopped an attempted kidnapping of their grandchild at their Carbon Beach house on Saturday afternoon, Sept. 26. 
"On Sept. 26, 2020, at approximately 1700 hours, deputies patrolling the Lost Hills Sheriff's Station were flagged down in the City of Malibu by a man they recognized as Mr. Joe Montana. Mr. Montana stated an unknown female had just entered his residence, kidnapped his grandchild, then fled the location without the child," an LASD report described.
The nine-month-old was sleeping in the living room when a female suspect entered the residence and removed the child from the playpen and held it in her arms, the Los Angeles County Sheriff's Department said in a statement.
The suspect, later identified as Sodsai Dalzell by the sheriff's department, grasped the child and refused to let go. The couple attempted to de-escalate the situation, but Dalzell would not hand back the child. 
"A tussle ensued and Mrs. Montana was able to safely pry the child out of the suspect's arms," the sheriff's department statement described. 
Dalzell fled Montana's home to a nearby house in Malibu where she was later taken into custody by sheriff's deputies, according to CNN. She is facing charges of kidnapping and burglary, according to the sheriff's department. 
"Thank you to everyone who has reached out," Montana tweeted the following day. "Scary situation, but thankful that everybody is doing well. We appreciate respect for our privacy at this time."
On Tuesday, Dalzell was charged with attempted kidnapping and burglary, according to multiple reports. Dalzell reportedly pleaded "not guilty" to the charges and was held on $200,000 bail.
Montana played 15 seasons in the NFL, mainly with the San Francisco 49ers. He won four Super Bowls with the 49ers in 1982, 1985, 1989 and 1990, according to the Pro Football Hall of Fame.