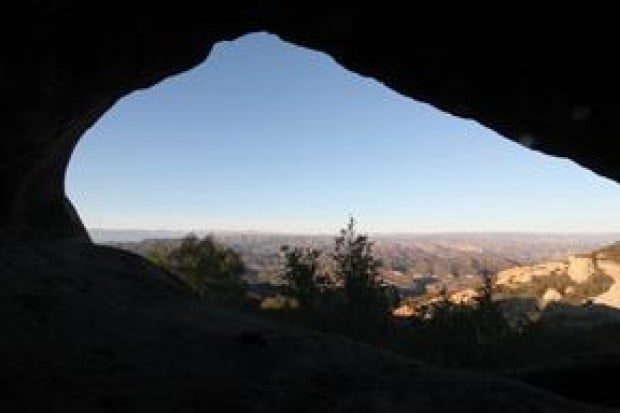 Although it has been determined that last week's fires started at or near a cave in Corral Canyon, authorities still do not know if it was accidental.
By Jonathan Friedman / Assistant Editor
Investigators are tight-lipped on how close they are to possible arrests regarding last month's Corral Fire, but Los Angeles County Sheriff's Department spokesperson Steve Whitmore did say on Tuesday that "substantial leads" have been received about how the fire started.
"Scores of people have contacted us, and we're going down all those avenues," Whitmore said.
The Sheriff's and Fire departments and the California Department of Forestry and Fire Protection are conducting a joint investigation. Officials said last week they believe the fire started at or near a cave at the top of Corral Canyon known for illegal late-night partying. Whitmore said it was still not known if the fire was started on purpose or accidentally.
Whitmore declined to go into any detail about how the investigation was being conducted or if any arrests were imminent.
"All I can say is we have substantial leads, and we're following all of them," he said.
There have been some media reports that investigators are looking into small arson fires started the day before the Corral Fire. Whitmore would not comment on that.
Fire officials say the Corral Fire began at about 3:30 a.m. on Saturday, Nov. 24. Within a few hours, the blaze had consumed 4,900 acres and destroyed 86 structures in Malibu's worst fire since 1993. Fifty-three single-family homes, 33 outbuildings (garages, sheds, guest homes and other smaller buildings), 37 vehicles and one mobile home were destroyed. Forty-five structures were damaged, including 33 single-family homes and 12 outbuildings.
As was in the case in October's Canyon Fire, the flames were strengthened by the powerful Santa Ana winds.
Those strong winds have not gone away, with Red Flag Warnings being issued by the National Weather Service last week and again this week.
Although a small ember did spark up briefly last week, there have been no flames of significance since the Corral Fire was fully contained at night on Nov. 26. There were reports of a fire in Topanga Canyon on Tuesday. Fire officials were sent to the area, but no blaze was found.
Malibu residents were thankful to finally receive rain to the dry area on Friday. But with that came a new threat, potential floods and mudslides.
"Rainfall at these rates would be sufficient to cause flash flooding, and mud and debris flows in and around the burn areas," according to a statement released by the National Weather Service.
A flash flood watch was issued, although no flood actually came. Concerns are high again as news that rain will fall again beginning Thursday. Granville Bowman, a veteran public works official of more than four decades who now works for the city of Malibu, said this week that the potential for mudslides and flooding still remains.
"With no vegetation to absorb the water, the water when it hits, rolls off immediately," Bowman said. "It collects debris, and the volume of water is larger than it would normally be."
Bowman suggested people put up temporary fencing around their house as one method to protect the home. But he warned that people should be careful not to make it so that the situation becomes worse for neighbors. He recommended a handout that is available at City Hall regarding flood control.