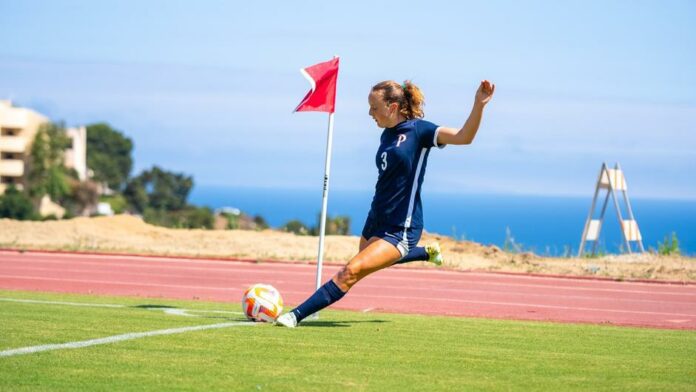 Pepperdine has now beaten San Diego nine straight times
The Pepperdine Waves women's soccer squad kicked in goal after goal after goal to win their fifth straight match on Oct. 27 in San Diego.
The Waves downed the University of San Diego 7-0.
Six different players — sophomore Tatum Wynalda, senior Tori Waldeck, freshman Julia Quinonez, sophomore Taylor Bloom, redshirt freshman Kendall Campbell, and junior Caroline Coleman — scored the victory, which was the Waves' highest scoring contest of the season.
Pepperdine head coach Tim Ward said his team played with purpose and passion. 
"We're excited about the opportunities in front of us and we are focusing on one day at a time," he said, "but again, it was so fun to see all of the women contribute tonight as there were some really special moments and goals out there."
Wynalda led Pepperdine with two goals and an assist. She took five shots, including two on goal, and now has six goals this season. Waldeck scored one goal and took seven shots, five on goal. She has nine goals this season.
Quinonez kicked in her sixth goal of the season and recorded an assist. All three of her shots were on goal. Taylor Bloom's goal, a header, was her second score of the season. Campbell's score was her second of the season also. Coleman now also has one goal this season. She kicked two shots in the game. Additionally, Ava Verplancke, a freshman, tallied three assists and took three shots, including one on goal.
Wynalda scored first for Pepperdine in the game's 30th minute. Senior Skylar Enge passed the ball between two Toreros to Wynalda. She nailed the ball with her right foot for the score. A few plays later, Quinonez kicked the ball to Waldeck for Pepperdine's second goal.
In the 51st minute, Wynalda passed the ball to Quinonez, who then scored. Wynalda scored her second goal 11 minutes later. She kicked the ball from the just outside the right of the box for Pepperdine's fourth goal.
Bloom headed the ball in the net in the 71st minute. Nine minutes later, redshirt freshman Kyra Murphy passed the ball to Campbell, who gave Pepperdine a 6-0 lead with her scoring kick. On a free kick, Coleman it the ball in the top left corner of the next in the 85th minute to solidify the Waves' seven-goal win.
Pepperdine took 29 shots, including 20 shots on goal, while San Diego took nine shots, of which five were on goal.
Pepperdine goalkeeper Taylor Roth, a redshirt sophomore, had four saves. Harlee Head, a sophomore goalkeeper for the Waves, had one save.
Pepperdine has now beaten San Diego nine straight times. The Waves entered Wednesday's match at the University of San Francisco with an 8-3-5 record. Pepperdine hosts Gonzaga on Saturday at noon. It is both teams' regular season finale.