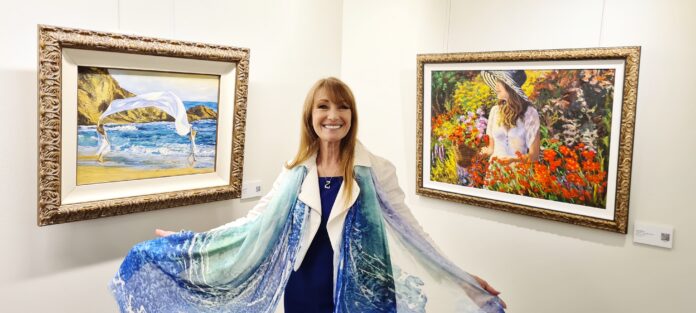 The award-winning actress and Malibu resident is a woman of many creative talents 
Last Sunday, June 4, the City of Malibu and the Malibu Arts Commission held a free opening reception for its latest public art exhibit: "Expressions" by actress Jane Seymour. The 90-minute event featured photo ops, a Q&A session moderated by commission Vice Chair Julia Holland, live music by "A Call 2Peace," and refreshments.
The new exhibit features not only original oil paintings, watercolors, and bronze sculptures by Seymour, but a costume and other memorabilia from her hit 90s show "Dr. Quinn, Medicine Woman" — much of it filmed near Malibu at the Paramount Ranch. "Expressions" will be on display through June 30 in the lower level of City Hall, Monday to Friday from 8 a.m. to 4 p.m.
In introducing the exhibit to attendees, Malibu Arts Commission Vice Chair Fireball Tim Lawrence explained that the City Hall art gallery is intended to inspire people. 

"We wanted to create a space to expand awareness of art in Malibu," he said.
Seymour said she was "thrilled" with Malibu's new focus on the arts over the past few years, because she's a lover of the arts herself.
"I'm stunned and honored to be here," she said. "These works are my babies, and there's a story behind every piece of my art."
Jane Seymour's first claim to fame was being cast as Solataire in the 1973 James Bond film "Live and Let Die." In the years following, she moved from her home country of England to the U.S. to continue her acting career. She earned five Emmy nominations, including a win for "Onassis: The Richest Man in the World" (1988), for her role as Maria Callas. She won Golden Globe awards for "East of Eden" and "Dr. Quinn, Medicine Woman" (1993), which ran for six seasons. In addition, Seymour appeared in several feature films, including "Somewhere in Time" (1980) and "Wedding Crashers" (2005). In her current TV series, "Harry Wild," filmed in Ireland, Seymour stars as investigator Harriet "Harry" Wild (available on Acorn and Sundance).
Jane first started drawing as a child, but didn't begin to paint until she was older and going through some traumatic life experiences.
"I've been through four divorces and had three near-death experiences, and I have not only come back, but come back bigger and better," she explained. "You just have to accept and move forward into the present. I love life and I'm grateful. I don't want to waste a minute."
And her art helps in that regard.
"I was introduced to watercolor, and I now paint anywhere and everywhere," she continued. "It's like meditation for me — it's my healing. I do this for me, and if someone else likes it, then we have a unique connection. To me, all the arts are intertwined."
Over the years, Jane has tried her hand at just about every creative experience there is — earlier in life, she hoped for a career as a dancer. She plays several musical instruments. She's a published author of about a half-dozen self-help and inspirational books, as well as co-writer of several children's books with two of her ex-husbands. She's currently working on her memoir.
After creating a number of oil painting and watercolor works on canvas, she also experimented with all kinds of mixed media, then went on to sculpture, jewelry, and scarves. She trademarked her "open heart" design, which she uses in sculpture, jewelry and painting; and which became the symbol of her nonprofit Open Hearts Foundation.
The open heart idea came about when Jane was asked to paint something for women's heart health.
"I left the heart open because my mother always told me to keep my heart open," she said.
"Authentic is everything to me," she told the audience at the reception. "I'm a very messy painter. I always want to grow and try something new. Like maybe I'll do a series of something. The more I learn, the more I can expand what I want to say [through art]."
"Watercolor is the hardest," Jane continued. "I love its transparency – it's magical – you can only control it to some degree. There's no AI in watercolor! I also do watercolor pen and ink. And what I discovered with oils is that you can paint in layers. I try to be more emotional than exact, although I've also done some photo realism."
For artistic inspiration, Jane says she takes photos "endlessly" wherever she goes. She paints standing up and says she will "start playing with a color" until she gets "inspired and excited," and then lets it spill out.
Since 2000, Seymour has exhibited in numerous galleries and venues in the U.S. and Canada. She maintains a showroom and offices in Westlake Village with the Coral Canyon Publishing Co., and has created at least a couple thousand works of art. To see her creations, go to janeseymour.com/original-fine-art.