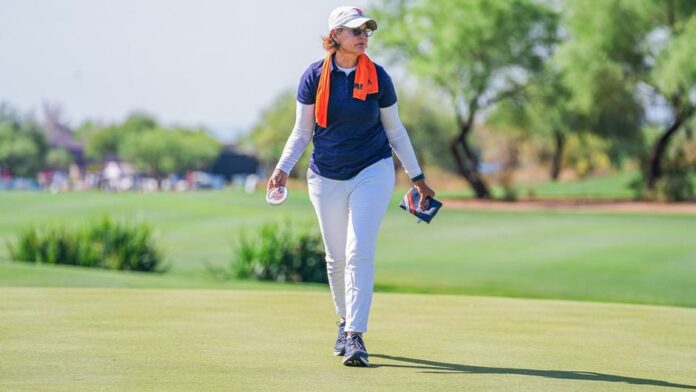 On June 8, Gibbs was named the Women's Coach of the Year by Golfweek
Pepperdine Waves women's golf head coach Laurie Gibbs cherishes more than hole-in-ones, birdies, and which one of her players is swinging a hot club.
Of course, winning matters, Gibbs explained, but times on the road with her team during their 2022-2023 campaign are moments she holds onto.
"When you are traveling, a lot of stuff happens," Gibbs said. "We spent a lot of time together. Times on the bus laughing. When we went to dinner, we weren't just talking golf. We laughed a lot."
Gibbs, Pepperdine's coach since 1993, called this year's Waves bunch a great squad to coach. The coach guided the team to one of the best season in the program's history.
Gibbs recently received two annual coaching awards for her part in Pepperdine's stellar play. She was named the Women's Golf Coaches Associations West Region Coach of the Year on May 31. Then, on June 8, Gibbs was named the Women's Coach of the Year by Golfweek.
Gibbs said receiving the coaching recognitions is an honor.
"There are so many great coaches out there, wonderful programs," she stated. "Coaches work really hard all year to be recognized. Obviously, how well the players do gives me a lot of joy and credit. They have worked really hard. There are so many people that are part of this — the players, the people that support or program and university. I'm quite honored with both awards."
Gibbs was also named the West Coast Conference's Coach of the Year for the 15th time in her 30 seasons coaching the Waves in April.
Gibbs was previously named the West Region Coach of the Year in 1999 and 2003. She received Golfweek's top coaching recognition in 2005.
Gibbs' squad didn't receive a vote in the WCGA preseason coaches poll, but ended the season by advancing to match play in the NCAA Championships for the first time in history.
Gibbs coached the Waves to six tournament first-place finishes this season including the Golfweek Red Sky Classic, Golf Iconic Classic, Anuenue Spring Break Classic, Silicon Valley Showcase, and the NCAA San Antonio Regional.
Pepperdine's season, Gibbs noted, was amazing. The coach called the players smart and coachable and credited them for their campaign's success.
"The players really put it together," she said. "It is a great group. They really get along. The girls really excelled and felt like they could compete with any team in the country."
Gibbs explained that tying Stanford atop the April's Silicon Valley Showcase, was a big confidence boost for Pepperdine.
"We played the number one team in the country," she said. "That comes from a lot of hard work and discipline that they really showed — not only this year but leading into this year. They are experienced players. Sometimes everything just falls into place."
"Just enjoy the moment," was the message Gibbs preached to the Waves all season.
"When you get a team that plays well together and supports each other on and off the golf course that are good students it isn't any easy task to check all the boxes on that and it they did," she said. "These are the moments you are going to look back on and say, 'Wow. We were part of this. We had one of our best seasons ever.' Just be present and enjoy it."
Pepperdine's season ended on May 23 when they were defeated by Stanford 3-1 in match play of the NCAA Championships.
The Waves didn't have the top-ranked players nationally, Gibbs noted, but did have a handful of golfers that when playing their best could beat any team.
"As a coach, that means you have a special group," she said. "They are grinders."
Being coach of the year is humbling, Gibbs said.
"I do what I do because I love the game," she explained. "I love my girls. It means a lot that they would select me. This is icing on the cake."