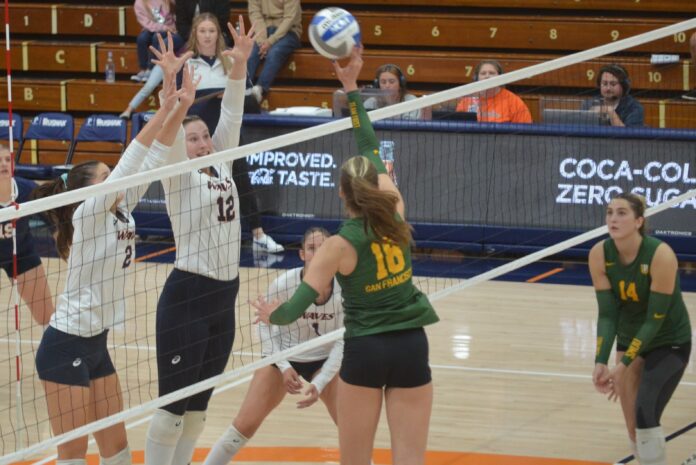 Victory over the Dons is the seventh straight for Waves after a slow start to the season
The Pepperdine Waves women's volleyball team was tied with the San Francisco Dons in the early moments of the second set on the court inside Pepperdine's Firestone Fieldhouse on Sept. 30.
Then, Waves outside hitter Emily Hellmuth registered a kill, a block, and another kill. The West Coast Conference's Freshman of the Year last season followed that with an ace on her serve.
Hellmuth's teammates then jumped in on the action — knocking the ball over the net with power and sometimes a soft touch for points.
An ace by junior outside hitter Grace Chillingworth gave Pepperdine a 10-5 lead. Plays later, senior setter Birdie Hendrickson nailed a kill, followed by a block by Hendrickson and sophomore middle blocker Vanessa Polk — Pepperdine was up 17-8. The closing plays of the match, a 25-14 Waves' win, included a kill by senior middle blocker Meg Brown and an ace by Chillingworth.
Pepperdine head coach Scott Wong said the Waves can play like that consistently.
"It is not always going to be as smooth as this," he said. "A few times are team said, 'Hey, I'm going to turn up my serve a little bit,' or 'I'm going to get across a bit more on my block.' That breaks the match open pretty clearly."
Pepperdine won the first set over the Dons, 25-21, and closed out the sweep with a 25-18 triumph in the third set. The win was the group's seventh consecutive victory after starting the 2023 campaign by losing six of seven games.
Wong, the team's coach since December 2014, said Pepperdine has been training hard.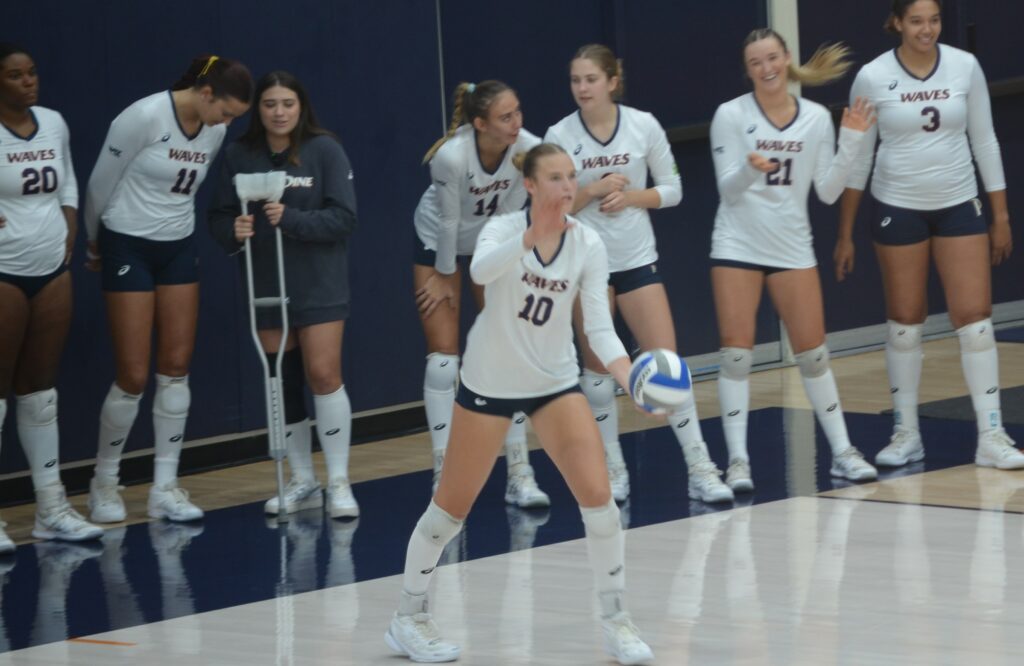 "The girls did a nice job of preparing," he said. "We have been playing a lot of really good volleyball. We want to go one game at a time."
Setter Isabel Zelaya, a graduate student, dished out 34 assists in the match. The Waves had a .356 hitting percentage, their highest of the season, with a total of 40 kills and only nine errors on 87 swings of the arm.
Zelaya moved into second place on Pepperdine's all-time career assist list in the Waves' win over Saint Mary's last week. She enjoys passing the ball to a variety of Waves ready to swing their arm for a kill.
"My teammates are awesome," Zelaya said. "As a setter, I feel fluid. I feel like I can fling the ball around and someone is going to get up there and get a kill."
Chillingworth, who has been on the receiving end of plenty of Zelaya's passes, called the setter amazing.
"She knows how to set us all up so well," Chillingworth said. "She is the best leader. We wouldn't be where we are without her. All credit goes to her."
Chillingworth had 13 kills, 2 aces, and 6 digs against San Francisco. Brown nailed 11 kills, 5 blocks, and 1 ace; Hendrickson tallied 6 kills, 7 digs, and 2 blocks; Hellmuth had 5 kills, 4 blocks, 3 digs, and 1 ace; and Polk registered 5 blocks and 5 kills.
Pepperdine had a five-point lead in the first set, but the Dons tied the scoreboard at 11. The squads traded points, which led to a tie at 17. The Waves then took a three-point advantage, before kills by Polk, Chillingworth, and Brown closed the set.
San Francisco led 6-2 in the third set, but Pepperdine caught up. Brown hit an ace, kill, and block to give her bunch a 17-12 lead. Pepperdine quickly snagged a 24-15 lead, and Polk secured the win with a kill.
Pepperdine enters their Thursday match against Gonzaga in Spokane, Washington, with an 8-6 overall record and 4-0 record in the WCC. The team faces Portland in Portland, Oregon, on Saturday.
Pepperdine began the season in August with losses to Kansas, Texas A&M, and UC Santa Barbara. Their first victory was on the first day of last month, a sweep over San Diego State. Pepperdine next lost to Oregon, UCLA, and Hawai'i.
The Waves' winning ways began with a victory over Liberty. Pepperdine then beat Washington and Cal Poly. The team started WCC competition by beating Pacific on Sept. 21, then Loyola Marymount and Saint Mary's, before downing San Francisco.
Pepperdine finished 2022 with an 18-11 record and qualified for the NCAA tournament.
Brown said the Waves had to make changes in their play and positions from last year to finally be successful on the court this season.
"We had to find out what works for us," she said. "We came into the season thinking we might have been the same team from last year, but we had to readjust. Now, its working out for us."
Wong said Pepperdine had the fifth-toughest schedule in the nation the first portion of the season. He said the Waves must continue to improve.
"We want to be good and take whatever steps to do it," Wong said.
Pepperdine, Zelaya noted, strives to improve and win their conference title.
"We want that WCC ring," she said.