'Infinite' just became an official selection of the International Christian Film & Music Festival
"Infinite," a short film produced by Pepperdine University sophomore Joshua Pitney and senior Autumn Johnson, has won several awards at the 65th Christian Online Film Festival.
Pitney wrote and directed the film, which depicts an autistic student who comes to accept his identity. Originally developed for a Screen Arts Production 2 class, the project is inspired by Pitney's own experiences.
"I am on the autism spectrum, and I strive to tell authentic neurodiverse stories," said Pitney. "So, this assignment was an opportunity for me to showcase correct autism representation. I was also able to pull in my own experiences of struggling with my identity and realizing I was made just the way God intended for me to be."
The 7-minute film garnered accolades for Best Student Film (Joshua Pitney, Autumn Johnson), Best Actor (Kyle Burnett – Charlie The Student), Best Actor Supporting (Jack Pitney – The Teacher), Best Music & Sound (Kyle Simpson, Nolan Ause), and Best Villain (Carlos Gomez – Casey The Bully).
A screen arts major, Pitney selected a crew of nearly all Pepperdine students to create "Infinite," and he credits the university for supporting his cinematic and personal journeys.
"I chose Pepperdine primarily because it was a warm and welcoming environment," explained Pitney. "My time in screen arts has been very enriching. I have learned many narrative and technical techniques. I have learned how to use industry-standard equipment and how to get the best image possible with a cinematic camera. Furthermore, my time at Pepperdine has been amazing so far. I have made lasting friendships with students and faculty alike, been able to participate in many organizations, and have grown stronger in my faith."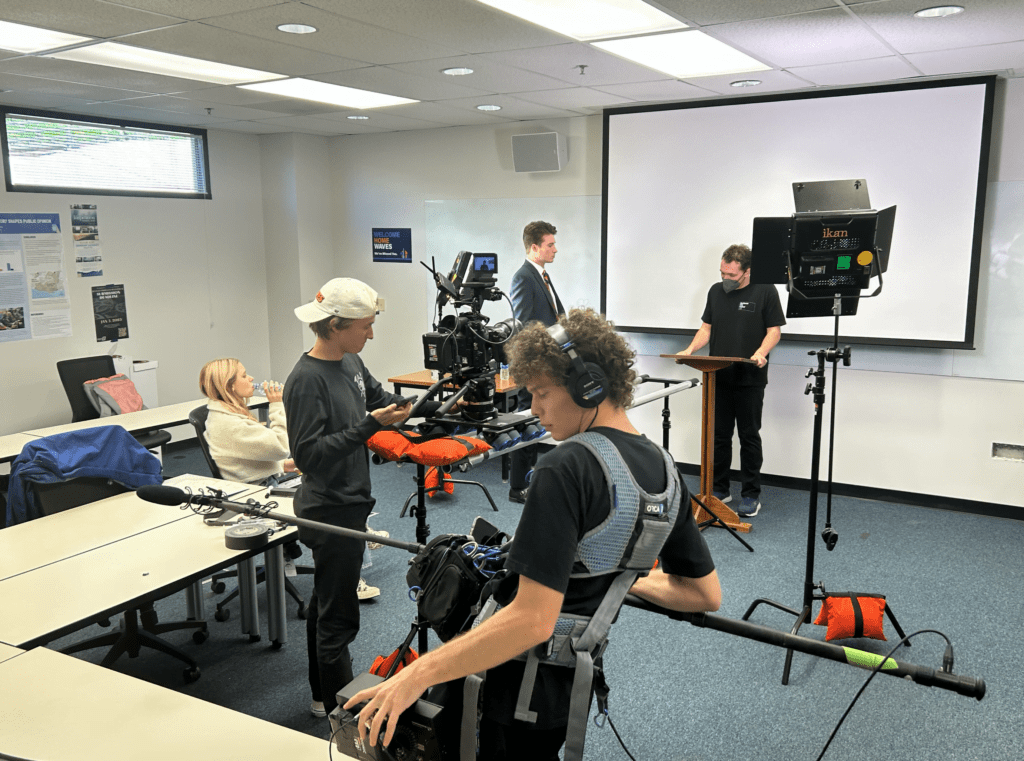 Pitney said he's inspired by film directors such as Alfred Hitchcock, Steven Spielberg, and Stanley Kubrick, the director for the the 1968 film "2001: A Space Odyssey."
"I was fascinated with how Kubrick was able to tell a story with groundbreaking effects and visual storytelling and I have wanted to become a filmmaker since," Pitney said. "Kubrick is one of my major influences, not just 2001, but also some of his other great works like 'The Shining,' and 'Dr. Strangelove,' are all films I look up to and have very much influenced my creative style."
Pitney said some of the challenges in film projects are finding the right lighting, getting the right shots, and also finding ideas.
"I really need to take all that into consideration when I'm crafting an idea and then when I have an idea, is finding the right cast and crew," Pitney said. "Production is really fun, but it also comes with its challenges. The overall process is challenging, but it's very rewarding, fun, and collaborative."
Pitney said his favorite part about being on set is collaborating with other writers, actors, and producers.
"Very often, the cast and crew have suggestions, and that adds a whole different layer to the story," Pitney said. "Just talking to others about what I have in mind, experiment, try new things, fail, but learn from that — it's all very fun."
Following the film's recognition, Pitney is looking forward to his future as a professional director, writer, and actor. He plans to pursue film internships and continue telling stories of neurodiverse acceptance and pride, Christianity, and the natural world.
"It brings me great fulfillment to see this film resonate with audiences of all backgrounds," Pitney said. "This is a sign that we are moving in the right direction toward increasing authentic neurodiverse representation in the media. I hope this story will inspire everyone to know that they are made in God's image and should be proud of that."
Being open-minded and open to new ideas is what Pitney continues to advise people coming into the entertainment industry or any industry in general.
"Never, ever, ever give up," he said. "If you just keep pushing forward, no matter how hard a project may be, how competitive the field work is, don't let that discourage you; keep pushing forward and with strong perseverance, that is the biggest thing anyone in the entertainment industry needs, in any industry in general."
Pitney is co-directing Songfest, one of Pepperdine's longest and most unique traditions and has been a favorite experience shared by students, alumni, and the greater Pepperdine family. This musical variety show features a cast of students performing an original show centered around a theme.
"It's a theatrical mini-musical where people can act, sing and dance," Pitney said.
The event is happening on Friday, April 1, at 5:30 p.m. in Elkins Auditorium. For more information on Songfest, contact Student Activities at (310) 506-4201 or songfest@pepperdine.edu.