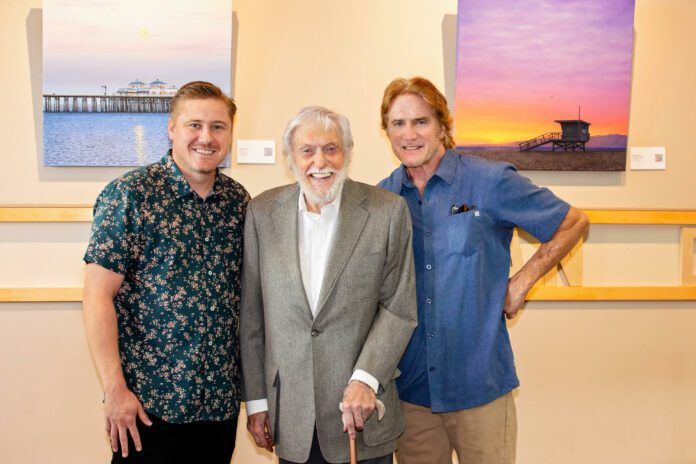 Malibu's Dick Van Dyke supports his talented grandson Wes Van Dyke's one man show
The extraordinary artwork of Wes Van Dyke is on display now at Malibu City Gallery located at City Hall.
The exhibit, titled "Vistas," depicts stunning nature scenes from Malibu and beyond. Familiar ocean and skyviews of Pt. Dume, El Matador, Zuma, and Leo Carrillo beaches are painted in an almost photo-realistic effect. The artist's passion for the outdoors and strong connection to the ocean inspired this 30-piece collection of exquisite oil paintings.
The artist, Wes Van Dyke, knows those beaches well. He grew up in Agoura Hills, but said, "We consider Malibu home. We spent a lot of time at my grandpa's or surfing."
If his last name sounds familiar, it should: Wes is the grandson of the legendary entertainer Dick Van Dyke and the son of actor Barry Van Dyke. After a short career as in the family business as an actor, Wes' artistic talent overrode any showbiz ambitions.
The stunning exhibit was recommended by Malibu Arts Commission Chair Fireball Tim Lawrence, who is also a painter.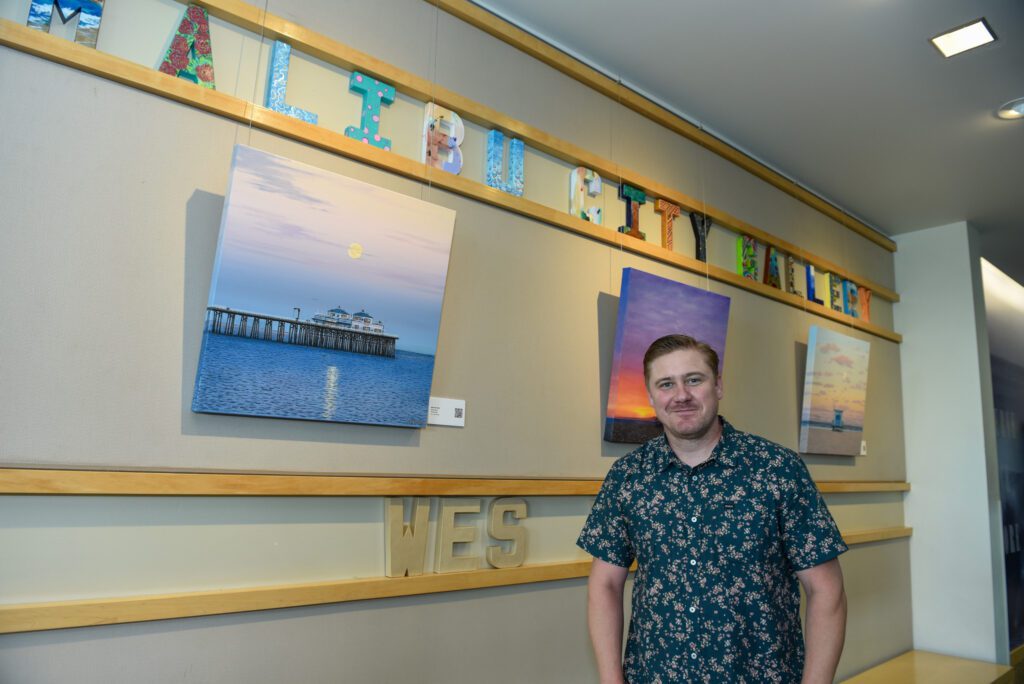 "The amazing thing about Wes is his ability to create true color. You'll look at his pieces as a whole and you'll see a monochromaticness (sic) in the same way we do when we look at the earth," Lawrence said. "A lot of artists, me included, we tend to exaggerate color to enhance color, to create more vibration. The unique thing about Wes I enjoy is I look at his pieces as if I'm looking through a window at the actual place. And I love that about him. He trains himself to see things we take for granted."
Wes uses oils as his medium.
"I can manipulate the paint. It stays wet longer," he said. "Acrylic dries so quickly. I do all the waters and the skies. You can come back day after day and it's still a little wet. You can move it around. To get the effects that I want it to oils are best."
Dick Van Dyke made a special appearance at his grandson's exhibit opening Saturday and asked Wes with what medium he started. There was laughter when Wes answered, "crayons!"
The beloved comedic actor bought Wes his first easel as a Christmas present in 1998.
"I still have that easel," the artist said. "It's the only easel I've ever had. There's 25 years of paint on that thing. I'm still using it. It's very special to me.
"[Dick has] always been encouraging and supportive along with my parents, my wife, and family. It's really cool to have him come down to shows. He's always come to shows especially here in Malibu and supported me. To me he's grandpa. To see how much joy he brings to everybody is so cool. And he's so energetic at 97. It's incredible."
The legendary entertainer wowed the opening day crowd with a few comments about his talented family. 
"We've got a great artist, but no comedians," the celebrated Van Dyke quipped.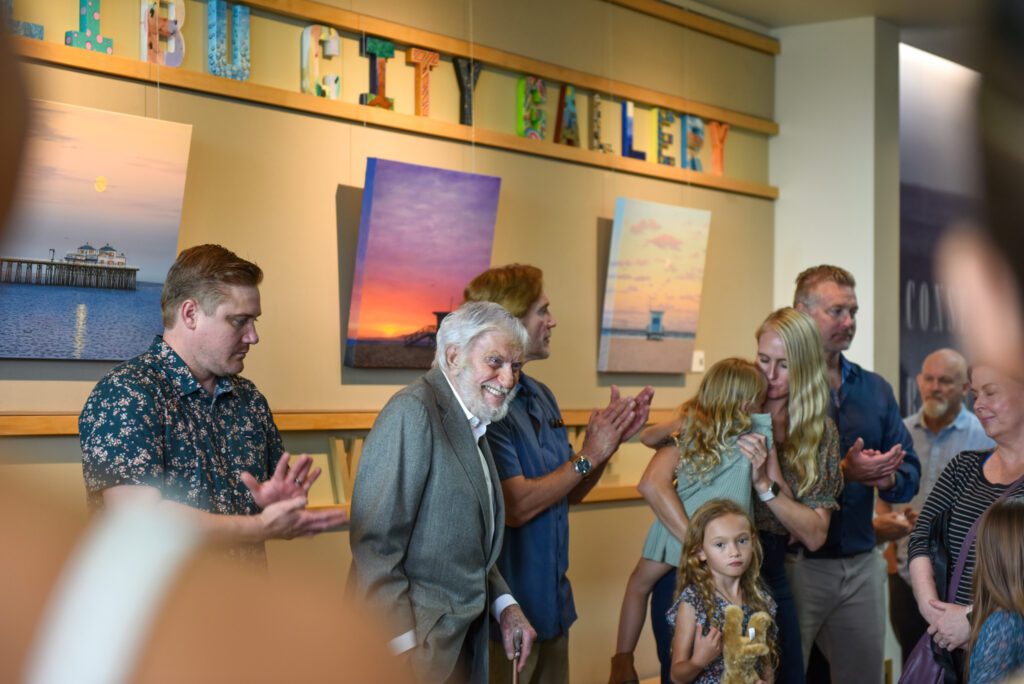 At one point he had many of his family members on his television show "Diagnosis: Murder," including his son Barry, who co-starred and sometimes Wes. Then Wes discovered his talent as a painter and his famous grandfather says he saw that talent at a young age. Dick and his wife Arlene display many of Wes' paintings in their Malibu home and Dick said he intended to buy another piece at the opening.
The 38-year-old painter has been exhibited many times before at the Malibu Arts Festival beginning in 2008. His paintings sold so well at the old summer art show Wes became a featured artist.
"As far back as I remember I was doodling in class and at restaurants," he said.
In high school his paintings were recognized as exceptional, and as a teenager he saw his first sales. He's mostly self-taught, although he did take some art classes in college.
Wes said he did draw inspiration from his grandfather.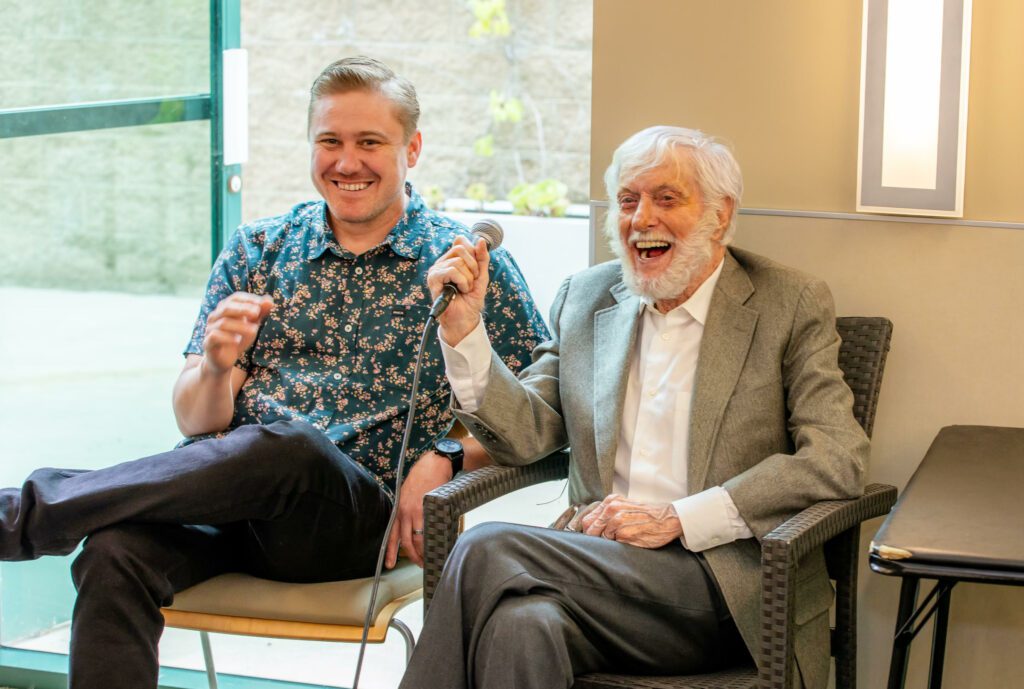 "His support and love over the years has been great," he said. "To see how much joy he brings to people is an inspiration."
Dick replied, "We both know to do something that you love for a living is a blessing. We get to do what we love to do. We'd do it for nothing … well, don't quote me on that," Dick added for a laugh.
"Vistas" runs through Oct. 27. Gallery hours are Monday to Friday from 8 a.m. to 4 p.m. or visit WesVanDykeArt.com