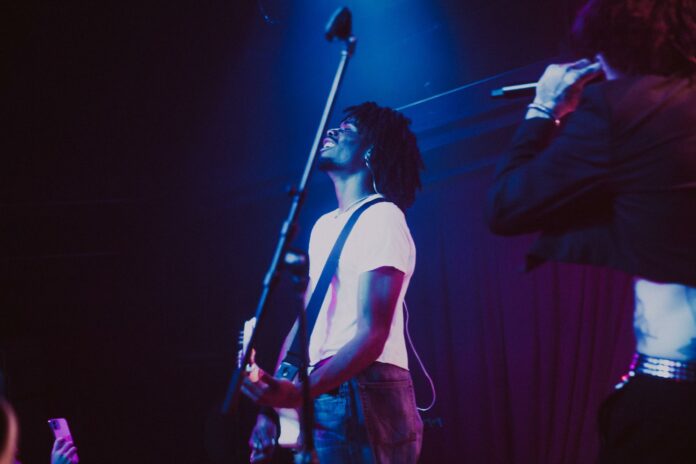 The 2022 Malibu High graduate, aka Cameron Nwede, to play with singer Jager Henry in 'bucket list-type of event'
When Cameron Nwede strolls onto the stage of the Greek Theatre in Los Angeles on Saturday and prepares to glide his fingers between the strings of his guitar, it will be an emotional moment.
"It is going to be an incredibly moving experience for me," he said. "I'm just so excited. Playing at the Greek is a bucket list-type of event."
The feeling might be similar to what the 2022 Malibu High graduate felt before stepping on the basketball court and starring for the Sharks during his four years of high school.
"It's the same excitement, the same thrill," the 19-year-old said. "I have always been very driven and passionate. It's about love."
Nwede, who prefers to be called by his stage name NINO when talking music, will flex his guitar skills as a guest performer with rock 'n' roll singer Jager Henry and his band at the 5,000-seat Griffith Park-located amphitheater. NINO is stoked about the performance and expects attendees to have a similar feeling once the show begins.
"I like to perform Jager's songs," he said. "They are so much fun to play. They have so much energy. I feel like people are going to be standing. It's going to be an entertaining experience."
The 30 minutes at the Greek NINO performs with Henry and his band won't be the only time he plays his guitar with the singer, who is the grandson of iconic Led Zeppelin drummer John Bonham. NINO will also perform with the group during the Golden State stretch of the Led Zeppelin Evening tour, which is put together by Henry's father, English drummer Jason Bonham.
NINO will perform with Henry on Sept. 24 at Vina Robles Amphitheatre in Paso Robles, on Sept. 26 at Humphrey's Concerts by the Bay in San Diego, on Sept. 28 at San Jose Civic Center, and Sept. 29 at Fantasy Springs Resort Casino in Indio.
NINO's mother Kimmarie Johnson said seeing her son perform at the Greek will be thrilling.
"I went to my first Los Angeles concert there," said Johnson, who is originally from Pennsylvania. "It's such an awesome venue, and I'm deeply please that he is doing what he enjoys."
In preparation for Saturday's concert, NINO and Henry have spent a lot of time rehearsing. They also rocked out on stage at The Bourbon Room in Hollywood last month to smooth out their collaboration.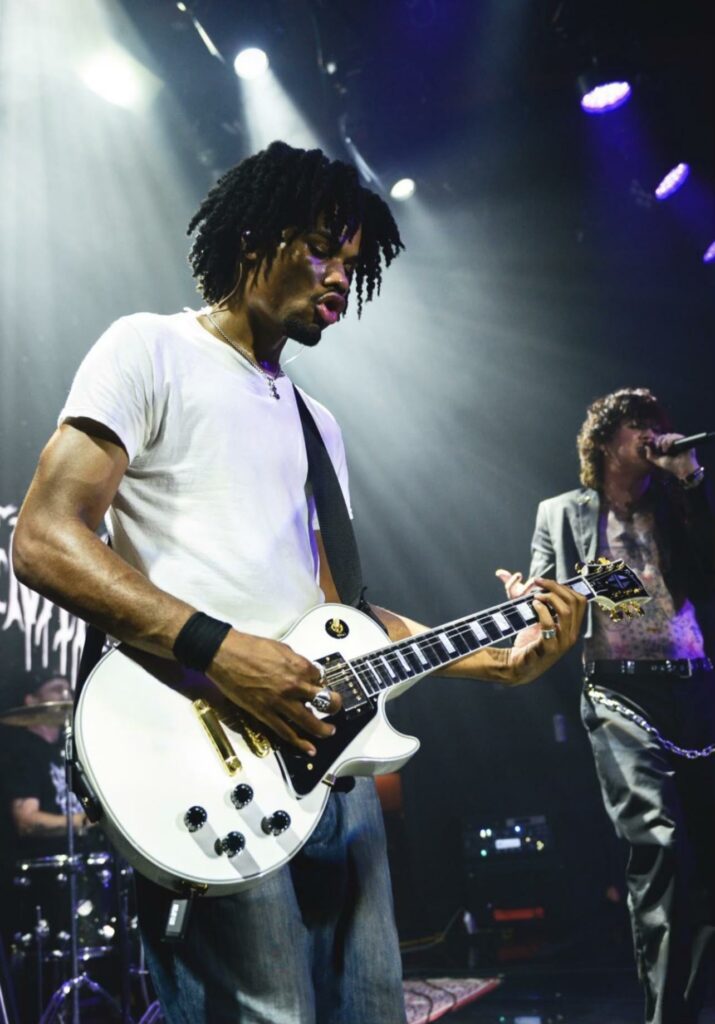 "It was great," NINO said. "Jager is a great performer. There was a mosh pit. There was so much energy."
NINO, a musician since he was a child, has been interning and working in the music industry since he graduated from high school. He currently works as an assistant composer at Bleeding Fingers Music in Santa Monica. He met Henry last year. When the guitarist who normally plays with Henry was booked to go on another tour scheduled the same time as the Led Zeppelin Evening tour's California dates, they asked NINO if he could step on stage in the guitarist's place. The young musician jumped at the opportunity.
Johnson played a variety of classical and R&B music for NINO when he was a tyke. When was 7 years old, she bought him his first guitar. That started a musical journey for NINO that has included him singing, rapping, and composing his own music. He was bestowed the name NINO by an uncle, who has since passed away. The artist released his EP "Out" a few years ago. NINO has picked up a habit of naming his guitars, which include "Snow White" and "Wolf."
NINO had his instrument called "Blue Steel" with him when he and his classmate Aiden Burke performed an orchestra version of a song from "Out," "In My Bag," at Malibu High's graduation ceremony in 2022.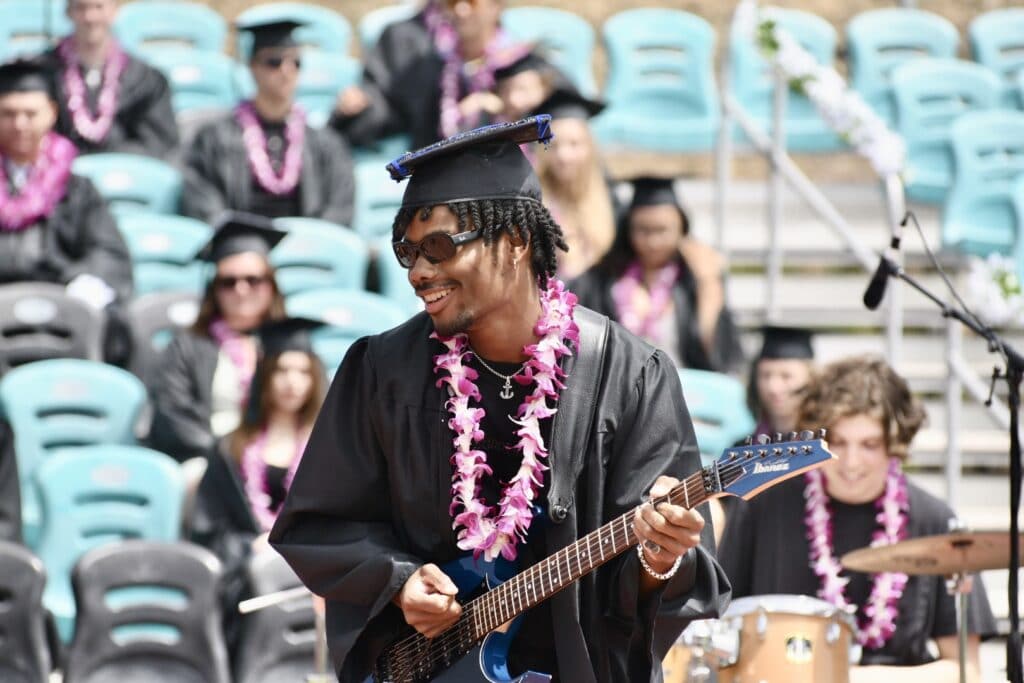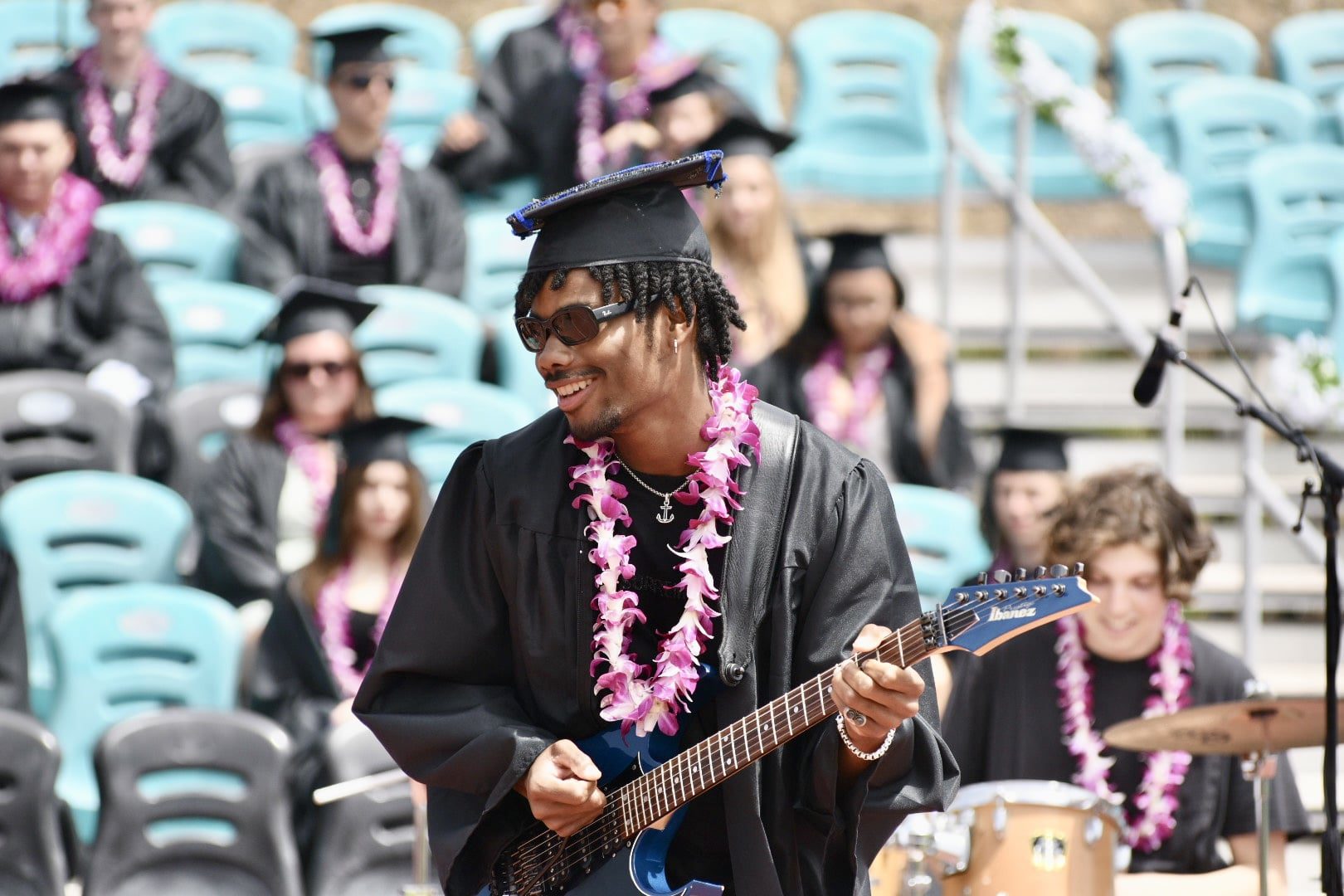 Johnson said her son was adept at playing guitar years before he graduated high school though.
"He was so open in his first guitar session," she recalled. "The instructor was shocked on how well he picked up the lesson and understood. For such a young boy, he had strong hands. NINO has always had determination, dedication, and a burning desire to do the amazing."
NINO's musical skills have improved since graduating from high school.
"I've seen so much more musically wise," he said. "Musically, I'm a totally different person. It has been constant improvement."
The teenager aims to put on a good show at the Greek.
"It's nice to be one with the crowd," NINO said of the performance. "I'll be aware of the environment. I love the energy. It's going to be exciting."