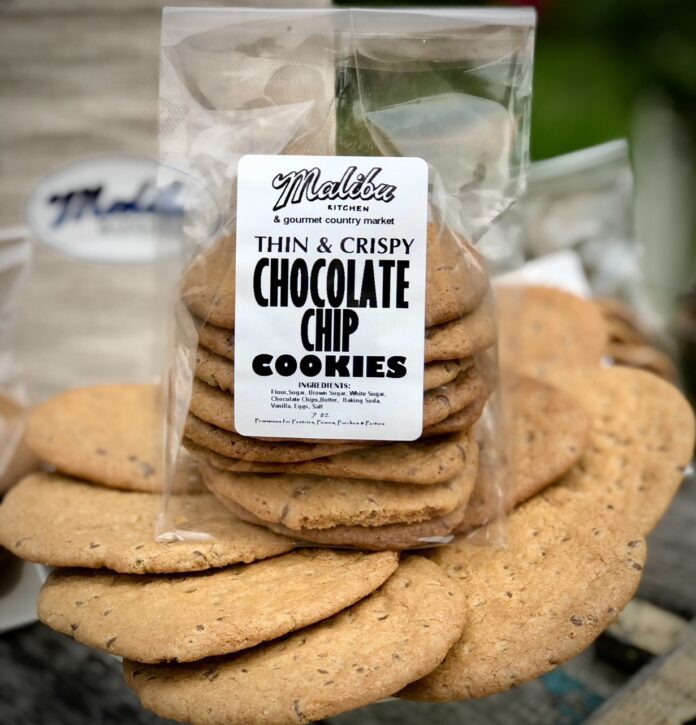 Business that closed last December will re-emerge at the Malibu Farmers Market on Aug. 6
By Benjamin Marcus
Back by incessant popular demand: On Aug. 6, Malibu Kitchen will be open for business at the Malibu Farmers Market with a cookiecopia of their world-famous Thin and Crispy Chocolate Chip Cookies, MegaBrownies, Pecan Wedding Cookies and Gluten Free Chocolate Nutty Crunchie Cookie Poppers. And maybe a few surprises.
Does that make you hungry?
To fanfare and sadness, Malibu Kitchen closed just before Christmas 2022, and made a gloomy, rainy winter a bit gloomier and sadder for those who were disciples of the sandwiches that came from the deli and the pastries that flowed from the hard-working bakery.
According to owner Bill Miller, now that summer has hit, his phone is ringing off the hook with sad/outraged calls from Malibu Kitchen acolytes from near and far who weren't aware that the store was no more
"People are freaking," Miller said. "I'm getting a hundred calls a week on the Malibu Kitchen store phone. People pull up in front of the store and see nothing there. I'm getting messages of shock and sadness, 'What happened? I'm so depressed! I used to come here as a kid and I was bringing my kids here and now there's no here, here!'"
According to Miller, the majority of the distress in these calls has to do with the cookies Malibu Kitchen used to sell by the dozens and tons.
"The Thin and Crispies were the most popular," Miller said. "We would sell as many as 1,000 bags a week. We couldn't bake them fast enough. I remember one 7- or 8-year-old boy running in his surf suit holding a handful of cash and said 'My Mom is outside, she wants the "crack" cookies.'"
Yes, Malibu Kitchen's cookies were habit-forming and addictive, and a good number of citizens and visitors have been "jonesing" for them ever since. Well the good news is Miller has cranked up a temporary kitchen and will be baking those very same cookies exactly like before. They will go on sale at the Malibu Farmers Market on Aug. 6 — mark your calendar — and that will also be the debut of the Malibu Kitchen website, where citizens can order the cookies online — like a Tesla, or a SONDORS bike — and have them delivered to your door.
There have been rumors that Malibu Kitchen would re-open at Cross Creek Ranch, but that is still up in the air. Perhaps the long lines for cookies at the Malibu Farmers Market will help that idea move forward, and it will all be available again: Better Than Mom's MeatLoaf, the Reuben, Turkey Brie, Tuna Melts, breakfast sandwiches and burritos, scones, coffee cake, cinnamon buns — and cookies, cookies, cookies. Coming soon, we can only hope
"One woman called and actually asked if I would make her some meatloaf from my house," Miller said. "That's brand loyalty."
And of course, the Concours de Swellegance of rare, beautiful cars, old and new.
The long, neighborhood nightmare is almost over!
Relief is on the way!!!! Online and in person.
For more information, look to themalibukitchen.com