The 19-year-old attended practices and sat on the team's bench during games while he recovered 
Basketball player Dean Furlong had to battle against more than opponents during his freshman season with the Sarah Lawrence College Gryphons.
Furlong, a standout player for Malibu High before graduating last spring, also had to fight his way back from injury.
Two weeks before the start of his first year of college hoops in October, Furlong fractured the orbital bone on the left side of his face when he collided with another player during a pickup basketball game on the campus of his Bronxville, New York, school.
Furlong underwent reconstructive surgery to repair the damage and missed the first 13 games of the Gryphons' season. When he returned to the lineup in January, the 6-foot-7 forward wore a clear protective facemask along with this green and white Sarah Lawrence uniform.
The ordeal, Furlong recalled, was grueling.
"It was the first major injury I have had in my whole career playing basketball," noted Furlong, a four-year varsity basketball player when he was in high school. "There were a lot of times when I was introspective and understanding it is myself versus myself and trying to stay positive."
The 19-year-old attended practices and sat on the team's bench during games while he recovered.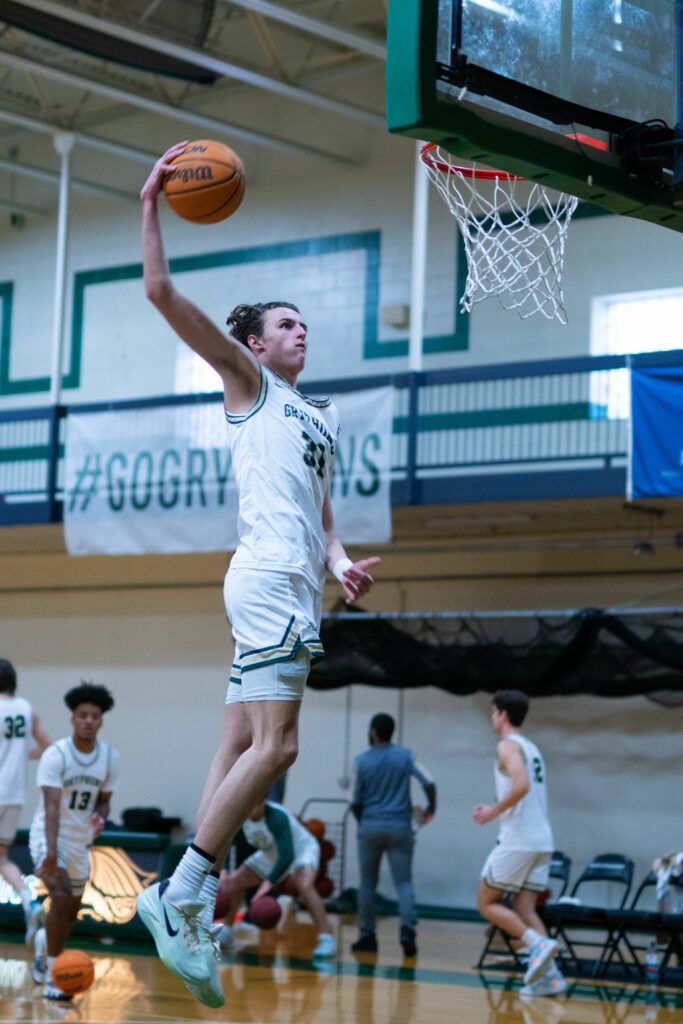 Supporting his teammates was important, he stated.
"I wanted to be as helpful as I could," Furlong said. "I focused on being productive in any way."
Furlong first practiced with the team in late December. He said playing hoops again was amazing.
"I realized how much I missed basketball and how much I valued it," Furlong noted. "When I got injured, I tried to stay positive, but it was hard when I couldn't do the thing I wanted to do, the thing I loved to do. It felt like so much hard work paid off because it was the first time I was a college basketball player. I had been on campus for three months, but I had to wait a bit longer to be an actual college basketball player."
Furlong's first game was the Gryphons' 67-57 loss to U.S. Merchant Marine Academy on Jan. 1. He played five minutes, grabbed two rebounds, and dished out one assist. He missed his lone shot attempt — a three-pointer.
"There were a lot of nerves that game, but it felt good just to be out there," Furlong recalled.
Furlong played seven minutes in the Gryphons' 74-68 victory over Purchase on Jan. 7. He recorded a block and a steal. Furlong's block was of a Purchase player's fast-break layup.
"That was my first win as a college athlete and it felt great," he said. "It felt great to feel like I was contributing to the team."
Furlong scored his first bucket in Sarah Lawrence's 61-51 loss to St. Joseph's (Long Island) on Jan. 14. He also grabbed one rebound.
The hoopster played in 14 games. He scored 14 points total and also had 10 assists, four blocks, and three steals this season. Furlong averaged 9.5 minutes a game. His season high in minutes was 23.
There were days Furlong woke with a headache due to the injury and the medication. He might have some scars for a while but he isn't experiencing any complications.
The hooper didn't feel he was truly back as player until the last portion of the Gryphons' 7-18 season.
"Being injured, you lose so much strength and conditioning," Furlong said. "It took a lot of work to get back to playing at the pace I know I can play at and to play as well as I know I can play."
The Malibuite will spend the summer in New York taking classes and preparing for his sophomore basketball campaign.
"I want to come back more productive," Furlong said. "I felt like I lost a lot of the productivity I was going to offer this year because of my injury. It took so much to work back to where I was. I'm excited for next year. I can improve and enter next year way more capable to help my teammates and help the team have a better record."