Staff, students, and former students say farewell to MHS Director Jodi Plaia 
Bikini Bottom was brought to the Malibu High School stage for the latest musical performance, "The Spongebob Musical." The theatrical party was filled with heart, humor, and many bubbles.
The audience sang and clapped along while Spongebob, played by Ethan Marshall, along with his friends Patrick, Sandy Cheeks, Squidward, Mr. Krabs, and the whole Bikini Bottom gang, entertained the audience in this brilliant, bright, and hilarious musical.
Not only is this the last show of the year for seniors, but staff, students, and former students said farewell to MHS Theater Director Jodi Plaia, who is retiring after 27 years of teaching, 21 of them at Malibu High. She has directed 62 consecutive productions in Malibu since 1996.
"This is my fourth year with Mrs. Plaia, and every single show I've done with her has been incredible," Marshall said. "She has such a good way of transmitting her knowledge to us; she learns about us individually and learns how to work with us so that we can understand it best, and every single show I've been with her has taught me so much about acting and drama as a whole."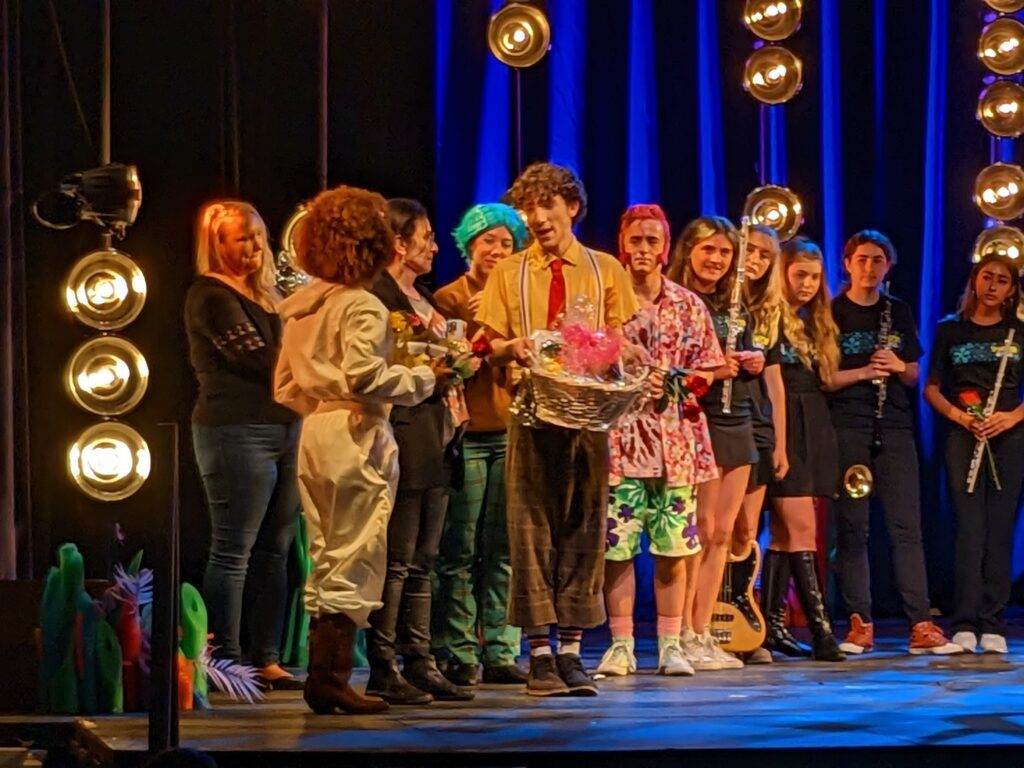 Marshall said this show was a bit challenging to do because of Spongebob's enthusiastic character.
"Not a lot of people think that playing that character is hard to play, but it's so athletic, and he's so energetic all the time, that it was just exhausting to play," Marshall said. "He cartwheels in the show, he flips and does all these turns, and Mrs. Plaia was there every step of the way to make sure I could be the best I could; this show has definitely changed the way I act forever."
Nick Ortiz said portraying Mr. Eugene Krabs was a lot of fun and that Mrs. Plaia has taught him so much in the short time he has known her.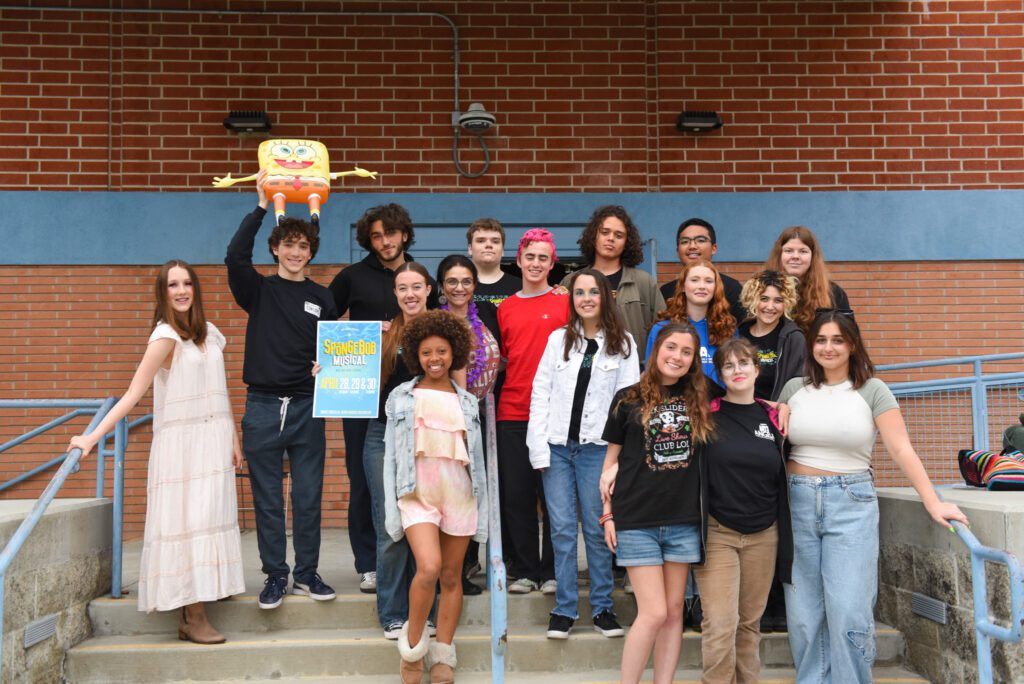 "It was lovely, it was incredible, Mrs. Plaia has been incredible. She has taught me so much in a year and I really think, under her wing, I have evolved completely," Ortiz said. "It's just been great to be in this show, it's been a lot of fun, my fellow castmates have been great. This will go down in history for me as one of my favorite things I've acted in so far."
Keira Norrell has been the stage manager for four years at MHS and is graduating this year.
"With this being my last production and graduating with Mrs. Plaia is such a nice well-rounded experience," Norrell said. "It's sort of full circle, and getting to know everyone, every year is really just like a family.
"It was pretty stressful at the beginning because it was such a big show and huge commitment, but at the end, getting everyone together, feeling like an actual cast, everyone all there, fully invested, it was just such a gratifying experience, and the results we're obviously incredible."
MMHS Arts and Angels President Jolynn Regan said this particular show was sentimental.
"It was a really fun show, but I think we're all a little bit sad, it's kind of an end of an era but I think we went out with a bang, and she had an amazing celebration and the kids had a great did an amazing job," she said. "We had a packed house, so thank you to the community for coming and thank you to Jodi for all of your years of service. The show was off the charts amazing; these kids were next level."
Plaia said in the beginning, it felt like any other regular show, but there was a point where it did feel like they were marking a moment.
"We did the work, and then we started to feel it, particularly today — we kept marking moments," Plaia said. "The kids put so much hard work into it, so it was really incredible to see all of the hard work come to fruition."
Former students visited Plaia at her last show on Sunday, and Plaia said it was very special to her to see them there.
"It was a really unique experience, and I haven't had an experience like this in many years," she said. "There was a lot of alumni that came. I had students from my very first year that I was teaching. It just felt like a love fest, I felt very honored and very loved; it was very special."