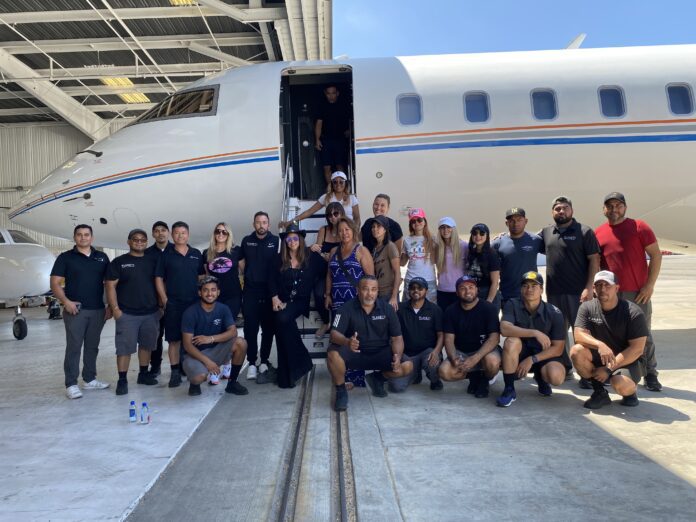 Malibu fundraiser "Ohana for Maui" sends aid and solidarity
By Barbara Burke
Special to The Malibu Times
In an inspiring demonstration of unity, a community fundraising event took place in Malibu on Aug. 13. During this event, an extraordinary outpouring of support was witnessed, aimed at assisting those who had been affected by the devastating fires in Maui. The aftermath resulted in the complete devastation of residences and businesses, with a notable impact on the historically significant Lahaina town on Maui Island.
The fires took both Maui's residents and tourists by surprise on Tuesday, Aug. 8. This unforeseen incident was a consequence of a convergence of factors, including powerful winds and arid conditions. These circumstances rendered Maui susceptible to what authorities of the state have classified as the most catastrophic natural disaster in Hawaii's history.
With a sense of urgency and empathy, locals rallied together to bring essential donations, ranging from flashlights and backpacks to toiletries and blankets, all destined for a flight to Maui on Sunday, Aug. 14. The contributions are slated to reach West Maui, where a dedicated team of volunteers is determined to directly assist the affected individuals.
The event was organized by Ohana for Maui, and at its center was Wailani O'Herlihy, a native of Hawaii, a Malibu local, and a driving force behind the initiative. As donations poured in, O'Herlihy encouraged donors to recall the aftermath of the Woolsey Fire, reminding them of the comprehensive nature of the aid required for displaced individuals and families. As attendees shared their connections to Hawaii and personal experiences with the Maui fires, the gathering became a poignant reminder of the interconnectedness of communities and the power of collective compassion in times of crisis.
"People are calling asking me what to donate," O'Herlihy said, who hosted Ohana for Maui at her Malibu home on Aug. 13. "I tell them to donate everything that we needed after the Woolsey Fire. Which is, well, literally everything that one needs to live." She continued, "345 homes lost, 4500 people are homeless, and 2000 structures are damaged. Ninety-plus lives are lost."
A considerable number of participants of the event had direct connections to individuals impacted by the Maui fires. "Having grown up there, witnessing the tragedy unfold is truly heartbreaking," expressed Daniel Cohen, who delivered a much-needed generator to aid the victims. "My mother resides on the Big Island, which is also grappling with the fires."
Another Malibu local, Johnny Kovich lost a family member, "I just found out that my cousin and her dog died in Lahaina; they found them under her car. Lahaina was in a total gridlock — it's a small town, and there's only one way in and out — people were goners unless they could run very fast and jump in the ocean."
Overwhelmed with emotion, Kovich added, "This tragedy is even bigger than the Hilo tidal wave incident years ago — in addition to the loss of lives and property, hundreds of years of artifacts went up in flames — my mother's precious leis made in the royal tradition were displayed in the hotels in Lahaina."
Currently, there continues to be a lack of information regarding the location of loved ones who remain missing, such as the case of Malia Yuhas, "My cousin moved recently to Maui to be with his girlfriend, and we haven't heard from him yet. We are waiting and hoping. That's all we can do."
Attendees of the event were happy that by donating to Ohana for Maui, there was at least something they could do. Melanie Angel, one of the event's organizers, provided insights into the initiative aimed at sending donations.
"Our first flight on Aug. 11 was donated by Planet X. As soon as we found that private plane, in a matter of 24 hours, we filled it up, helped load the plane with donations, and it flew off to help the survivors," Angel said. "Even though what we're doing is minuscule in comparison to the vast need, we are delighted to help those who currently can't help themselves."
Angel and O'Herlihy pointed out that they are consistently receiving updates regarding a significant multitude of Ohanas, which are families in dire need.
"What they can really use, in addition to donations, is cash and we have an enormous list of Ohanas urgently seeking help through Go Fund Me and Venmo," O'Herlihy said. "They need to pay for shelter, food, and immediate needs."
Surveying the growing amount of donations in her family's garage, teary-eyed O'Herlihy added, "It's so beautiful how everyone in Malibu wants to help the victims."