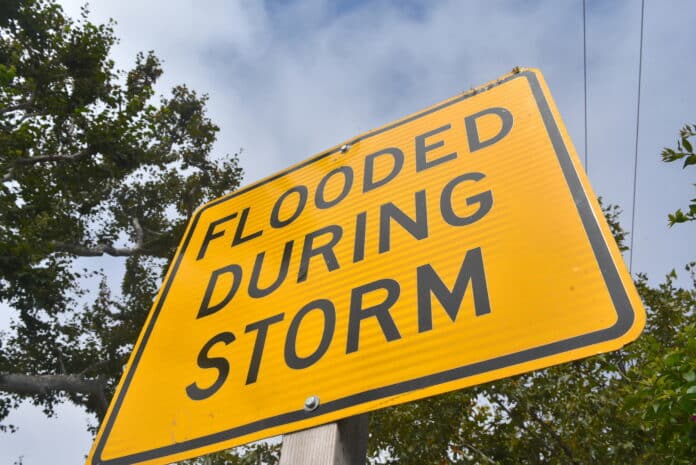 The National Weather Service forecasts that a powerful storm will impact Southern California, bringing heavy rain, high winds, hazardous road, beach and sea conditions, possible power outages Sunday afternoon, August 20 through Monday evening, August 21. Hurricane Hillary is moving up the coast from Baja toward LA County, and it is still uncertain whether it will change course, weaken or remain as strong as a Tropical Storm. 
The NWS has issued a flood watch for LA County, including Malibu, Sunday afternoon through Monday evening. Rainfall rates of up to 1 inch per hour are possible, with 1-4 inches total. Winds may be 30-50 mph. Note that this forecast may change significantly before Sunday evening, so monitor local news and weather forecasts at https://www.weather.gov/lox/. 
HAZARDS
Be prepared for heavy rain, strong wind, hazardous road conditions due to street flooding, mud, water and rocks in the road, wind, and low visibility.
Be prepared for potential flooding of creeks and low-lying and flood-prone locations, hazardous beach and ocean conditions due to beach erosion, rip currents, storm debris in the water, heavy surf and rough waters. Stay off jetties and rocks. People should stay off the beaches and out of the water, as it may be very hazardous, and stay off trails which could be hazardous due to flooding, muddy slippery terrain and rockfalls.
Be prepared for possible power outages and traffic signal outages due downed power lines. Never approach or touch downed power lines – stay back, warn others and call 911. Under California law, always approach an intersection with a malfunctioning traffic signal as if it is an all-way stop sign – that means come to a complete stop.
PREPAREDNESS TIPS
Sign up for alerts from the City www.malibucity.org/news (scroll down to "Alert Center"). Sign up for alerts from LA County (Fire and Sheriff's Depts) www.Ready.LACounty.gov/Alerts.
Monitor local news for weather forecasts and emergency information
Secure loose items in your yard
Make sure all drains on your property are clear (including rain gutters)
Prepare for power outages, check flashlights and batteries and backup power sources
Protect your refrigerated food by moving some items to the freezer and getting ice for ice chests
Take pictures of your property to document the condition before the storm
Get more storm preparedness tips in the City's Emergency Survival Guide (p. 74) at www.malibucity.org/survivalguide.
The Los Angeles County Department of Public Health (LADPH) recommends avoiding contact with ocean within 72 hours of significant rainfall, especially near discharging creeks and stormdrains, due to high levels of bacteria and pollutants from storm runoff.
City and County Public Works crews and Caltrans are coordinating, and will be monitoring PCH and canyon roads in Malibu for hazards, using bladetrucks to keep the roadways clear, clearing drainage, and pre-placing equipment.
The Malibu-Lost Hills Sheriff's Station will be upstaffing, the LA County Fire Department will have augmented staffing with extra lifeguards on duty, Mountains Recreation and Conservation Authority (MRCA) will have their Swift Water Rescue Team on hand, and the American Red Cross is on standby.
SANDBAG LOCATIONS
Sandbags are available at Los Angeles County Fire Stations. Call stations to find out if filled sandbags and sand are available. Search for the locations in LA County that have sand, sandbags and filled sandbags https://pw.lacounty.gov/dsg/sandbags.
Please do not remove sand from the beach to fill sandbags. Sand is crucial for beach habitats, and removing it from the beach is illegal in LA County. Plastic sandbags are prohibited in the City of Malibu (jute, burlap or other natural fiber bags are allowed).
STAY AWARE AND INFORMED
Monitor weather and emergency information on local news. During power outages, use battery, solar, hand crank or car radios, which will operate: 99.1 FM KBUU, 1070 AM KNX. Monitor weather conditions at https://www.weather.gov/lox. Sign up for weather, beach or emergency alerts via text or email from the City of Malibu at www.malibucity.org/news (scroll down to "Alert Center"). All current City alerts will be posted on the website: http://www.malibucity.org/Alerts. All emergency information will be posted on the website http://www.malibucity.org and on social media: http://www.facebook.com/CityofMalibu, http://www.twitter.com/CityMalibu and http://www.instagram.com/cityofmalibu. Follow Malibu Lost Hills Sheriff's Station on social media at https://twitter.com/LHSLASD. Sign up for emergency alerts from LA County (includes Fire and Sheriff's Depts) www.Ready.LACounty.gov/Alerts.
The Malibu Foundation also shared a preparation guide on instagram with what to expect, how to prepare and what to do during and after a storm.