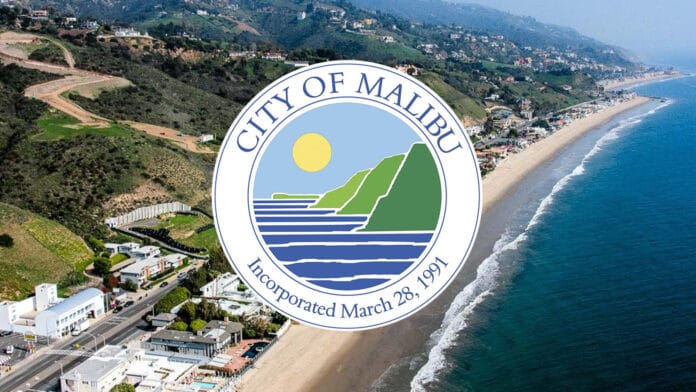 Malibu Middle School parents speak out about response to incident, lockdown at Getty Villa field trip
After a nearly three-hour discussion, the Malibu City Council approved The Malibu Film Society to host screenings at Malibu Pacific Church. Mayor Bruce Silverstein, and councilmembers Paul Grisanti and Doug Stewart voted in favor, while councilmembers Steve Uhring and Marianne Riggins voted against, saying it violates the city's code.
To start off the meeting, parents of Malibu Middle School students shared their concerns with the lack of communication from the Santa Monica-Malibu Unified School District during a field trip at the Getty Villa taht ended in lockdown last week, and asked the council to increase school safety and better communication.
"I'm so grateful that no one was physically hurt by this encounter but it hits very close to home for us parents and it shakes me to the core about my worst fear," parent Jake Lingo said. "I wish we didn't have to do this, I wish we weren't in a bad place, but the wishes won't make this danger go away, and no one's wishes will stop an active shooter situation. I hope Malibu's willing to fight for this on campus security, protect our children from all of our worst fears."
Parent Heather Alfano shared her concerns and said notifications regarding the lockdown were not shared with elementary school parents or staff.
"Security is a community matter and this event reinforces that we cannot rely on SMMUSD to act in our best interest," she said. "My objective today is to make it clear that we need Malibu's support that we ensure our students are safe, we need to know that law enforcement can make it to any campus within two minutes, if our worst fear would become a reality and we had an active shooter every second counts towards a life saved or a life lost."
Malibu/Lost Hills Sgt. Christopher Soderlund responded to the parents' concerns and said the Getty Villa is not under their jurisdiction and would be under West Los Angeles Police Department jurisdiction.
"As soon as we got word about what happened, we immediately responded and our deputies escorted the bus and the students back to the campus here in Malibu and ensured that everyone got off the bus safely and were reunited with their families safely," Soderlund said. "We do not brush off anything; we take every incident seriously and we investigate it fully."
Soderlund said the department has a full-time sergeant and three deputies assigned to Malibu schools and said the incident is still an ongoing investigation.
Silverstein responded to the parents and their proposal for armed security on campus and said that item has had mixed reactions when it was under discussion last year.
"There were a number of residents who spoke strongly against that when we had this up for discussion; we had a lot of emotions," Silverstein said. "I don't know if Malibu is up for taking up the question on whether there should or should not be gun control, that is an issue that seems to be avoided at the national level. I don't know what ability we have in any, in our local level, but maybe that's something we can think about."
The council moved on to item 6. A. Letter in Opposition to Los Angeles County Board of Supervisors Motion to Take Actionable Steps to Depopulate and Decarcerate the Los Angeles County Jails.
The city was recently made aware of a motion put forward by Los Angeles County Supervisors Hilda Solis and Lindsey Horvath to take actionable steps to depopulate and decarcerate the Los Angeles County jails. The item was pulled from the April 4 Board of Supervisors agenda after receiving numerous communications from cities and stakeholders in opposition to the motion. Although the motion was pulled, there are indications that it will be brought back at a future meeting.
The council approved sending a letter, but not the letter that was attached to the agenda. Motion carried.
The next item 6. B. Letter in Opposition to Rotating Los Angeles County Sheriff's Deputies to other stations at least every five years was presented. The recommended action is to consider authorizing the Mayor to send a letter to the Los Angeles County Sheriff, with copies sent to the Civilian Oversight Commission and Los Angeles County Supervisor Lindsey P. Horvath, in opposition to a recommendation to rotate patrol deputies in periodic rotations, no longer than every five years.
While rotating deputies has been useful for breaking up some deputy gangs in the past, the special counsel's report recognizes that it is just one of many options that department leaders can use. The report also includes a recommendation for the sheriff to provide a report to the Civilian Oversight Commission on his perception of the viability and likelihood of success of the rotational plan.
According to the report, moving deputies every five years would have a negative impact on the City of Malibu and all communities. Law enforcement efforts are strengthened by continuity and the relationships that are built within the community. In addition, during a disaster such as the Woolsey Fire, knowledge of the community, the roads, and the neighborhoods is critical for an effective response.
Allied Universal representative Rudy Ramirez supported sending the letter, saying it's extremely important to the city and its residents.
"It's been five years since the horrific 2018 Woosley Fire and nobody knows it better than the city within the Santa Monica Mountains that suffered this horrific wildfire and what we have experienced with rotations with deputies in an area is it creates a safety issue, especially during times of an emergency, where evacuations, time of the essence and no one knows it better than Malibu and your surrounding cities," Ramirez said. "We believe that the rotations of deputies will erode the community-based policing [that] comes after years of building relationships with the community and that trust would be eroded immediately if new deputies would constantly be cycling in and out every five years."
The council approved the proposal, and Silverstein said it's appropriate for the city to send a letter.
"We don't have problems with clicks, much less gangs here, and if we did, I'm sure Capt. [Jennifer] Seetoo would not stand for it," Silverstein said.
Silverstein motioned to address the letter to the Board of Supervisors and sheriffs. Motion carried.
The council approved item 6. C, Malibu Arts Association Art Show Event Series Fee Waiver. Waiving the facility use and permit fees will result in a loss of revenue of $2,515 for Fiscal Year (FY) 2022-23 and $3,420 for FY 2023-24. The Legacy Park Deed Restrictions permit up to six events at the park per calendar year. These events generate revenue for the city, and waiving these associated fees limits potential revenue.
The last and long-awaited item was the Malibu Film Society, and board members of the organizations attended the meeting to speak and support the organization's proposal to screen films at Malibu Pacific Church.
The council was asked to approve a grant of $85,000 to the Malibu Film Society to offset the forecasted deficit of approximately $75,000 during the 2023-24 season resulting from providing membership and admission to film screenings and other events to Malibu residents free of charge.
Malibu Film Society Director Scott Tallal attended the meeting and presented the proposal. Tallal has been working alongside Silverstein and Grisanti on this item.
"The whole idea here was to use movies as a way to bring the community together on a regular basis, once the mayor and the former mayor helped us figure out how to broaden the program and still stay afloat financially we were totally on board," Tallal said. "Local residents will no longer have to drive down the coast or over the mountains just to go see a movie on the big screen and they won't have to drive back all the way back to Malibu in the dark."
Tallal said Malibu Pacific Church is the ideal location for their events, saying the location has sufficient parking, enough seating, and equipment preferred by studio executives.
Silverstein, Grisanti, and Stewart were in favor, while councilmembers Uhring and Riggins were against the number of events they are allowed to host and questioned whether the facility would require a Conditional Used Permit (CUP) with the number of events requested.
"We're very gifted that that is available to us here in Malibu," Grisanti said. "I want to thank Scott [Tallal] for all the work he's done over the years to make that and many more of these occasions happen, and I'd like everyone else to have an opportunity to have those kinds of experiences in the future."
After a nearly three-hour discussion, the council motioned to approve the MFS to be held at Malibu Pacific Church.
During voting, Uhring said the proposal violates the city's code and after the meeting, The Malibu Times asked Uhring if other venues, such as Aviator Nation Dreamland, violate their code since they have events nearly every weekend.
"It's not in a neighborhood — there's a difference. There's 40 homes behind the church, and there's only one road out of there," Uhring said. "That's why we have special use permits, in terms of making sure that nobody goes into a neighborhood and does something that is going to disrupt the quality of their life."
Tallal said they will discuss the results with the Malibu Pacific Church to make sure they are comfortable and are able to proceed with hosting screenings at the church.
The next City Council meeting is scheduled for May 22 at City Hall. To view the agenda visit, malibucityorg/agendacenter.