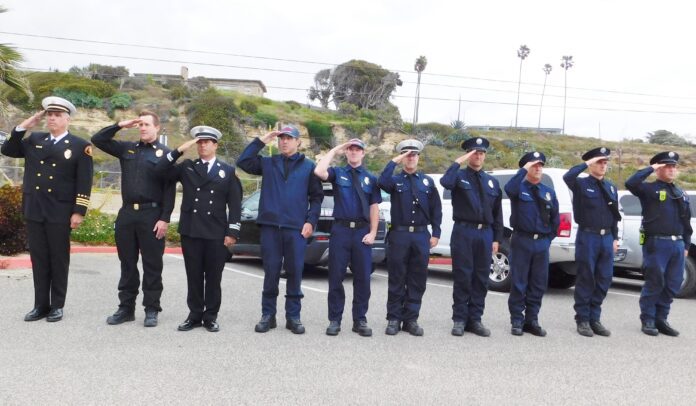 He served as a lifeguard at the beach for 37 years, beginning as a part-timer in 1950
Despite cold, cloudy, windy conditions, about 100 people turned out to pay their final respects to a man they knew, worked with, and loved — retired Zuma Beach lifeguard Dick Haddock — one of the pioneering lifeguards at Zuma Beach.
The "Celebration of Life" was a fitting tribute to a man who had dedicated most of his adult life to saving other lives. Uniformed members of the LA County Fire Department and Lifeguard Division were on hand to salute and perform a solemn flag ceremony. A bagpipe player played "Amazing Grace," a lifeguard truck drove from Zuma Beach Headquarters down the beach with lights on and sirens blaring, and a Coast Guard helicopter did a fly-by at the event. Friends and relatives spoke of their memories about Dick. His daughter-in-law of 35 years, Veronique Haddock, spoke, and daughter Wendy Milligan read a poem written by former lifeguard Bob Burnside titled "A Castle in the Sand." A paddle-out with the lifeguard boat took place, with ashes and rose petals committed to the sea, and photo displays and memorabilia with music were set up inside a building. Lunches and hand-painted stones were given out to guests.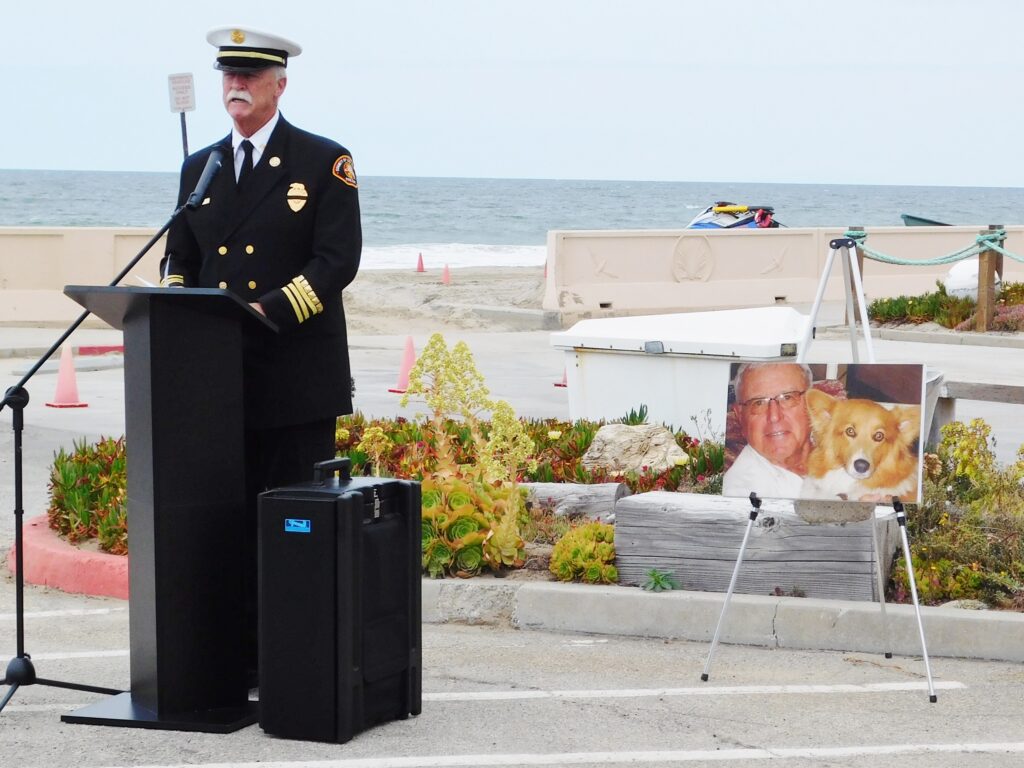 Haddock served as a lifeguard on Zuma Beach for 37 years, retiring in 1989.
"I started working as a lifeguard in 1950 while I was still a sophomore in high school," he told Malibu Magazine in 2019. "We had a great time every summer and slept at headquarters … We really had some wild rescues in those days — in one day, we had 408 rescues and I believe that record still stands."
Haddock was born in 1933 in Los Angeles and graduated from El Segundo High School in 1952, where he was a standout All-American swimmer and water polo player. He attended Santa Monica College, where he continued swimming and water polo, obtained an AA degree, and met his future wife Shirley. He became a permanent full-time lifeguard at Zuma in 1956 following two years active duty with the U.S. Coast Guard (plus six years in the reserves).
During his years at Zuma, Haddock worked his way up to lieutenant lifeguard. Chaplain Barry Nugent described him as a "fixture" at Zuma Lifeguard Headquarters.
"He was unflappable and knew how to deal with young male egos," Nugent continued. "He was witty, honest, fair, kind and loving … [Lifeguarding is] a brotherhood. We stand behind each other and support each other. Dick was a mentor and friend to all."
The Dick Haddock Race, the annual Zuma Lifeguard (and neighboring beaches) swim/run/swim race around Point Dume and on to Paradise Cove, a decades-long tradition, still challenges lifeguards. The race was originated by Baywatch Boat Captain Randy DeGregory in 1979, who named it after Haddock.
Veronique Haddock said the event, unofficially known as the "Slippery Dick Race," started when "Richard and a lifeguard friend, Randy DeGregory, decided they'd have a little race. They started at Zuma Lifeguard Headquarters, went swimming and running to Big Dume, then swimming to Little Dume, and ended up at the Sand Castle Restaurant (now Paradise Cove Beach Café), where Richard decided to moon the patrons in the restaurant."
"Richard was a scuba diver on the body recovery scuba team," Veronique continued. "One day he came home from Zuma Beach and told Shirley, 'It was a rough day today, we didn't find the body, but look, I've got dinner — two huge lobsters in my bag!' From then, on his lifeguard friends knew who to go to when they wanted lobster."
LA County hired its first lifeguard at Zuma in 1945 and worked up to a full crew by 1947 (still not even a fraction of the number of lifeguards working there today) with all of them living or working in nine houses on the beach that LA County acquired. All of the families became a very tight-knit group. The original four lifeguard towers have now grown to 14. Beach crowds at Zuma were minimal in the '40s and '50s because Kanan Dume Road wasn't completed until 1974, and Malibu Canyon Road was finished in 1953.
Haddock and his wife Shirley originally lived in a county-owned house that actor Robert Taylor once owned, paying only $37.50 a month for rent and utilities, on the site of the current helipad. They had two children, son Lorry (also a retired Zuma lifeguard still living in Malibu) and daughter Wendy, and stayed on Zuma Beach until the early 1960s, when the house was torn down for the parking lot.
Two-mile long Zuma, with its wide sandy beach, also has some of California's nastiest rip currents. The lifeguards assigned there have been described as "mythic." Rips can be dangerous even to expert swimmers, but to unsuspecting people caught in one, it's a fast, terrifying ride out to sea. Under the right conditions, there can be 100 rescues at Zuma in a single summer day, making it the busiest beach for summer rescues in LA County, and maybe the country. For lifeguards, Zuma is where the action is.