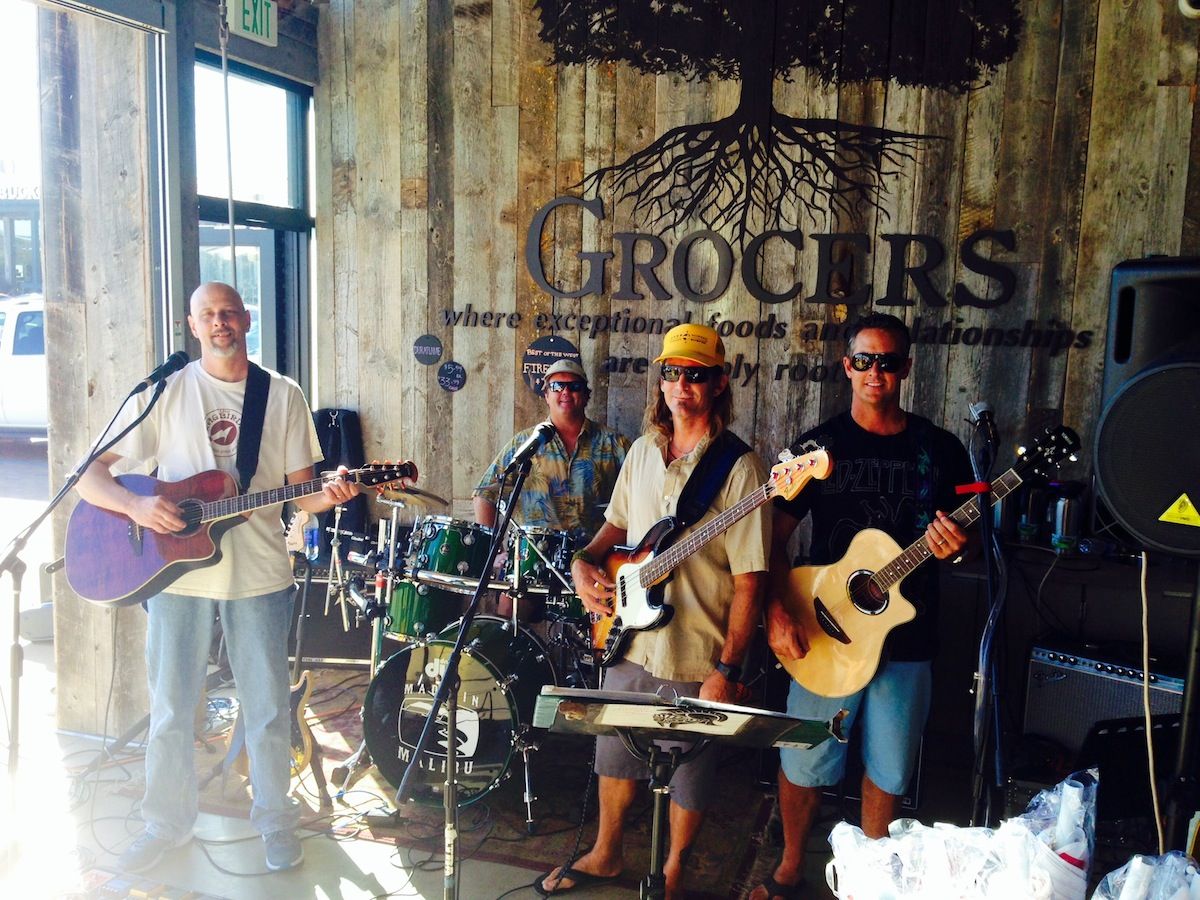 Call them Malibu home grown. They grew up together surfing, playing on the same Pop Warner youth football team, and attending the same classes at Webster Elementary and Malibu Middle School. But it took them two decades to actually form the band, known locally for playing a multitude of beach weddings and fundraising events, as The Roman Helmets.
Erik Rondell (bass/vocals), Shen Schulz (guitar/vocals), Jon Miller (guitar/vocals) and Chris Hanson (drums) had known each other a long time. Rondell, Schulz and Hanson had been childhood neighbors in Trancas. Rondell spent years talking music to Miller, who was then the meat department manager at Howe's in the Trancas Center, whenever he stopped in to load up on groceries. All had played in other bands. 
But they didn't actually start playing together as a band until about six years ago, when an opportunity opened up to jam at a secluded studio in Van Nuys.
"Those three hours passed like minutes," Rondell said. "It was totally accidental but it was like magic. The excitement came from just playing songs we grew up on."
That impromptu jam session leaned heavily on '70s rock the boys had enjoyed as youths.
"We used to play air guitar in each other's living rooms," Schulz said. "We were doing tunes by Pat Benatar and AC/DC and Led Zeppelin. So it was the music we all steered toward naturally as a real band." 
The Thursday night regular jam found them honing some 50 songs for their playlist until Rondell finally suggested that they actually play a gig. He contacted a friend in Malibu who invited some friends, set up chairs in the backyard and plugged in their amps. 
The guys took their places and were about to hit a first chord when someone from the audience shouted, "So what's your band's name?" 
Rondell looked back at his bandmates, stumped. They looked at him blankly and shrugged. Rondell said the first thing that came to his mind, "We're called The Roman Helmets." 
And Malibu legend was born. 
The Roman Helmets are in the rotation at Casa Escobar. They play the Barefoot Bar at Duke's regularly and late sessions at The Sunset Restaurant. Malibu weddings and New Year's parties feature their music, and if a good cause comes along, the boys are there to fight the good fight. 
"We all have families and day jobs," Rondell said. "We all have different hobbies. It's just the music that brings us together." 
As a cover band with no particular loyalty to a certain artist, they are free to experiment with styles. At rehearsals, one band member will bring in a song by Peter Frampton that they'll all try out. If it works, it goes into the set list. Same with The Rolling Stones, The Doors, Lynyrd Skynyrd and the Marshall Tucker Band. Rondell said it was like "girlfriends trying to get together. Whatever works for everybody." 
The Roman Helmets couldn't be more different in their "real" lives. Miller still works as a butcher. Schulz is a Realtor with Sotheby's International. Hanson is a second-generation fireman and Rondell is a movie and television stuntman. His credits include "Dances with Wolves" and "Captain America: The Winter Soldier." 
Miller remembers Rondell coming into Howe's for his groceries and talking R&B. When Rondell said he was sure that Miller could cut as mean a guitar lead as he does a steak, Miller was in. 
"It's not like I see us going on the road or anything," Miller said. "We just love playing music together." 
Rondell remembers when there was a club called Trancas Bar down the street from where he lived in the early '80s. 
"It was a big stage with a full sound, a real club," Rondell said. "I went in one night and Eddie Van Halen was playing with some other legendary player. It was a famous place. You never knew who you'd see there." 
Nowadays, there are fewer local venues, something Rondell attributes to the higher rents in town ("We can't even get a skateboard park together here," he laments). But they are never lacking for a stage. 
The first fundraiser they played was for the Malibu High Shark Fund six years ago. Schulz's two sons played water polo for Malibu High and the fundraiser was at a private home in Malibu Park. The Roman Helmets played so long the cops stopped in, but the owner wouldn't shut them down. Their set list has grown to more than 80 songs. 
Then came the Chili Cook Off, the Lions Club and individual fundraisers for Mike Downing, a neighbor who was hit with unexpected tragedy and soaring medical bills. Rondell said they never turn down a fundraiser if everyone in the band is available. But for Schulz, it's more than fun. 
"Music is therapy for us guys who work all left-brained," he said. "Music is good medicine." 
The Roman Helmets will play at a fundraiser at Duke's on Nov. 7. The public is invited.