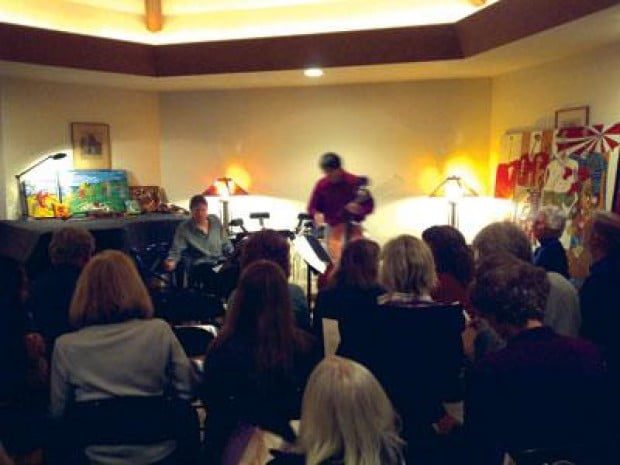 A sublime evening of chamber music by the Malibu Coast String Quartet featuring the composers Mozart and Beethoven took place Saturday night at the Montgomery Arts House for Music and Architecture (MAHMA) in Malibu.
The featured musical compositions performed Saturday were "String Quartet in G Major, K. 387," by Mozart (whose birthday, Jan. 27, 1756, was celebrated with the performances this weekend); an original composition by Newman to accompany the 1910 silent film, "What Daisy Said," starring Mary Pickford and directed by D.W. Griffith; and "String Quartet in F Major, Op. 135" ("The Immortal Beloved") by Beethoven.
Such an intimate setting as MAHMA allows listeners to fully appreciate the music by these legendary composers and the skilled musicians; and the invitation to enjoy wine and cheese beforehand as one meanders through the home, as well as dessert and coffee afterward, provides for a complete evening of enjoyment. Newman and Hosfeld, as well as guest speaker Elaine Archer, also spoke about the music that was to be performed, providing insight to the music and the composers themselves, such as the heartbreaking story of unrequited love in letters from Beethoven to an unidentified woman, which were called "The Immortal Beloved" letters and believed to be the basis for his 1826 eponymous composition. Guests were also invited to stay for a discussion about the music after the performance.
MAHMA is the home of Malibu residents Newman and Hosfeld, who welcome music lovers to enjoy these free concerts (donations are suggested) throughout the year. MAHMA was designed by architect Eric Lloyd Wright (grandson of Frank Lloyd Wright), who created the home with music in mind. MAHMA is dedicated to Newman's mother, Martha Montgomery, who in 1946 had purchased the land on which the home was built and later gifted it to her daughter.
The next chamber concert takes place Feb. 9 and 10, featuring Champagne and Chocolate in honor of Valentine's Day, and the music of Frederick Chopin, Joaquin Turina and another original Newman composition. The featured musical artists are distinguished cellist Michael Fitzpatrick and pianist Wendy Prober.
More information can be obtained online at malibufriendsofmusic.org