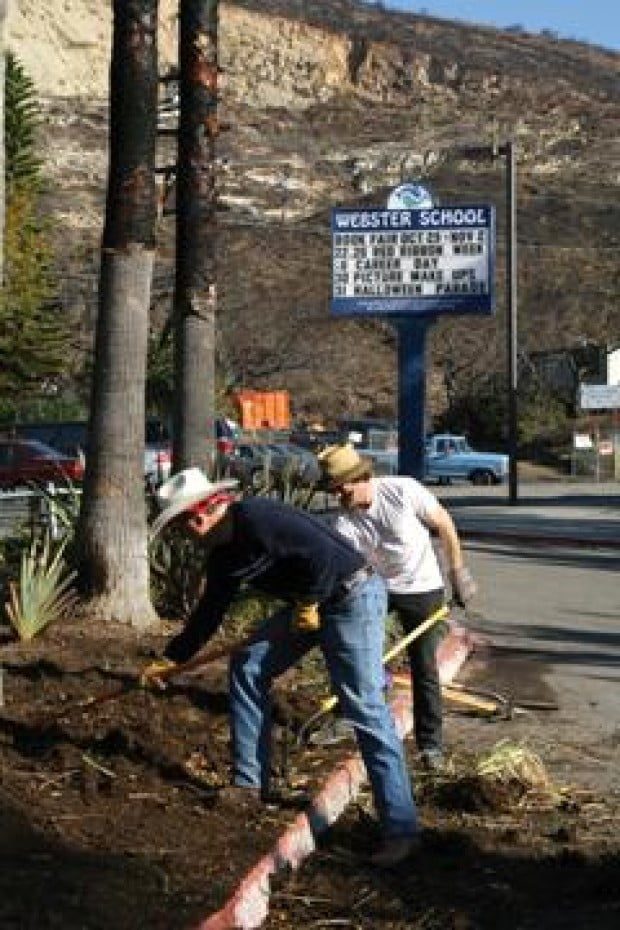 Malibu residents count their losses and blessings after the Canyon Fire burned from Malibu Canyon to the hills of Las Flores and Rambla Pacifico.
By Melonie Magruder / Special to The Malibu Times
Six homes, two businesses and some 4,565 acres of Malibu Canyon brush destroyed. Hundreds of thousands, if not millions, of dollars more in damage to businesses, homes, schools and infrastructure.
Malibu residents' jagged sense of déjà vu fed a disheartened populace for some and a feeling of obstinate determination for others. For many here, the 1993 fires provided a template for their reaction to last week's Canyon Fire.
Theater and film director Graeme Clifford has lived in Malibu for 30 years and his '93 experience guided him through events of this week.
"I had some damage in '93, but I refused to evacuate," he said. "That year, after hosing down my house with water pumped from my swimming pool, I saw the flames were really close. I jumped in the pool and breathed through a snorkel. But it melted shut, so this year, I was better prepared. I used a scuba tank."
Like others, Clifford noted that the '93 fire arrived "in a flash" and burned every other house on his street in Las Flores Canyon. Last week, he spent 48 hours putting out spot fires around his cedar-constructed home and was able to limit the damage to his wooden deck.
Though he sent his wife and pets out of harm's way, he stayed himself to fight the flames. "You have to have a hard-core mind set," he said and admitted that, despite the fires, he has no desire to leave Malibu.
Steve Beauregard lives above Sweetwater Mesa and said his home was designed to withstand fires. "I lost some landscaping and the kids' play area, but the house is OK," he said.
Anything green around him burnt to the ground, though, lending a bizarre aural sense to the landscape. "Because there is no longer any wind block, it sounds like a jet plane landing outside."
Beauregard counts himself lucky. The home of his neighbor across the street, Susan Stiepel, burnt to the ground.
In quick e-mail to The Malibu Times, Stiepel noted that she had not been able to return phone calls by reporters, as she was trying to coordinate "daily life out of a hotel room with one large dog and five house rabbits, and returning concerned phone calls and e-mails to a very large family."
Stiepel wrote that she and her husband's homes survived the '93 and '96 fires, but "we got it this time around!"
"Interesting, how these were three entirely different fires," she added.
Dave Goldstein's neighbors, Connie and Bernard James, also lost their home, which was located near the Malibu Presbyterian Church. "I have no idea why mine was spared," Goldstein said. "It's like the flames just jumped over my roof and landed on theirs."
Goldstein said his home on Coast View Drive was practically the only one on the street left untouched.
"Maybe it was because of the Ben Franklin plaque I had on my garage," he said in jest. Several years ago, Goldstein bought the antique plaque; a colonial-era sign that indicated residents had paid into a fireman's fund of the time.
"Ben Franklin pioneered the idea of a public fire department," Goldstein said. "In those days, if your house caught fire, they would send a fire truck to put it out if you had one of these plaques on your door."
Having personally escaped the devastation of this fire, would he consider leaving Malibu? "Of course not!"
Malibu resident Lilly Lawrence's home, Castle Kashan that sat on Malibu Crest Road overlooking the center of Malibu and the Pacific, was one of the first structures to go up in flames Sunday morning. She has spoken to several media outlets, including "Larry King Live," about the loss of her home, family heirlooms, priceless antiques and Elvis memorabilia as well as signed photos of past U.S. presidents and portraits of her father, Reza Fallah, a former Iranian oil minister, and of herself.
"All week I've been very strong, very brave," Lawrence said Tuesday.
However, Lawrence said, "Today is a really bad day. It's now totally sunk in."
Lawrence over the years has opened to her home to many charity fundraising events.
"We know the house was uniquely mine," Lawrence said. "It was Lilly inside and out, but … I never thought of it as mine, it was ours [Malibu's] … and that [it's gone] really hurts me so much."
Lawrence wanted to make sure thanks was given again to the firefighters who, she said, were "retrieving several of my treasures, while in grave danger; fire was literally underneath their feet."
In a live interview Tuesday with Fox News' Hannity & Colmes, Pastor Greg Hughes of Malibu Presbyterian said of the calamity, "It has been devastating. We were preparing for worship services on Sunday morning. And to turn around and see the church demolished by the fire was devastating. It felt like the wind got knocked out of us. But our congregation is resilient. We'll rebuild. We'll regroup."
The 60-year-old church was completely destroyed Oct. 21.
Webster Elementary, which suffered damage to two classrooms and one outbuilding, as well as burnt landscaping, reopened on Monday. About 35 to 40 parents worked several hours on Sunday to remove burned trees, shrubs and landscaping, in advance of the re-opening. School district crews cleaned the grounds last week, but "Principal Phil Cott was determined the children should not be confronted by charred bushes as they returned to school Monday, so asked for parents' help to finish the job on the weekend," wrote Dorothy Reinhold, Webster PTA co-president.
Donald Schmitz's home in Solstice Canyon was far enough from the flames to remain unscathed, but close enough to give him a clear view of the efforts of the firefighting teams.
"In hurricane winds, on 50 percent slopes, in 15-foot high brush against a 200-foot wall of flames, they held the line on the other side of the canyon," he said. "It isn't possible, but I watched them do it."
Schmitz lived through the '93 and '96 fires, as well. "I don't want to jinx myself," he said. "But we took a lot of fire precautions. We have interior sprinklers and on the roof, stone and stucco facings, a firewall on the north side and a fire truck with water canons. We were safe, but seeing the stoicism and strength of our community and our firefighters, I am proud to live in Malibu."
John Garcia's home on Malibu Road suffered minimal damage and he said he wasn't even aware that it was a real problem until the police showed up to tell him to evacuate. A house two doors down was destroyed.
"There was so much smoke I couldn't even go to the beach," he said. "I grabbed some socks, my briefcase and my passport and got out. And my camera."
Garcia said he has seen fire, earthquake and mud slides in Malibu, but he has no intention of leaving.
"What are you gonna do?" he asked rhetorically. "Malibu's home."
Such sentiment was even echoed by someone who was not so lucky. Janet MacPherson's home on Malibu Knolls was damaged and her guesthouse burnt to the ground. "This is the third house in Malibu I've lost to fire," she said.
She is staying at the Malibu Beach Inn while she contemplates her next step. "I'm even staying in the very same room here I stayed in after the fire of '93," she said.
MacPherson and her husband, Steven Farbus, were in Baja, Mexico when the fire broke out and drove up as quickly as possible when they heard about it. "The entire state on the right side of our car was on fire as we drove north," she said.
MacPherson said they would rebuild. Again.
"I've lived here over 30 years and fire is just a part of life. What can I say? Malibu is my home."