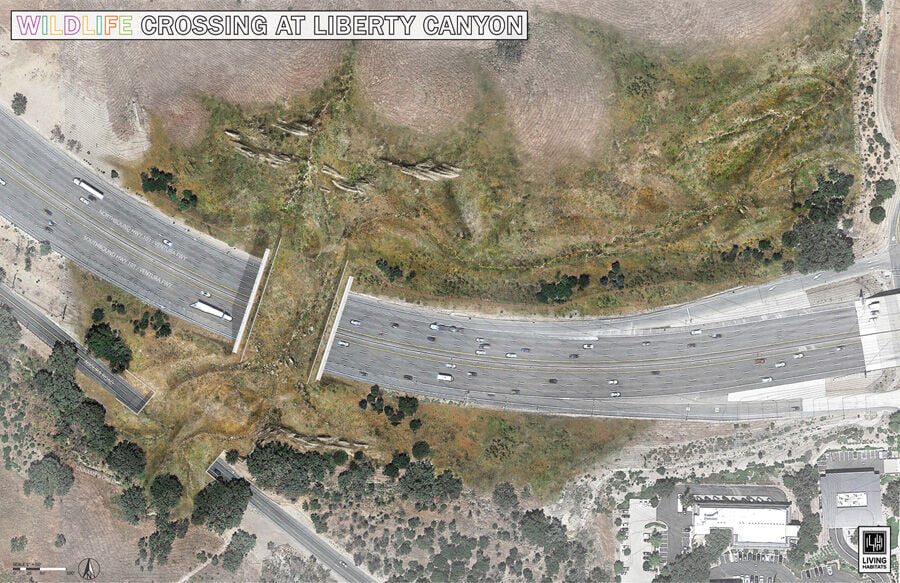 A record $25 million conservation challenge grant from Wallis Annenberg and the Annenberg Foundation was made to the National Wildlife Federation's #SaveLACougars campaign to build the largest wildlife crossing in the world at Liberty Canyon over the Ventura (101) Freeway. It will reconnect the long-isolated Santa Monica Mountains ecosystem, a biodiversity hotspot, with the rest of wild California.
The planned wildlife crossing is unprecedented in many ways—it will not only be the largest in the world, spanning 210 feet over 10 lanes of highway plus an access road; it's also the first to be funded primarily through private donations (with some public support).
With the Annenberg donation, the campaign will have raised more than $44 million, with an estimated $35 million more needed to match the Annenberg Challenge Grant and break ground in November.
Collin O'Mara, president and CEO of the National Wildlife Federation, said in a statement that this incredible offer would help to "ensure that California's iconic mountain lions and other wildlife can find the food and mates they need to survive by reconnecting the Santa Monica Mountains with the Simi Hills and beyond."
"There's a reason I wanted to support this crossing and issue this challenge: We need to move beyond mere conservation, toward a kind of environmental rejuvenation," said Annenberg, chairman, president and CEO of the Annenberg Foundation. "Wildlife crossings are powerfully effective at doing just that–restoring ecosystems that have been fractured and disrupted. It's a way of saying there are solutions to our deepest ecological challenges, and this is the kind of fresh new thinking that will get us there."
The future wildlife crossing at Liberty Canyon in the city of Agoura Hills will allow wildlife to safely cross a heavily travelled commuter route that currently prevents most wildlife species on four legs, including mountain lions, bobcats, gray foxes, coyotes and mule deer, from ever finding new territories, thus leading to inbreeding.
To learn more about the #SaveLACougarscampaign and its efforts to build the wildlife crossing at Liberty Canyon, visit savelacougars.org.