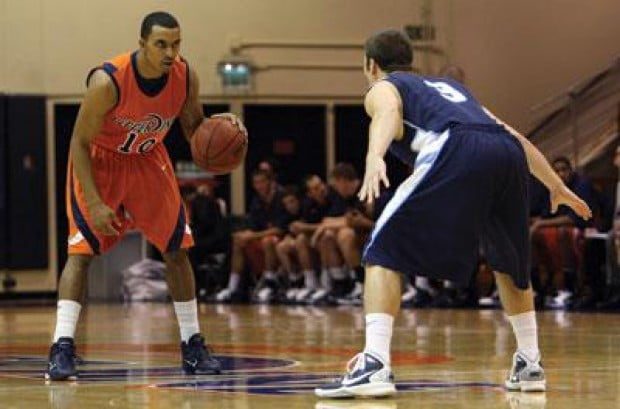 It seems counterintuitive that a team would play better without their leading scorer, especially when the player's 20.7 points per game average accounts for nearly 30 percent of the team's scoring output. However, the Pepperdine University men's basketball team managed to snap a three-game losing streak and earn two straight 20-point victories with junior guard Keion Bell sidelined due to an ankle injury.
"I am not playing, and that is a big reason why we are winning," Bell said. "We are distributing the ball more evenly."
With Bell unable to play against Seattle and San Diego, more Waves (7-12, 1-1) became involved with the offense. Junior guard Lorne Jackson averaged 24.5 points in the two games without Bell, well above his season average of 9.5 points per game.
"Some guys had to step up, and they have," Pepperdine coach Tom Asbury said. "Lorne in particular has stepped up."
Senior forward Gus Clardy scored a career-high 8 points against Seattle, and sophomore guard Caleb Willis matched a career-high with 8 points against San Diego.
"Me sitting out has helped us because a lot of other players are playing with more confidence," Bell said.
Bell leads the West Coast Conference in scoring, and Asbury calls Bell "probably the best scorer in the league." He also leads the team with an average of 2.7 assists per game. However, he also averages a team-high 4.0 turnovers per game, which is nearly double the average of any other Pepperdine player. Many turnovers are a result of trying to make tough plays in order to carry the team's offensive load.
"A lot of times when I am playing, people look at me and expect me to do something for them," Bell said.
Bell averages 21.1 points in Pepperdine's losses, and 19.75 points when the Waves win. Bell has not played in three of Pepperdine's seven wins. The importance of involving his teammates, and not dominating the basketball, is not lost on Bell.
"When I get back, and everyone else is still scoring and distributing the ball, we are going to be a tough team to beat in conference," he said.
With Bell sidelined for the third consecutive game against Saint Mary's on Saturday, the Waves struggled, losing 85-60. The Gaels (14-2, 2-0), who made it to the Sweet 16 round of the NCAA Tournament last season, came out shooting the ball well, making 15 three-pointers compared to three for Pepperdine.
"We have to get better defensively," Asbury said. "When the other team shoots 15 for 31 from three-point land, you cannot win."
Junior forward Taylor Darby led the Waves with 16 points and nine rebounds against the Gaels. Jackson added 15 points and three assists. Junior center Corbin Moore had 11 points and five rebounds, and senior forward Jonathan Dupre contributed 10 points.
The Waves play tonight in Spokane, Washington against Gonzaga.