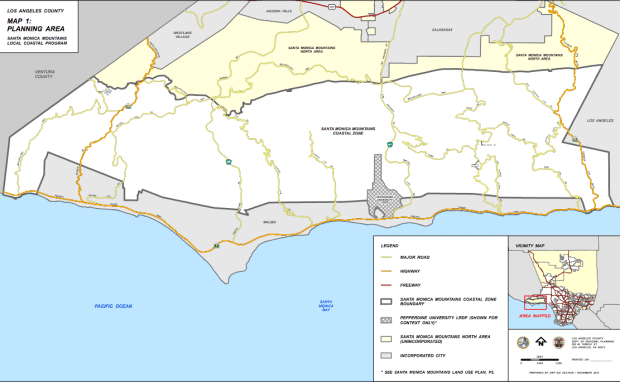 Almost 40 years after the state Coastal Act was passed, and over 10 years in the making, the California Coastal Commission (CCC) last week approved a landmark land use plan (also known as Local Coastal Program) for the Santa Monica Mountains, giving LA County Supervisor Zev Yaroslavsky a major victory as he wraps up his final year on the board. 
"It's a tribute to all the stakeholders — environmentalists, equestrians, homeowners, agricultural interests, among others — who came together to find common ground," Yaroslavsky said after the CCC's unanimous 12-0 vote. 
The plan will give LA County the authority to approve building projects and land use in the unincorporated areas of Santa Monica Mountains in the "coastal zone" — an area of about 80 square miles adjacent to Malibu city limits. 
The CCC's Ventura office has been the authority for decades, deciding each project on a case-by-case basis. An approved LCP will provide a more uniform set of guidelines, officials said. 
"Several of us in the Ventura office have spent our entire careers working on permits for the Santa Monica Mountains, so it's become very personal. We're very passionate about the protection of that habitat and those coastal resources," said Jack Ainsworth, senior deputy director of the Ventura office. 
Yaroslavsky was among hundreds who attended last week's CCC meeting in Santa Barbara. Over 85 individuals made public comments, with about 70 percent favoring the LUP. Others requested specific revisions. Ainsworth reported the commission received 411 letters supporting the LCP and 66 letters opposing it. 
Comments in favor included a number of current and former public officials, key environmental groups like Heal the Bay and the Sierra Club, homeowners associations, the Topanga and Monte Nido communities, the National Park Service, State Parks, conservation organizations and many equestrians, gardeners and longtime residents. 
Horse owners given amnesty 
A crucial point for many equestrians was keeping the plan's amnesty program (CO-12), allowing horse owners to bring unpermitted animal facilities, such as stalls or corrals, into compliance without facing penalties. 
Some commissioners had rejected CO-12 just prior to the meeting, but changed their minds after public testimony from numerous horse owners. The county and commission staff was instructed to rewrite it for consideration at the June meeting. 
Vineyard restrictions modified 
In a last-minute modification, commissioners decided to allow new small organic farms within brush clearance areas, but the commission upheld the outright ban on new vineyards, citing pesticide use, scarcity of water for irrigation and soil erosion into streams. 
A number of speakers came specifically to blast the proliferation of vineyards in the area. 
Longtime resident Lea Kohlberg said, "We've watched neighbors plant vineyards, spray them with pesticides, then fence them with razor wire… In the last year, the water table dropped over 100 feet. The vineyards around here have sunk thousand foot wells to access cheap water for their vines, and in so doing have sucked up the groundwater, the aquifer and the creeks, making the chaparral ever drier and creating a more flammable environment." 
Resident Jeff Thomas said, "We don't want the Santa Monica Mountains to be another Sonoma." 
That was echoed by Ravena Muldaven, who said, "We have vineyards all over our state, we don't need them here." 
Vineyard owners and supporters argue the mountains have a history of agriculture and wineries bring in visitors. They deny that grapevines require large amounts of water or fertilizer. Several members of the Malibu Chamber of Commerce and Malibu Assoc. of Realtors came to support the vineyards and their private property rights.