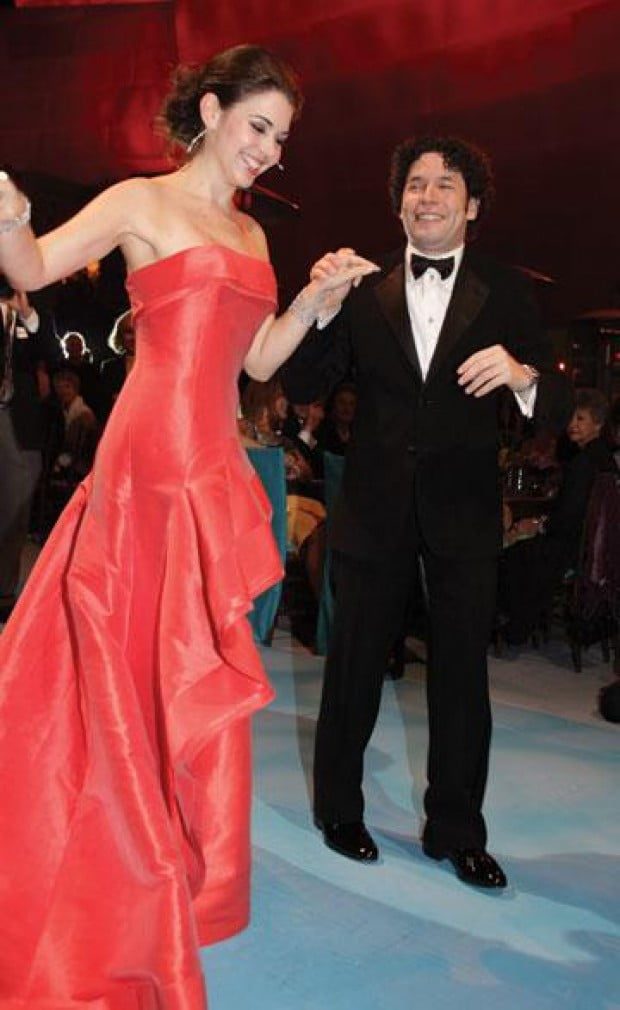 PARTIES OF THE YEAR!
Gustavo the Great
From Tom Hanks and Rita Wilson to Ginny Mancini and Quincy Jones, Malibuites turned out in force for one of the most anticipated musical events of the year-the debut of Gustavo Dudamel at Walt Disney Concert Hall. The reign of the Los Angeles Philharmonic's new music director was ushered in with a splashy black tie gala and a performance that was absolutely unforgettable. The starry debut kicked off with a waltz down a flamingo colored pink carpet. A-list celebrities mixed it up with civic leaders and high-profile culture vultures. Ladies pulled out all the stops with furs galore, tons of taffeta and spellbinding bling.
After a Latin-themed cocktail party filled with champagne and spicy bites, guests took their seats for the world premiere of "City Noir" and Mahler's First Symphony like it has never been played before.
It wrapped up with a shower of shiny gold and pink confetti and an incredible 10-minute standing ovation.
Well-clad revelers then made their way to an open-air party palace on Grand Avenue for the gala dinner. The place was done up like a colorful South American village.
Deborah Borda welcomed the out-of-towners in the group, which included 50 people from Gustavo's native Venezuela. "There are people who have traveled throughout the world to be here tonight," she said. "And they know how to party." The L.A. Phil president was absolutely right.
Modern Marvels
It looked like a night at the Academy Awards as the Museum of Contemporary Art celebrated its 30th anniversary. From Brad and Angelina to Eva Mendes and Tom Ford, it seemed like every VIP in the city turned out for this one. There were superstars of the art world as well. Lady Gaga belted out "Speechless" in a show-stopping mesh dress and a crown designed by the one and only Frank Gehry. Her hot pink, butterfly-festooned piano was created by artist Damien Hirst. Even more eye-popping was the total take. The event raised more than $4 million to keep L.A. on the cutting edge.
Who's the Boss?
It was one of the most anticipated concerts of the year and the private sky box at the Los Angeles Coliseum was rocking as Bruce Springsteen came to town. Locals like Bill and Cheryl Chadwick grooved to tunes like "Glory Days" and "Born to Run" with the likes of sports greats like Pau Gasol and civic leaders like Los Angeles County Supervisor Zev Yaroslavsky. No one paid much attention to people watching, however, because who could take their eyes off the boss with his tremendous talent and his boundless energy.
What Have You Got to Hide?
It wasn't the ritziest party of the year, but it certainly was one of the most original. Trekkie Leonard Nimoy hosted the annual Halla Galla to benefit the Santa Monica Museum of Art. Everyone was asked to come as their "secret selves" and this artsy crowd went all out. Locals like Kim and Michael McCarty joined in the fun. Kim, dressed as Gustavo Dudamel, mingled with party goers who came as Magritte paintings, the Los Angeles Police Department Headquarters, '70s roller disco queens and even a one-night-stand. We also got a look at Mr. Spock's imaginative portraits while raising cash to keep the museum's creative juices flowing.
Brush with Greatness
It was a starry, starry night indeed as the Hollywood Bowl inducted Josh Groban and Dame Kiri Te Kanawa into its legendary Hall of Fame.
For some, the highlight came when The Who's Roger Daltrey stepped into the limelight. The microphone-swinging rock and roll legend performed selections from "Tommy," backed up by the bowl orchestra.
In keeping with tradition, the bowl went out with a bang as a dazzling pyrotechnics display lit up the night sky. The evening raised nearly $1 million to keep music alive in local schools.
A Sunny Thing Happened
Few people in Hollywood are as inspirational as eternal optimist Michael J. Fox. So it should come as no surprise that when he puts on a fundraiser, it's one uplifting affair. His "A Sunny Thing Happened on the Way to Cure Parkinson's" was held at the exquisite Tuscan home of Paige and David Glickman. Guests roamed the estate's spectacular grounds while enjoying a delicious Mediterranean feast and sipping fresh guava martinis. As the sun went down, Robert Wuhl stepped up to the makeshift stage and shared some laughs with pal Jimmy Kimmel.
The exceptional outing got even more extraordinary when a golf cart carrying music legend Stevie Wonder rolled up to the garden stage. From "Superstition" to "Overjoyed," Stevie had us rocking in our chaise lounges and up on our feet.
What began as a sunny day, ended as an unforgettable evening with millions raised to help make Parkinson's a thing of the past.
So despite the gloomy economy,
there were high points in '09.
When it came to generosity,
things were just fine.
There was reason to hope, and good cheer had no end.
So here's to health and happiness in 2010.
Got a hot happening or cool event? Send the 411 to kimdevore@malibutimes.com.