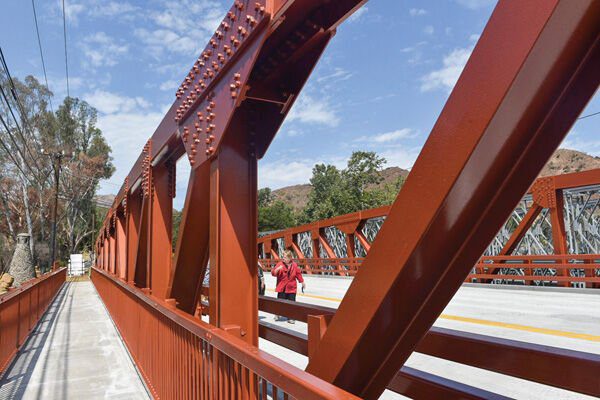 A milestone was accomplished last weekend when a newly rebuilt Mulholland Highway bridge in Agoura Hills was revealed to the community. This was the second bridge that was rebuilt after being destroyed by the November 2018 Woolsey Fire. 
County officials and local business owners shared emotional stories on Saturday, July 10, during the ribbon ceremony, describing their experiences during the fire that burned 1,600 structures and 97,000 acres. 
"The home and business owners of this community have shown—as they always do—great resiliency," Mark Pestrella, director of LA County Public Works said. "You can see the ruins of the many many fires in the Santa Monica Mountains—of people who survived them and who decided to call it quits. That's unfortunate and we're hoping that we can build back better in the future so we don't have as many lost residents [in] these beautiful mountains."
The bridge on Mulholland Highway between Troutdale Drive and Waring Drive was one of three damaged or destroyed bridges by the Woolsey Fire. Reports at the time stated the fire was so hot the bridge's asphalt roadway and even steel beams melted. For some, it became a symbol of the fury of Woolsey.
In 2019, a temporary path for pedestrians and a one-lane crossing with a two-phase light were implemented. Construction began soon after and was expected to be completed in October 2020.
The $6.6 million steel truss bridge spans 143 feet along the heavily trafficked highway. According to Pastrella, the bridge was awarded the most outstanding construction by the American Society of Civil Engineering Branch for its innovation and design.
LA County Supervisor Sheila Kuehl said the county worked throughout the pandemic to complete the bridge.
"This bridge is such an essential connector," Kuehl said. "We were feeling pretty optimistic, because working together, we were able to fast track the money that was needed for the reconstruction and then two months later, everything shut the county down. But even COVID didn't shut down progress on this construction and that says a lot about the dedication and determination of the people here today and our commitment to you." 
Pestrella announced that the bridge was dedicated to Kuehl and named it the Sheila Kuehl Bridge.
Tony Tavares, Caltrans District 7 director, said Caltrans understood the urgency of the project, adding how important it was to receive the federal funds to put the temporary bridge and build the permanent one.
"The Mulholland Bridge is an icon," Tavares said. "A lot of it was precast, brought here and then assembled; that is a new, innovative way of constructing bridges."
Old Place restaurant owner Morgan Runyon, whose restaurant sits right across the bridge, gave an emotional speech during the ribbon cutting.
"Today, the community of Cornell is getting a new bridge … giving us a new Cornell landmark. I hope this new bridge will become part of our dialogue and describe our community," Runyon said. "The bridge was a piece of our history that burned, and history is a big part of our community here at the Old Place in Cornell."