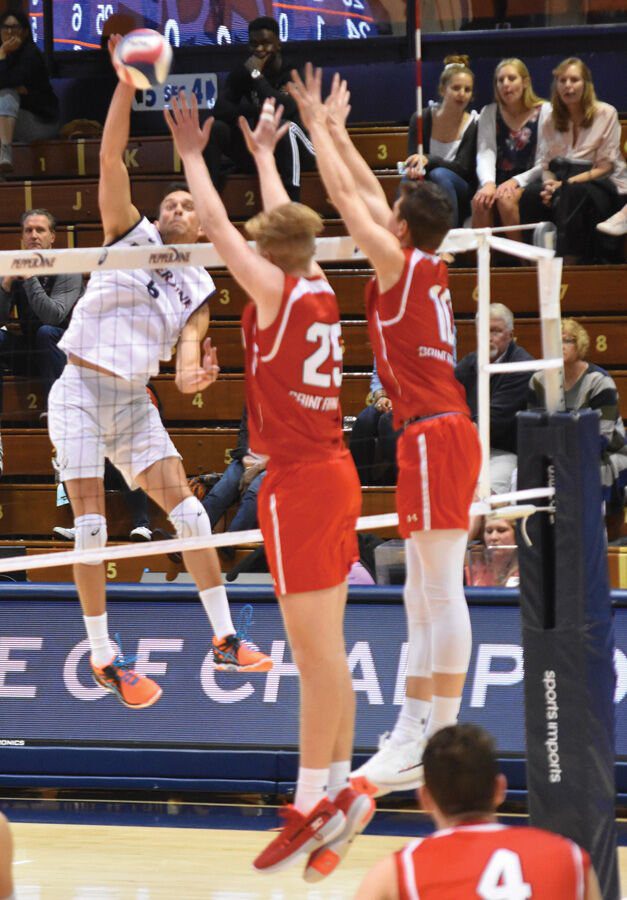 The Pepperdine Waves men's volleyball team will begin its 2021 season later this month. The season's start comes nearly a year after the novel coronavirus pandemic ended the squad's 2020 campaign with nine games left on the regular season calendar. 
Waves' head coach David Hunt said the team strives to play topnotch volleyball and is excited about this season, his fourth with the Malibu team.
"They want to be good," he said of the 23-man group. "We don't have to put a carrot in front of them. They are motivated to be really good and they are really talented." 
Pepperdine began preparing for this season after the squad returned to campus for coronavirus testing on Dec. 30. The players and coaches then underwent several other rounds of screening for COVID-19, the respiratory illness caused by coronavirus, while doing some training in groups. The Waves began standard practices to gear up for the season shortly thereafter. 
Hunt is happy that the athletes are playing volleyball with passion each day. 
"The hard part, in terms of volleyball, is we haven't played anyone else since March," he said. "We think we are getting better but there is no measuring stick. In years past, we've been able to say, 'Here are the things that are going well. Here is what we need to adjust,' but now we are going to have to do all those adjustments on the fly. That's going to be a challenge, but everyone has that challenge, so we aren't going to be at a disadvantage." 
Pepperdine hopes to play 22 or more games beginning with a Jan. 25 match against the Concordia-Irvine Eagles, a Mountain Pacific Sports Federation opponent. 
The Waves will have to get accustomed to seeing the Eagles and the MPSF's other five teams on the opposite side of the net. The federation deemed that because of the coronavirus' spread and to ensure consistent testing, its seven member schools will only play games against each other this season. So, Pepperdine will face off against their MPSF foes four or five times each; they usually only play them twice. 
Hunt asked a question he might pose to his team when they are facing a league opponent like UCLA or USC for the umpteenth time in February or March: "This is the fifth time we have played this team; how do we get better and better?" he said. 
"Those are things we are talking about. It could be still a challenge," the coach responded.
Before the 2020 season was cut short, the Waves had an 8-6 record. The bunch's final contest, a 3-0 home win over Jamestown on March 11, was played in front of bleachers absent of fans, so Hunt said his group has some familiarity with what its like to play amid a worldwide health emergency. 
"It will be different," he said. "We are going to have to bring our own energy. We can't rely on the crowd to get us going."
The Waves finished last season ranked eighth in the American Volleyball Coaches Association national poll. Last week, the AVCA had Pepperdine tied for seventh with UC San Diego in its preseason poll. The Waves were placed second in the MPSF coaches poll. 
Pepperdine returns all six starters from last year and eight returning players started at least half of the contests in 2020. Two redshirt seniors—6-foot-5 outside hitter Noah Dyer and 6-foot-10 middle blocker Austin Wilmot—earned AVCA All-American honorable mentions last spring. Dyer was also an All-MPSF first team selection, while Wilmot received the conference's second team honor. Additionally, 6-foot setter Joe Karlos and 6-foot libero Diego Perez both made the MPSF All-Freshman team. 
Hunt said Pepperdine's roster is oozing with talent and experience, but the group isn't gazing beyond the regular season at postseason glory. He said they are taking everything a day at a time, especially since, after all, the Waves are competing during a pandemic. The players must be tested regularly and limit their interactions with friends and family. 
"For coaches, we try to make things business as usual, but in reality, it's not," Hunt said. "For student-athletes, life is different. We are trying to play a sport. The sport is not the highest priority in the world. It's something we love and want to be good at, but there are other things at play. How do we balance that? How do we balance our mental health? We are trying to balance all those things and gear up for a season that we think we can be pretty good in by the end."