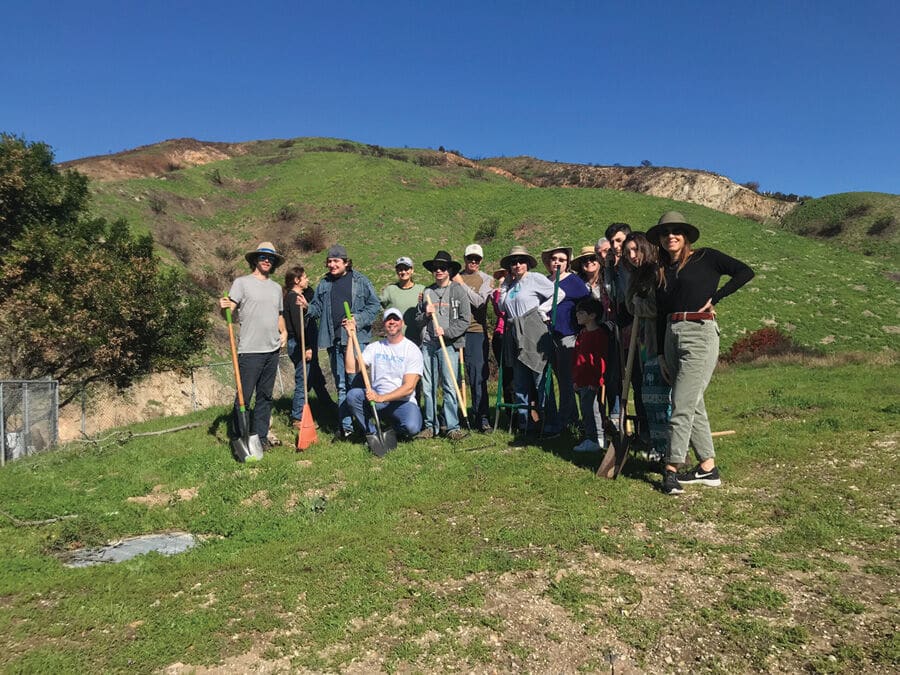 If you were to look through Kimberly Schwarz's spice cabinet, you'd find seasonings with unusual names such as "Rosemary Crush," "Sunrise Splash" and "Malibu's Raw Honey"—just some of the many hand-crafted seasonings curated from Malibu-based ShemeshFarms. 
Begun in 2013 as an initiative of Shalom Institute, a camp conference and retreat center in Malibu, ShemeshFarms employs young adults with special needs and diverse abilities to plant, harvest and create signature herbs and spices to then be sold on their website and at farmers markets around the Los Angeles area. 
"The Shalom Institute has been around for 50-plus years, and ShemeshFarms has been around for seven. It was a vision of Rabbi Bill Kaplon—he really wanted to make sure he had a place for people with diverse abilities, particularly younger adults with special needs," Michelle Cait, director of Shemesh Enterprises, said. "So, after they graduate from high school … maybe they can come up and work on the farm and maybe we can start developing something from the farm and sell our produce at farmers markets."
Schwarz, a volunteer, said she initially started working with ShemeshFarms because she saw the benefit young adults with disabilities received. 
"Even spending an hour with these young adults is just amazing. During the pandemic, they've really pivoted very quickly," Schwarz said. "I've been a part of the Zoom calls they've been doing twice a week and you just see these individuals who just want normalcy in their everyday lives to begin with."
Schwarz is a part of the ShemeshFarms advisory board and is an advocate for the program. She said the spices the farm fellows produce are a mainstay in her cabinet at home.  
"The work that they do, as well as the fact that they sell the products that are produced are amazing—it's just a really amazing program," Schwarz said.
ShemeshFarms is supported by the Jewish Community Foundation of Los Angeles, the Jewish Federation of Greater Los Angeles, Erwin Rautenberg Foundation, the Diane and Guilford Glazer Philanthropies, and Hillside Memorial Park and Mortuary, as well as individual donors and sales.
After selling at farmers markets around the LA area, Cait said, people started to notice their brand. 
"We started selling some of our produce from our organic farm at farmers markets all around the city and we just went everywhere. Then slowly people started paying attention to us and we were able to apply for more grants," Cait said. "Then we started to hire more young adults with special needs."
Cait said the program creates an environment for everyone to feel comfortable to contribute and express themselves freely. She soon learned that farm fellows' different interests could be geared to different creative outlets. 
"We have a lot of different modules because we have so many people with different abilities that want to serve our community. We started building a beautiful infrastructure and culture that's very democratic. Everybody who works at ShemeshFarms voice is heard and everybody contributes," Cait said. "So it doesn't matter if you're in a wheelchair. It doesn't matter if you have autism. It doesn't matter if you express yourself verbally or non-verbally, we find ways that everybody can be heard. And so it's an environment that fosters dignity, purpose and fulfillment in people's lives."
Cait said ShemeshFarms started with around six farm fellows and grew to 50.
"Everything was the intention of teaching our farm fellows how to plant, how to garden, how to be farmers and the intention of running a business and being enterprise level," Cait said. "So it's this beautiful combination of being a farm and social enterprise."
ShemeshFarms also has volunteers that help create a working relationship with young adults, teens and adults without special needs.
Some farm fellows communicate with sensory touch or noise and Schwarz said the program offers different levels for participants and contributors.
"Some are actually able to put labels on the jars or take the dry rosemary and put them into the spice grinder. There are so many different tasks and for some it could just also be sitting there and being a part of something for others," Schwarz said.
ShemeshFarms gives young adults an opportunity to learn about harvesting, marketing and business but also be a part of something socially.
"It's empowering to see these individuals do something that I don't think they would have been able to have received anywhere else," Schwarz said. "When the farmers markets were in full force, some of them were actually able to go out and interact with the shoppers. It's really neat that they've been able to still engage and include the farm fellows in something that is really important."
Cait said ShemeshFarms provides a sustainable working environment for its employees and the environment.
"We practice the principles of biodiversity, so we have clean soil, something that we really value and care about, is the earth and we care about taste and our community," Cait said. "So it is very important for us to practice farming and gardening principles that are good to the earth with healthy soil. That's why our spices and blends are so tasty, and because our herbs come from such amazing soil, that's kind of like our story."
For more information on ShemeshFarms, visit: shemeshfarms.com