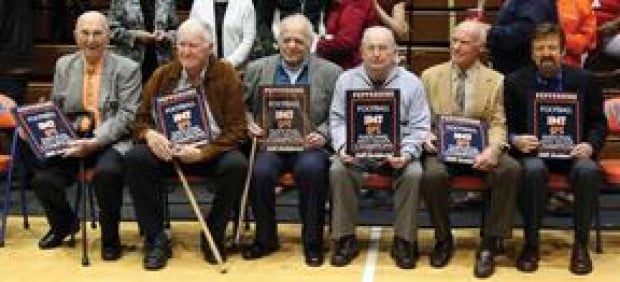 Pepperdine University recognized the 60th anniversary of its 1947 small school football national championship Saturday at halftime of the Waves' basketball game against Cal State Northridge.
Every fan in attendance at the basketball game received a rally towel imprinted with the 1947 championship banner to honor the football team, which won the title in only its second year in existence.
The Waves' football team steamrolled through the 1947 season, winning their last five games with scores of 46-0, 47-0, 56-0, 46-0 and 13-0 to finish the season with a 9-0 record. Under the guidance of coach Warren Gaer, Pepperdine was the highest scoring team in the nation.
The Waves were led by halfback Bobby Hayes and fullback Darwin Horn. Hayes went on to play in the NFL for the St. Louis Cardinals. Horn was the highest scoring player in the nation for the Waves, and Pepperdine's first All-American. He went on to become an agent for the Secret Service.
Guard Ted Kiapos, end Pat Murphy, tackle Bruce Murdock, left halfback Ron Whitson and tackle Sir Howard Geiger were also honored in front of their grandchildren and screaming students.
Despite the fact that the football program was discontinued after the 1961 season because of a lack of funding, the 1947 team remains active at Pepperdine. Eight years ago, the members created the Football Players Endowed Scholarship for fifth-year student athletes who fulfilled their eligibility but still need to take additional classes to graduate.
A large banner was hung in Firestone Fieldhouse to honor the team's championship and ensure the players will never be forgotten.