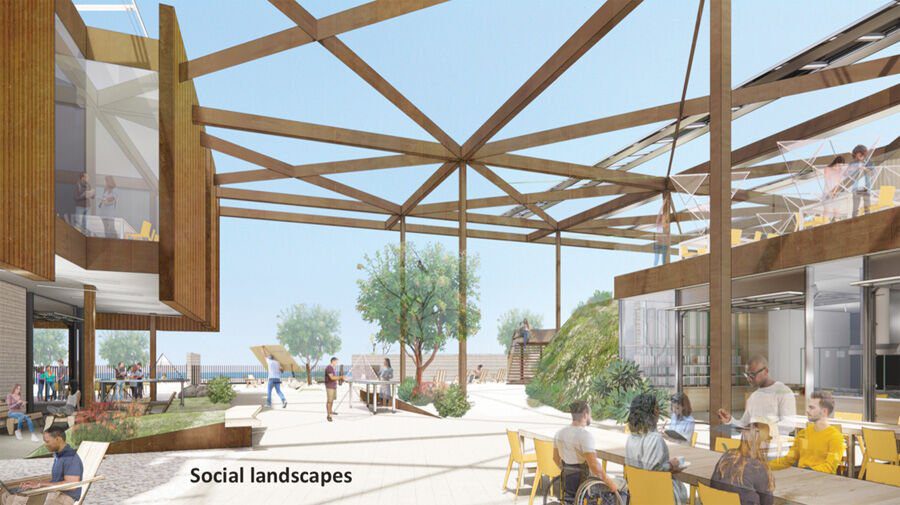 Architects unveiled plans for a massive remodel to the local high school, with collaborative, hands-on learning at the forefront of the design at a Santa Monica-Malibu Unified School District (SMMUSD) special board meeting on Thursday, April 29. The new work follows the major construction that recently wrapped up on the Morning View Drive campus.
Construction on the new high school will cost $97-$100 million, though the overall budget for the project is closer to $160 million when "soft costs" such as design, inspection and management are factored in, Bond Program Manager Steve Massetti anticipated. That funding will come from Measure M, a Malibu-only bond worth $195 million that was approved by local voters in 2018 and which has already funded updates to a playground at Malibu Elementary School. Unlike previous school bonds, Malibu will see 100 percent of Measure M's money.
Shortly after the measure passed, schools were reconfigured, allowing for the expansion of the high school/middle school campus.
Malibu Elementary School was created by combining the student populations of Point Dume Marine Science School and Juan Cabrillo Elementary School in 2019, which means that the old Juan Cabrillo site currently stands empty. Those structures will be demolished in the summer of 2022 and reabsorbed into the middle and high school, with the new building on track to open in August 2024. 
Architects have been working on plans for the project for a year, Noemi Avila-Zamudio, the deputy bond program manager for Malibu, said, adding that the architects had held more 50 meetings with stakeholders to get input on the community's needs, such as differentiating between the high school and middle school campuses and remodeling with project-based learning in mind.
"I can't tell you how great it's been to work with a group that has just been willing and able to kind of step in all along the way and contribute what's been needed to keep this project on schedule," Michael Pinto, principal at NAC Architecture, said. He called the input from students particularly "remarkable."
Pinto spoke of wanting education to be a "sensory" and "exploratory" experience for children—his vision for the remodel was to take advantage of opportunities for collaboration and projects that exist due to Malibu's proximity to the Pacific Ocean. He said that the future high school buildings would be slightly more elevated than they currently are, affording students and teachers better views and resolving some drop-off-related traffic issues. 
"What we really wanted to do was embrace the hillside context for this project," Nathan Bishop, principal in charge of design at Koning Eizenberg Architecture, added. In the plans, "the landscape itself becomes a living laboratory for students," Bishop said.
Images of the future high school show indoor spaces spilling into outdoor spaces, an array of solar panels atop the building and storm water landscaping providing plenty of greenery and nature. He described the school's western courtyard, with its expansive views of the ocean, as having "layers of activity," with socializing, learning and project-making in close proximity. 
Avila-Zamudio said that architects had adhered to the California Environmental Quality Act (CEQA), a law which requires builders to reduce environmental impacts as much as possible. CEQA requires multiple preliminary studies be done before building; some of those, such as traffic and noise studies, were not possible to perform during COVID-19. 
CEQA also dictated that the SMMUSD-hired architects propose a site for the bus depot. The builders selected one close to the equestrian park, but that spot was "not a done deal," Avila-Zamudio said. 
Avila-Zamudio said that the project plan had been sent to the City of Malibu, which had acknowledged receipt. The project will need both the city and the California Coastal Commission permissions to move forward. 
For now, students can look forward to next year, during which "there won't be that much construction on campus," according to SMMUSD's Chief Operations Officer Carey Upton, a welcome respite from campus construction that has been going on for years at the combined middle and high school campus. At the same time, Upton guaranteed, the school district had made major progress on removing the polychlorinated biphenyls (PCBs), carcinogens found in window caulk and light fixtures, from school grounds—after parents won a 2016 lawsuit to have them removed. 
"By the time students return this fall, we will have met the court order, we will have removed all PCBs over 50 [parts per million], we will not be using any space that has PCBs over 50 [parts per million] and we will be able to move forward from this nice long journey that we've been on," Upton said.