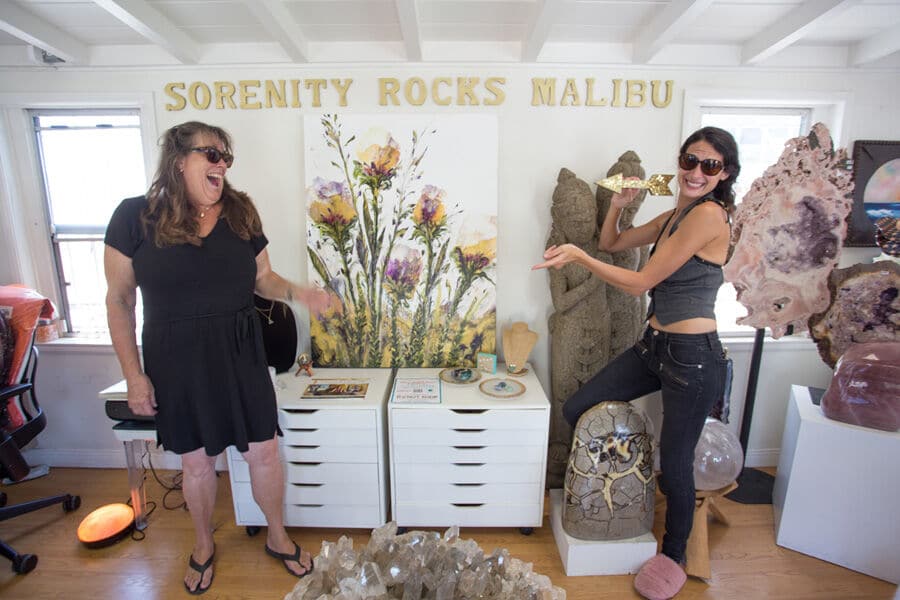 Helen Campanella has painted all her life. She remembers the joy of having her works first displayed as a third-grader, saying "it knocked my socks off." 
The Point Dume resident may have picked up some of her artistic talents from her mother, who was also an artist with work shown in local galleries near Pasadena where she grew up. Now, the mostly self-taught artist is flourishing during the coronavirus pandemic, finding more free time and an urge to create while the world is in the thick of one of its biggest crises.
Campanella started picking up her paint brushes more frequently in the last few years after the death of her daughter. She honed more skills painting with the Santa Monica College Emeritus program in Malibu. When she didn't like some of her own work, the Malibu Art Association member would tear it up and transform it into collage pieces. She eventually set up a studio in her living room and branched out from watercolor—what "really got me started," Campanella said—into oils and acrylics. 
When the pandemic forced the cancellation of the yoga classes she taught at a Pacific Palisades health club, Campanella made the most of it, channeling her creativity into a beautiful new series of paintings that are on display and for sale at Sorenity Rocks Malibu's art gallery and at its satellite location on Point Dume. The floral garden depictions evoke a calming effect especially beneficial at a time when the pandemic has turned daily lives topsy-turvy.
Some of the new floral series involve poured paint technique. The artist pours paint with a mixture of Floetrol—a paint conditioner and thinner—to create florals leaning toward an abstract style, although she insists she is not an abstract painter. She's been known to incorporate a hair dryer and chains instead of a brush in this technique. 
"It's a pretty intensive four or five hours" of pulling paint, she explained. 
The artist's creativity has blossomed using other interesting techniques, as well, to create pieces including the use of actual bikinis for a mixed media collection. Entitled "Bikinilicious," it is a series of string bikinis crafted into floral design. 
"They're very amusing," she chuckled. "It's making it 3-D.  Taking watercolor paintings and doing collage—cutting up and arranging the bikinis to look like flowers." 
One piece was to be displayed at Malibu City Hall. 
"We were having our opening and then, of course, COVID hit right before everything shut down. So, that was a big disappointment, that we didn't get to see the art on the wall—local art," Campanella said. 
Campanella's work has been shown at Sorenity Rocks before. 
"Lenise (Sorén, the proprietor) is a lovely lady who's shown a few other local artists. She's all about Malibu art and artists," Campanella praised.
The importance of creating during times of crisis and displaying artwork when so many businesses and people have been sequestered is on Campanella's mind. 
"The gallery was ready to open and then COVID hit. It's been really slow trying to get in full swing," she described.
The painter appears most Sunday afternoons at Pacific Coast Highway and Heathercliff with recent creations.
"It was a big shift, mentally, from painting for myself to deciding to paint and sell as an artist, though I would rather have a painting hanging on somebody's wall," she said.