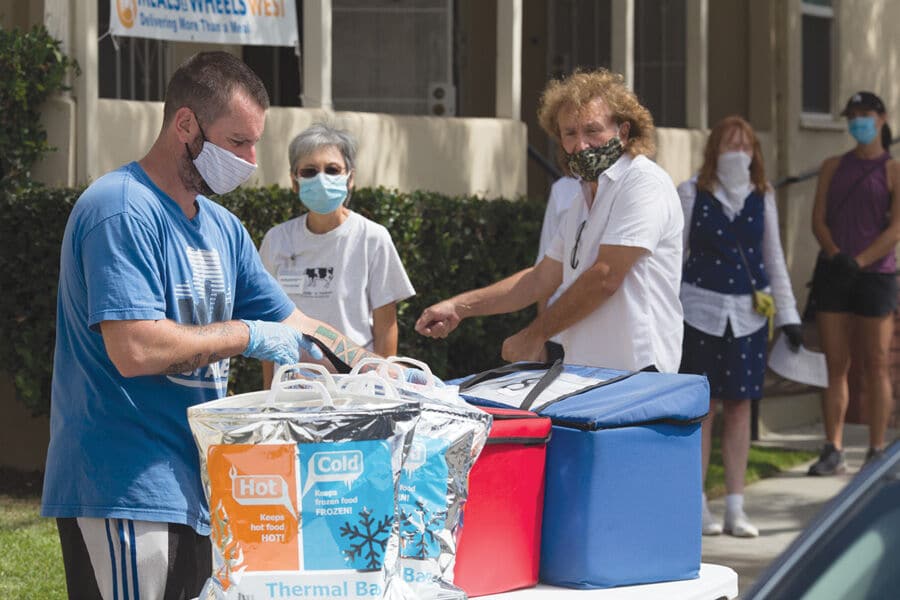 Even in the most affluent communities, there can sometimes be "hidden hunger and loneliness." That painful fact comes from former Malibu mayor and council member Lou La Monte, who now serves on the board of directors for Meals on Wheels West (MOWW). The nonprofit has seen its Malibu food deliveries double during the pandemic, going from three to six clients a week before March to now serving 12 Malibu residents. Overall, MOWW has seen a 49 percent increase in need in its other service areas of Pacific Palisades, Santa Monica, Venice and Marina del Rey.
Executive Director Chris Baca explained the increase in need locally, saying some Malibu clients live in hard-to-reach areas. 
"Some of it is because people are so isolated," he said. "We have volunteers who drive out to Malibu or live in Malibu who deliver for us. There's one client in the Malibu hills who lives on a dirt road. Some volunteers are just unable to make that drive. In Malibu, there's not a lot of markets. Things are spread out. So, when people had to self-quarantine it made it tough for them to go out and they were concerned about going out. That's how we saw the numbers double." 
While the national organization Meals on Wheels is known for feeding seniors, MOWW serves all ages and all incomes. 
"We never turn away anybody because they can't afford to pay," Baca said. "It's simply a question of whether you're homebound—meaning you find it difficult to purchase and prepare meals on your own. You can be elderly, have a chronic disease or just got out of the hospital and are on bedrest." MOWW also has a program to feed veterans at no charge. 
"We have various programs, but our main program is called, 'Delivering More Than a Meal,'" the executive director added. 
La Monte, who used to volunteer delivering meals for MOWW, said the service is also "a kind of welfare check" on the homebound. 
La Monte and Baca described some people in need of meals as "house poor"—those who bought homes decades ago and now live just on social security, "so they don't have a lot of money." Since some clients can afford to pay, MOWW works on a sliding scale. A client can pay from zero to eight dollars a day. That includes two meals. 
Prior to the pandemic, MOWW was partnering with Pepperdine University, preparing hot meals with deliveries five days a week. With Pepperdine's campus closed for the past five months, the deliveries switched to frozen meals and are now dropped off two days a week in Malibu. 
Altogether, MOWW feeds 650 people daily. The organization is estimating 160,000 meals will be served this year. There is currently no waiting list and Baca says "no one is turned away." 
"The City of Malibu gives us $3,500 a year, but that only pays for about one client and now there are six to 12 in Malibu," he said. 
Baca pointed out that his organization is using strict safety protocols in food delivery and noted that no clients, volunteers or staff have been infected with coronavirus after 30,000 deliveries since March.
To donate, go to mealsonwheelswest.org