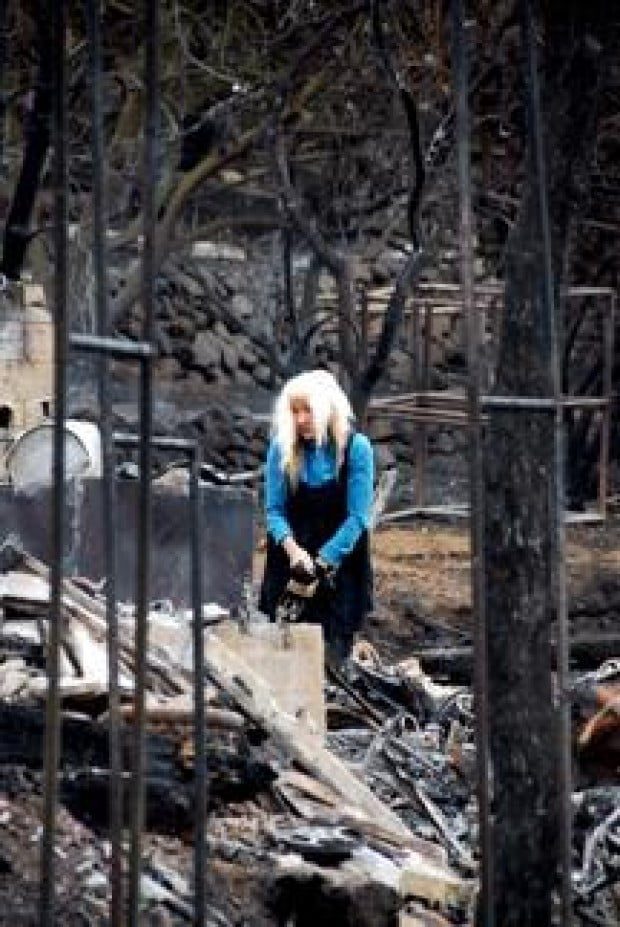 From the top of Corral Canyon to the hills below, the Corral Fire indiscriminately burned homes in a hopscotch pattern. Some are amazed their homes survived.
By Laura Tate / Editor
As Corral Canyon Road resident Scott Palamar slumbered in the early hours of Saturday morning, he heard a car horn being honked repeatedly. Accustomed to the noise and intrusion of late-night partyers at caves on state parkland located at the end of his road, he thought to himself that it was just some "Friday night revelers." Then, at about 3:15 a.m., a neighbor called to warn him about a fire.
The fire was just "a wedge" at first, Palamar said, and it "did take a while before it really took off-at first I thought maybe there was hope."
But at about 3:45 a.m. the fire department issued a notice to evacuate within five minutes: "All I managed to do was get the cat and clothes, and grab computers and important papers and that's it," Palamar said.
Although he fled the scene, one neighbor did stay for another hour, and watched as the vegetation around Palamar's home caught fire. Palamar's home, which he's lived in for nine years, burnt to the ground, with nothing left standing practically, except a mailbox.
Dozens of neighbors lost their homes as well (53 homes overall were destroyed; 33 damaged).
"Quite a few homes … went out in that one little section," Palamar said.
The home of literary agent Wendy Keller, where neighbors have gathered for block parties throughout the year, was destroyed, as well as neighbor Jackie Robbins' home just down the street from Palamar's. (Robbins had been operating her clothing business, Leather Waves, from a studio adjacent to her Corral Canyon home since last year after her rent became too expensive at Malibu Country Mart.)
Marc and Dahilia Toboroff canceled a rental ad in this paper for a guesthouse because their Spanish-style home, including the guesthouse, burned to the ground.
Realtors Michael and Kate Novotny were a few of the lucky ones. Neither their rental home on Lockwood Road nor one they have been building nearby on Corral Canyon Road burned.
Music composer Brooke Halpin, who lives near Palamar, was also lucky. But he made sure his home would be as accessible as possible in case of fire.
"I'm very fortunate," Halpin said. "I think they saved it because I did clearance-I chopped trees down so if there was a fire and they had to make a split-second decision on what to save …"
The Churchill family-Frank, Jerri and their four sons-were woken by a neighbor about 3:40 a.m. As Jerri grabbed the children and put them in a car, Frank went banging on doors to wake people up. Their house on Lockwood Drive survived, but every home around theirs burned down. They believe their fanaticism about brush clearance helped save their home.
Their friends, Jonathan and Andrea Rader, were not so lucky. Their home, along with a collection of classic cars, was destroyed.
Of how Palamar is dealing with his loss, he said, "Like everyone else, I'm not happy, but that's life. I'm safe, what else can you say."
Fire moves; more losses
As the public became aware that Malibu was on fire again, calls started going out and people began to gather at local cafes and coffee shops, trading information. Jason Ward and wife Tiffany reported early Saturday morning that their home on Ingleside Way was burning and they had escaped with their animals. By 6:55 a.m. it had moved from the Bowl area to El Nido and down toward Pacific Coast Highway, and west to Latigo Canyon, threatening the Malibu Hills and Malibu Vista neighborhoods.
By 7 a.m., more than 400 acres had burned, and residents of the Latigo Canyon area were being evacuated in addition to continuing evacuation of Corral Canyon and the Malibu Bowl area. By 7:20 a.m. the fire had reached Pacific Coast Highway at Corral Canyon; flames could be seen burning the hills above the Union 76 gas station, down the road from the Beau Rivage restaurant. Soon many other areas were under evacuation orders.
John and Julie Pfeiffer of El Nido evacuated with their sons Mike, 19, and Jack, 16.
Malibu resident Vic Calandra, who lives on Seabreeze Drive in the El Nido area, did not leave his home immediately. He soaked the house with a hose and then helped rescue neighbor Ben Kennedy, who is in his 90s, and then helped round up Kennedy's donkey, Chiquita. Kennedy, who has lived in Malibu since 1954 and has been through many fires, did not want to leave, Calandra said.
"If he had his druthers, he would have burned," Calandra said. "He's a stubborn old goat. He said nope, [I'm not going anywhere]."
Espree Devora, who rents a guesthouse from Calandra, said of her landlord, "He's amazing, he stayed. He saved the donkey with the neighbors. He's like my hero."
While Calandra's home did not burn, both neighbors' homes on either side of him were completely burnt, including that of Bill and Lee O'Keefe-Hardy. The Hardys have survived eight previous fires. This time they lost-and Lee, a painter, was unable to save her canvasses.
"She was devastated," Calandra said, "It was so sad to see her [sifting through her belongings]."
Kennedy lost several of his properties, including his home, in that area.
Calandra, whose home has a tile roof and stucco on the outside, doesn't know why his home was saved.
"The last time I left it, the house next to me was totally engulfed, my windows were open on one side; the heat was so intense. I shut them [and left], and I figured that was it."
Calandra, who works in the mortgage financing industry and had to attend meetings in Denver just one day after the fire started, was headed back to deal with insurers on Tuesday (although his home didn't burn down, there was extensive damage and ash and soot everywhere). His voice cracked with exhaustion, and exasperation at the thought of the winds kicking up again Tuesday night.
"I'm pretty much done with this," he said.