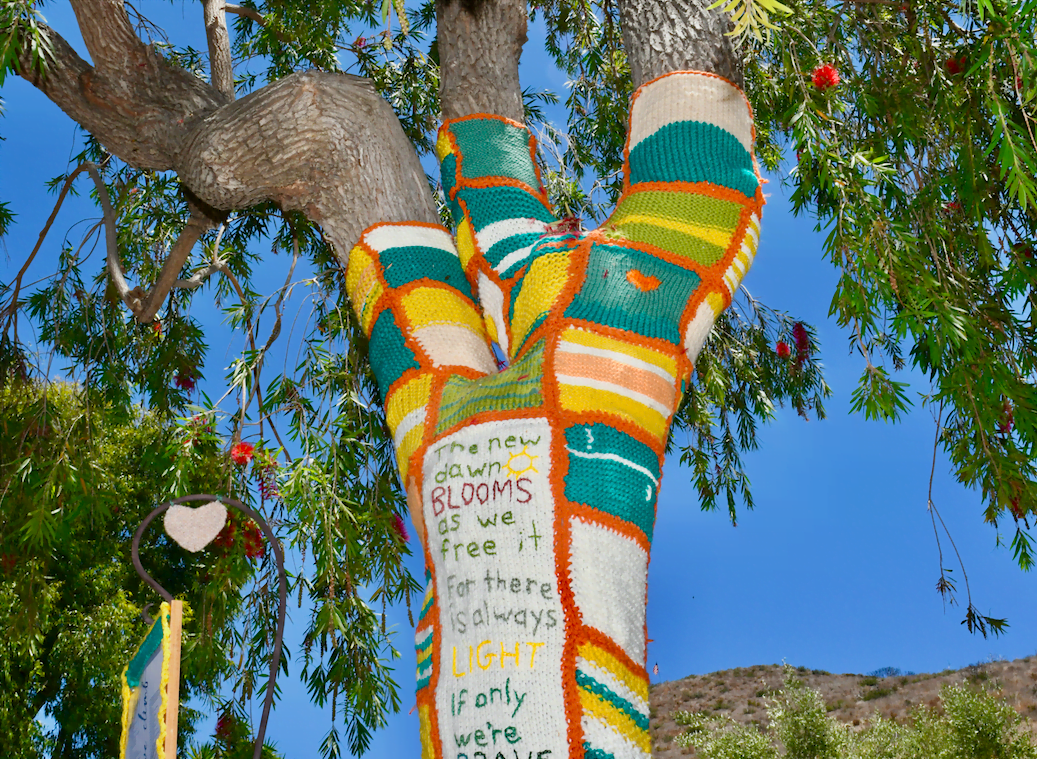 Unsuspecting people walking down the main drag of Malibu West may sooner or later happen upon a delightful find—a large tree with its tall trunk wrapped completely in colorful, hand knitted squares. Upon closer inspection, it's not just the knitting that's worthy of attention; some words from a poem are also knitted into it. Next to the tree is the complete version of that poem, this one on paper, framed, on a small pole.
That poem, "The Hill We Climb," was written and presented by Amanda Gorman, the youngest inaugural poet in U.S. history at President Joe Biden's televised inauguration in January. She finished writing her poem on national unity after the riot at the U.S. Capitol. Her acclaimed words are now there in one of Malibu's residential neighborhoods for passersby to re-read and ponder.
"It definitely was a labor of love," said Maggie Pierson, part of a community of knitters in Malibu West that decided to share projects and love of the fiber arts. "It was a passion project—it gave us an outlet during the pandemic."
It all started when Karen Quartz, a knitter (who holds a doctorate in education and is affiliated with UCLA), joined with her two younger neighbors, Gracie Pierson and Kayla Soufer, who were also knitters, and decided to teach others in the neighborhood how to knit.
"Some of us never knit before, or only knew how to crochet, so we'd sit outside socially distanced and take lessons from Karen and others," Maggie explained. The original group also included Julie Matthews, Madison and Laurie Bigelow, Marcia and Grace Clarke, and Kim Schulam. It was later joined by others.
"Our first joint project was a sweater, and then we also tried things on our own, like someone knit a baby blanket," Maggie continued. Then someone came across the practice of "yarn bombing," where large knitted and crocheted art works, some making political statements, began appearing on the streets. The art, as the New York Times put it, "both embraced and subverted the stereotype of the grandmother knitting on the couch."
Inspired by this idea, the Malibu West knitters decided they wanted to adorn a tree. Their first tree was called the Ruth Tree because it was created shortly after Ruth Bader Ginsberg's death, and had a collar. They then decided to go even bigger and bolder with an Australian bottlebrush tree they christened The Blooming Tree.
Maggie, an interior designer, came up with the color scheme and the yarns. Then, because the group "was obsessed with Amanda Gorman's amazing and powerful poem from the inauguration," they wanted to design the entire project around that poem. It didn't hurt that Gorman had been a classmate of Gracie and Grace at the New Roads School on Las Flores Canyon Road, and that another neighbor works for the publisher of Amanda's book. 
The project needed 50 hand-knit eight-inch squares to be made and everyone pitched in, with the goal to finish and sew them onto the tree on Earth Day (April 22). 
"People came to see the tree, and the next morning, people were sitting on the curb and just smiling," Maggie described. 
It turned out the knitters of Malibu West were prescient. By some coincidence, the Malibu Poet Laureate Committee, an offshoot of the Malibu Arts Commission headed by Malibu Poet Laureate John Struloeff, is planning a program for the town titled Verse About Town. 
The program is designed to appreciate and recognize poetry by local and international poets, including Malibu students. They plan to print poetry on temporary signs/posters monthly and display them at various locations in the community, beginning with local parks and shopping centers. The program was discussed by the arts commission on May 25, and would be coordinated by Kristin Riesgo in the community services department. 
"In Malibu West, during the pandemic, some women got together and knit—and wrapped a tree, and used poetry in the wrapping, too. It's stunning," Ann Buxie, founder of Malibu's Tales by the Sea and Poetry by the Sea performance series wrote in a message to The Malibu Times. "The idea of the city's new Verse about Town is also to encourage community engagement and conversation—to build neighborhood! Malibu West has already begun with this tree. It was a neighborhood response to the pandemic and more."