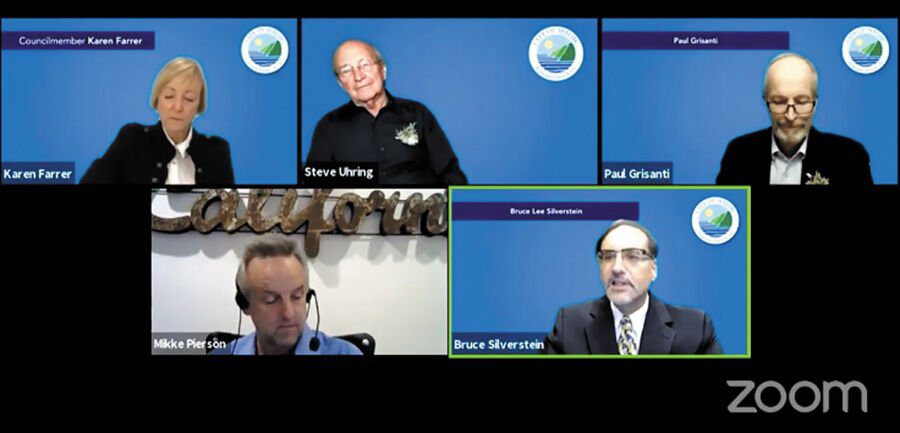 The first Malibu City Council meeting of the new year has a number of new council proposals slated to be heard—including two separate council items co-sponsored by new members Bruce Silverstein and Steve Uhring. One Silverstein-Uhring proposal, item 7F on next Monday's meeting agenda (Jan. 11), calls for, among other things, the recording and transcription of all city council and staff interactions; a semi-annual review of City Manager Reva Feldman's work; and the creation of a subcommittee to investigate the allegations of government corruption alleged in former city council member Jefferson Wagner's sworn affidavit, which was presented in December 2020. The second Silverstein-Uhring proposal, item 7E, seeks to address Malibu's proliferating homeless problem by creating a permit system. 
'Transparency, Accountability and Ethics' proposal
Called "Proposal to Instill Transparency, Accountability and Ethics in All Aspects of Malibu's City Government," Silverstein and Uhring's omnibus proposal would require any information related to the "city's business" that is provided to one or more council members be provided to all council members and the public at the same time, except for rare exceptions. Hard copy documents or audio or video resources should be provided to each council member in the same way, with an email notification accompanying it; emailed documents would be addressed to all city council members; and council members would be notified in advance   of information disseminated via phone call or other similar methods so they could join that call if they wanted and those calls should be recorded so they can be accessed later. In addition, face-to-face actions would be transcribed and recorded. The proposal subjects the city attorney to the same standards.
The proposal would also require the city to respond to California Public Records Act document requests with not only the documents requested, but also "public records the city is entitled to withhold from production unless doing so would be adverse to the best interests of the city and its residents." If city staff felt that producing the records could hurt Malibu, they would have to give a detailed explanation of why. Also, all closed sessions of city council would be recorded and the city would have to explain to the public why a closed session would be necessary. The proposal would also prohibit the destruction of documents and the use of personal devices for communications. 
Silverstein and Uhring's proposal also outlined a number of changes to the format of city council meetings, such as giving more time for residents with dissenting views to speak and time for residents to comment on council member comments. Malibu City Council meetings generally run from five to seven or more hours—an issue not directly addressed by the proposal, although Uhring and Silverstein do suggest that city staff run up the clock in meetings, leaving less time for residents to express themselves: "City council meetings provide a disproportionate amount of time for the city manager, city attorney and city staff to present their views, and inadequate time for Malibu's residents to state their contrary views. The process needs to be reformed to provide equal time for all sides of a position."
The proposal also calls for a semi-annual performance review of Feldman to be held in public. It also proposes that the council consider other potential reforms such as having an ombudsman or an oversight commission. 
Silverstein and Uhring's proposal also calls for an independent investigation committee composed of Silverstein and Uhring to review claims of corruption made by former city council member Jefferson Wagner and review Malibu's initial investigation of what went wrong with the Woolsey Fire response. The proposal contends that the first Woolsey investigation lacked sufficient funding and staff and suffered from conflicts of interest, stating that the city council essentially decided to have "city council members investigate themselves" by appointing the same city council members who oversaw the Woolsey response take the lead in the examination.
The proposal argues that Uhring and Silverstein, who would utilize the subpoena power of city council, should also head up an investigation into the charges of corruption made by Jefferson Wagner—not law enforcement agencies nor the city attorney. According to the proposal, law enforcement agencies may be implicated in the allegations, while current interim City Attorney John Cotti, who works for the same law firm as former City Attorney Christi Hogin, is also too close to the accusations.
'No Camping Ordinance' amendment
Silverstein and Uhring are also cosponsoring a proposal aimed at reducing the number of vehicles parked overnight on PCH. Under the proposed regulations, homeless individuals would need to have a city-issued permit in order to camp in any public park or on any public beach or street—that includes those who are sleeping in their cars—and those permits would only be given out to those who state they have nowhere else to go. Then, should the city wish to deny a permit, it would be up to city staff to investigate whether or not an applicant had somewhere else to go. 
But what about Martin v. Boise, the landmark, precedent-setting 2019 Ninth Circuit Court of Appeals case that has tied the hands of cities seeking to rid themselves of unhoused people? 
The proposal outlined what the council members saw as major differences between the cities of Malibu and Boise, such as size, weather and the availability of restrooms and showers. Malibu's conditions add up, Silverstein and Uhring wrote, to make it a prime spot to which transient people actually migrate with the purpose of living free on public land—making our city unique from Boise, and therefore, not subject to the same constraints. 
But the key point, the proposal argued, is that Martin v. Boise—often referred to as the Boise Decision—says a city cannot fine people who have nowhere else to go—and people who live in cars, like many of Malibu's homeless people, have the means to go elsewhere by driving somewhere else.
The proposal suggests a permit system for individuals who can prove they have nowhere else to go. This system would prescribe particular times and locations for sleeping—and sleeping only, not "living." A permit would not issue permission to build a fire for cooking or discharge wastewater onto public property. The number of permits each year would be capped. 
Silverstein addressed possible naysayers of the proposal on his public Facebook page: "A vocal minority of residents are focused on making themselves feel good by providing hand-outs to the transient unhoused population in Malibu. While an informed segment of that minority understand that our proposal is compatible with efforts to provide a 'hand-up' to unhoused residents who desire assistance in reintegrating themselves into society and are capable of doing so with appropriate assistance, there are many 'enablers' who oppose our efforts to protect the community because it does not make them feel good, and they are opposed to any efforts to protect the community until the 'homeless situation' is 'solved.'"
Silverstein wrote that regulations on homeless people in Malibu should be able to go forward although other policies, such as safe parking or overnight shelters, will be slower to implement. "Except for a small, but vocal, minority of our population, the residents are in near-uniform agreement that we need regulations like those proposed," he wrote.
Both items can be found in the agenda posted at malibucity.org/agendacenter.
---
 Editor's note: A previous version of this story stated the Silverstein-Uhring "Transparency, Accountability and Ethics" proposal included a proposal to further investigate the Woolsey Fire. It does not. It also stated the Silverstein-Uhring proposed "No Camping Ordinance" update would necessitate that homeless people prove they have nowhere else to go. It does not. The proposal stipulates that homeless people would need to state they have nowhere else to sleep in order to receive a permit to sleep overnight in a vehicle in Malibu. The story has been updated to reflect correct information.