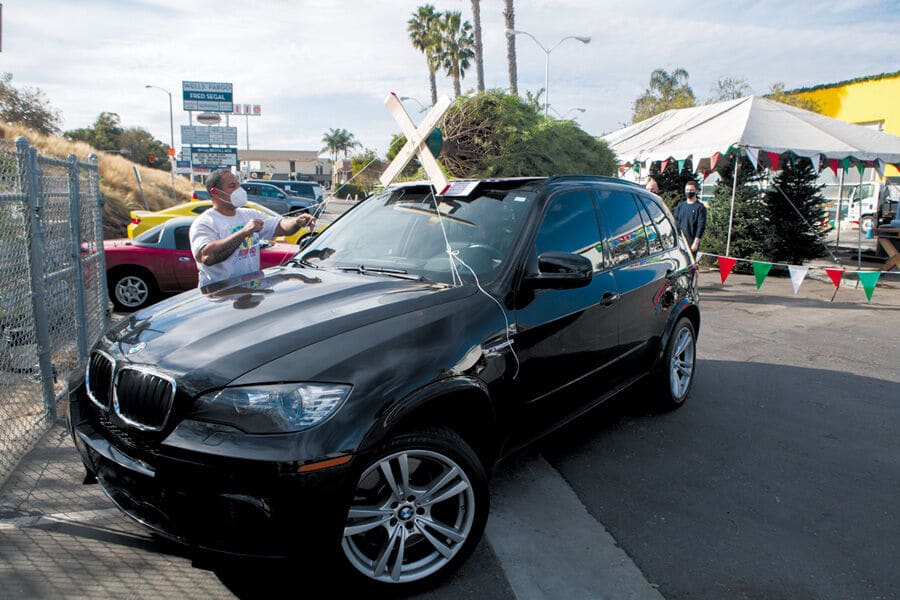 Maybe it's a good thing that more people in town are buying trees this year, because there's a lot of good natured competition among three different sellers: Trancas Canyon Nursery, a long-time local small business; the MHS Athletic Booster Club Christmas Tree Lot at the Civic Center, which sells trees to raise money for school athletics; and the Delancey Street Foundation pop-up tree lot in Malibu Village, which is new this year and also raising money for a worthy cause.
"People are definitely buying earlier this year," said Debbi Stone, manager of the Trancas Nursery. "I think they need the Christmas spirit because they're stuck at home and not planning to travel anywhere for the holidays.
"We've sold about 100 trees so far this year, and have just ordered 40 more," she continued. "We already sold out of garlands and wreaths, and ordered more. And we still have two weeks to go before Christmas!"
Although the first batch of trees the nursery received was about the same price as last year, prices have definitely gone up on the second order—so if you got a little sticker shock this year, there is an explanation.
"I think there's a shortage of trees from Oregon, which is where most of our trees come from," Stone noted.
The volunteers at the MHS Athletic Booster Club (ABC) lot noticed many of the same trends. 
"People are buying earlier—we sold a significant number of trees right after Thanksgiving,"volunteer Johanna Muller said. Customers are also purchasing wreaths and garlands, and "really trying to decorate."
Her daughters Mika and Mackenzie, also volunteers, say the cheapest tree currently on the lot is $49, and the most expensive is a 13-foot-tall beauty selling for $449. All trees are sold with stands.
The boosters have sold more than 400 trees so far this season and had to drive to Santa Fe Springs to pick up 50 more trees to replenish their stock.
"We wanted to keep prices competitive because things aren't easy for a lot of people financially right now," Johanna added. "We do this for the community."
The ABC is also selling a selection of MHS Sharks logo athletic wear. For those who prefer online shopping, there is a variety of Christmas ornaments on the club's website, including a Malibu Sharks ball ornament, Malibu Santa Claus ornaments, and assorted hats and apparel.
Volunteer Beth Milliken confirmed that many of the customers that typically put up an artificial tree at Christmas have decided to opt for the real thing this year instead.
The new Christmas tree seller on the scene in Malibu this year is the nonprofit Delancey Street Foundation. Located in the Malibu Village Shopping Center around the corner from Marmalade Restaurant, they have an outside tent as well as an inside store space.  
Manager Kenyae Rollins said they have not experienced the sales boom of the other two sellers because the MHS Booster Club lot just a block away seems to be getting most of the customers. But he took the time to explain the charitable basis for the Delancey Street tree sale. 
Delancey Street Foundation was founded in California in 1971 to reach out to ex-drug addicts, ex-cons, ex- gang members, the homeless and others who have hit rock bottom in their lives—who are also "functionally illiterate, unskilled and never worked a job longer than six months." All residents earn a GED and are trained in vocational and interpersonal skills. 
"Every tree goes towards paying for things like someone getting a GED, a commercial truck driver's license, legal expenses," Rollins explained. "I got my kids back and I got my life back because of this program."