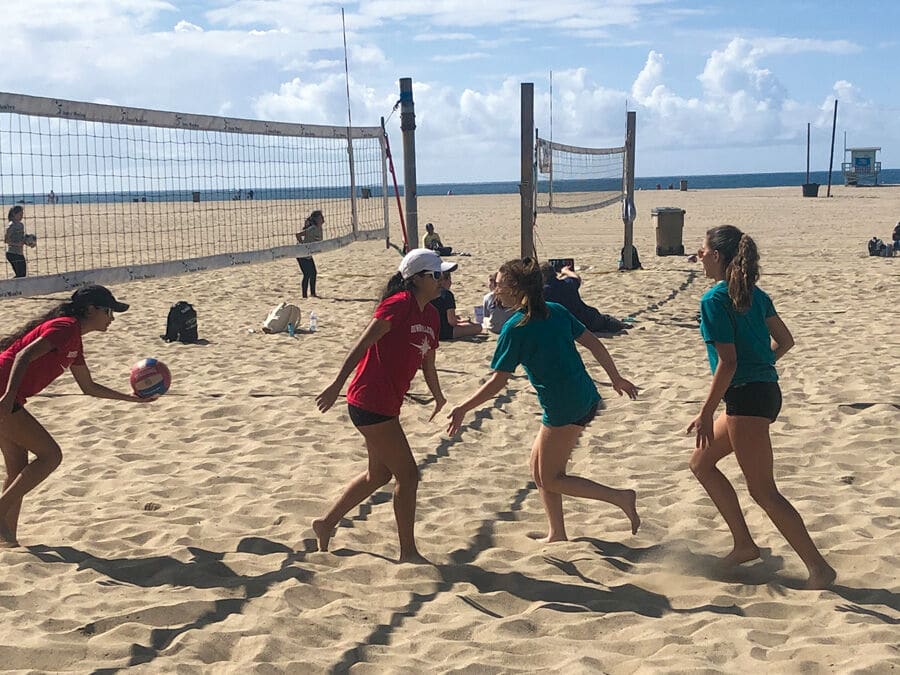 Members of the Malibu High School Sharks players will hit the beach next week for the beginning of several months of practice.
Sharks head coach Derek Saenz said members of the squads and any youth that want to attend will do volleyball skills and conditioning work at Zuma Beach for three days a week from Aug. 5 to Nov 25. The coach said the beach training will feature plyometric and agility exercises and the refining of volleyball moves, but not feature the players hitting a volleyball, since volleyball play is currently prohibited on any Los Angeles County beach. The players will also be social distancing in the sand. 
"It will be good work for a lot of the kids, especially the younger kids whose technique is off," he said. "By the time we can, hopefully, get indoors, they will have months of solid workouts. This maybe could be the fittest Malibu team of all time." 
The spread of the novel coronavirus ended the boys team and all other active sports' seasons in the spring, so Liam Moore, a Sharks standout, said that he and his teammates are looking forward to training again. 
"We haven't practiced together since March and we didn't properly end last season," he wrote in a text message. "We were set on winning CIF. Also, a couple of sophomores, Finn Kelly and Buddy Mulder, were just starting to improve drastically, so I'm sure they're even more excited to get back to playing."
The volleyball teams' announcement to begin practicing at the beach came days after the California Interscholastic Federation (CIF), the Golden State's high school sports governing body, made the decision to push back the beginning of the sports calendar to the winter due to the pandemic. The schedule adjustment condensed the sports calendar from three sea- sons—fall, winter and spring—to two—fall and spring.
In a July 20 letter to principals and athletic directors in the CIF's Southern Section, which includes Malibu High, Commissioner of Athletics Rob Wood said delivering a sports schedule required vision, creativity, flexibility, teamwork and commitment.
"Extraordinary times call for extraordinary measures and there is no doubt that is where we are right now," Wood said.
Sharks water polo coach Hayden Goldberg said since both the boys' and girls' teams' seasons are scheduled to start on Dec. 21, managing pool time for the squads could be tricky, but they will make it work.
"I hope all this all stays, and we can actually get a season. Only time will tell," said Goldberg, the boys' team's coach, who has coached the girls in previous years.
Malibu boys' basketball coach Richard Domnidou is happy with the spring schedule because he feared the 2020-21 basketball season would be canceled.
"That is what I was afraid of because it could have taken a lot of opportunities away from players," he said, adding that the Sharks hoops team was equally excited. "This has put us all at ease."
Tipoff won't be until March, so Domnidou hopes the team can start practicing in January and play in a winter league.
Moore, the volleyball player, is excited about boys' volleyball moving from the spring to the fall because it could lead to Sharks' baseball and basketball players playing volleyball since they won't have conflicting sports schedules now.
"I see this as another shot at winning CIF despite our skilled seniors graduating," he said.
Saenz said that although the CIF indoor volleyball season probably won't begin until late December, the players could participate in a youth beach volleyball league if restrictions are lifted in LA County.
Saenz won't be the only coach schooling the players in volleyball moves. His new assistant coach, Elina Domnidou, a former member of the Greek national team who is aiming to play in the AVP, a professional beach volleyball tour, will also be on the sand with him.
Domnidou, the wife of Malibu boys' basketball coach Richard Harris, brings volleyball experience to the program, Saenz said.
She began coaching with the Sharks last spring when the girls' team participated in a beach volleyball league.
Saenz said the thrice-weekly practices should have the teams prepared for their seasons.
"Hopefully, at some point, things will relax enough and we can get some balls out and we do some training in the sand," he said "It's better to be prepared. We are just being proactive."
Saenz noted that the beach practices are not mandatory and said some players' families are bit nervous about having their son or daughter in group situations. For those athletes, he might have Zoom workouts.
The Sharks' coach said any Malibu youth is welcome to attend the beach training sessions.
"Besides gearing toward the high school season, it is more of a community thing for kids that are at home blending in with the furniture," Saenz said. "This gives them a chance to be outside and semi-social."