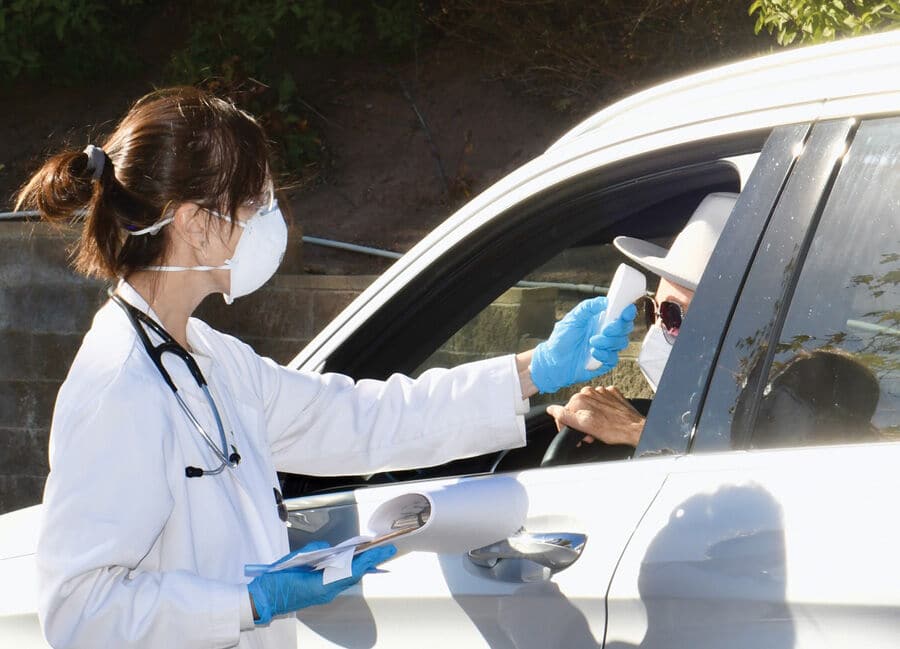 This week, Malibu recorded 13 new cases of the novel coronavirus, setting a new one-week record in new cases and marking the fourth consecutive week of double-digit increases among Malibu city residents. Though those numbers are still a tiny fraction compared to the positive rate in the rest of the county, city staff have worked with Malibu Medical Group to roll out a drive-through COVID testing site at City Hall, similar to the one that was offered in the spring when the pandemic first hit. There is also an application in the works for that same spot to become a vaccine administration location. 
The next two drive-through testing dates are Thursday, Dec. 10, and Saturday, Dec. 12. Anyone in the surrounding areas, not just Malibuites, can go for testing. If patients have insurance, Malibu Medical Group will bill it, but patients will not be charged a copay or receive a bill; if they do not, it will be covered by the national CARES Act. 
Those who want to be tested must be in the car line by 2 p.m. each day. Sometimes the line can last until 3 or 3:30 p.m., which is a long time for volunteers to be on their feet, Susan Dueñas, The City of Malibu Piblic Safety Manager,  said the city did not want volunteers walking around at twilight with so many cars around. 
Dueñas estimated the site tested about 85 people on Wednesday, Dec. 2, the first day it was open, then about 150 on the second day, Thursday. She expected that number to increase this week, not only because the city decided to move one of the dates to the weekend to better accommodate the schedules of essential workers, but also because word is just now spreading about the testing site, which offers a variety of tests including PCR testing, rapid testing, antibody testing and blood testing.
Though Dr. Lisa Benya, of The Malibu Medical Group,  is seeing hundreds of people per day with the drive-through testing, she was not staggered by those numbers—she was gladdened. The COVID surge is the reason why she reached out to the city again to offer testing to the community at no cost. 
"We don't care if we're inundated; we'll just keep staffing up to accommodate," Benya said. "In order to really know who has it, we have to test as many as possible. We are really just asking the community to please come out. Don't worry about overwhelming us, we'll take care of it. It is our only way to find out within the community who is positive."
Benya estimated the LA surge was due to a few factors: people's general fatigue with being stuck in quarantine and wanting to see their friends, cold weather making everyone hunker down together indoors, and the holidays being a time of cheer and togetherness, which has people letting their guard down. 
Some in the community have wondered if Malibu's spike in particular is due to outside visitors. Benya said perhaps this was possible, but most events are outdoors, like the weekend car shows, so they are unlikely to cause COVID spread. Dueñas added that she did not know of any businesses that have been reprimanded for breaking COVID rules off the top of her head—though a check on the county's website revealed that Saddlerock Ranch had received two citations in the span of less than a month—but that she certainly gets many phone calls with reports of gatherings, which she refers to the county. 
By Tuesday, Dec. 8, the total number of Malibu residents who had tested positive for the coronavirus was up to 167, including the 13 additional positives marked over the past week. There remained three deaths caused by the virus among Malibuites, according to information from the county. Across Los Angeles County, more than 3,000 residents were hospitalized with COVID-19 symptoms amid the largest surge recorded since the virus began being tracked in March.
As long as the spread continues at this rate, Malibu Medical Group and the city will continue to offer drive-through testing days, assessing the need for them week by week. Benya said she hoped the community could get the surge under control by the end of December, followed by administration of the vaccine, most likely in late January, according to the reports she was hearing. 
"All of what we have been told as the earliest is December, but we actually have no idea when [we'll get the vaccine]," Benya said in an interview the evening of Monday, Dec. 7. "[The vaccine makers] haven't gotten the emergency use authorization yet, so all of this is speculation. But if we did get some vaccines in December, we would be ready." 
Dueñas also said she "would put money on early January next year," and that she did not expect vaccines to be available by the end of the year, although there is growing speculation—fueled by recent statements made by county leaders—that it could be sooner. In that case, vaccines would first go to frontline medical professionals and seniors living in long-term care centers.
Malibu Medical Group and the city have already applied to the LA County Department of Public Health to be a distributor of the vaccine, despite not knowing when the vaccine will be widely available, how many quantities will be available and which vaccine it was going to be. 
"We're going to be at the mercy of what they give us," Benya said. 
Benya did not know if it was just her practice that would be getting a load of vaccines, or if other businesses such as CVS or Super Care Pharmacy might get some, too. No matter what, though, Malibu Medical will be in charge of distribution throughout Malibu and will work with all involved to coordinate a drive-through.