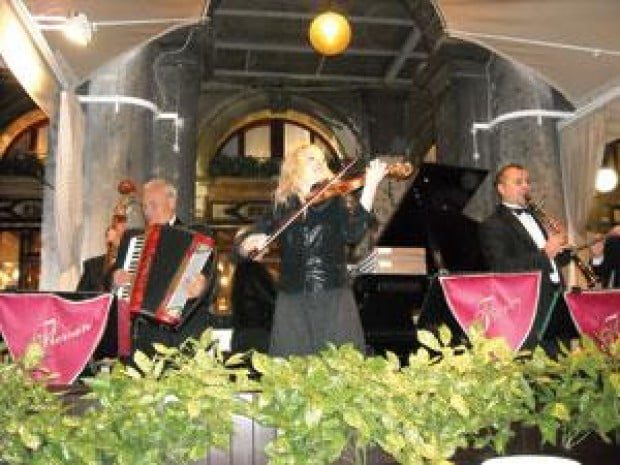 THAT'S EUROTAINMENT
There was a time when the Italian lira, French franc and Deutsche mark helped your travel and entertainment dollars go along way. Even back in 2002, when the European community switched over to the new currency, the dollar and euro were on par at about one-to-one.
But as years passed, the euro began its painful upward climb. Today, it's a new ball game. From the hearty choucroute at Brasserie Lipp in Paris to the tasty bresola at Do Forni in Venice, everything on the continent is about 30 percent more expensive than it was just a few years ago. Throw in an opera at La Fenice or an evening at the Champs Elysee Theater and you'll find your aging Louis Vuitton wallet in a world of hurt.
Still, with a little bit of all-American ingenuity, savvy travelers can hit the streets (or canals) and party like it's 1999.
Rule number one is to do your research. If a hotel is more your speed, check for deals. There are plenty, especially in the off-season. Comfy class acts like The Hotel Pont Royal on the Left Bank usually offer a discount if you ask, and may even throw in an additional night free.
If you can manage without room service, in-house laundry and regular visits by the cleaning staff, an apartment is the only way to go. In Italy, we love veniceapartment.com.
Whether you're looking to live in splendor or merely crash for the night, they've got a spot that will cost a lot less than a four-star hotel. For under $300, you can stay at a lovely apartment called Carpaccio complete with a spacious master bedroom, full kitchen and two baths. For a few bucks more, try the Boccherini, which can easily accommodate five. Split it with your pals and you'll be paying less than a bed and breakfast back home. They are both located in the heart of San Marco directly in back of the fabulous Gritti Hotel where rooms can fetch three times the price.
If you want to avoid a day of pricey shopping, hire a local guide who can show you a side of the cities you wouldn't normally see and introduce you to authentic and inexpensive local eateries.
Instead of paying a doge's ransom for "La Traviata," check out the local churches. In Paris, we found everything from classical fare at Sainte Chapelle, to jazz and even a gospel choir. It makes for an entertaining evening and you'll still have a few euros left for a split of steak tartare at Le Gran Colbert, sole almondine at St. Simon or the cassoulet at Benoit.
In Venice, the same approach will give you a little something extra for a splurge. Local churches offer wonderful musical programs and you'll have euros to spare for a romantic dinner at Quadri or a late night supper at Aqua Pazza. Go a bit off the beaten track and discover family osterias like Mocenigo where you can enjoy a two-course meal with wine and dessert for half the price of places on the main drag.
If you're going the apartment route, Pizzeria Sansovino is an excellent choice. Even the Venetians line up for these delicious made-to-order pies, which you can carry straight to your crib.
Of course there's no better way to wrap it all up than by hanging at Piazza San Marco surrounded by its breathtaking basilica. Don't be too turned off by the prices at the historic Café Florian. They may charge 20 bucks for a glass of prosecco, but you can enjoy a live orchestra night long and you've got a ringside seat at the most beautiful setting in the world.
So just because the dollar is a drag, your lifestyle doesn't have to be. Do a little homework and you'll be living la dolce vita in no time flat.
Got a hot happening or cool event? Send the 411 to kimdevore@malibutimes.com.