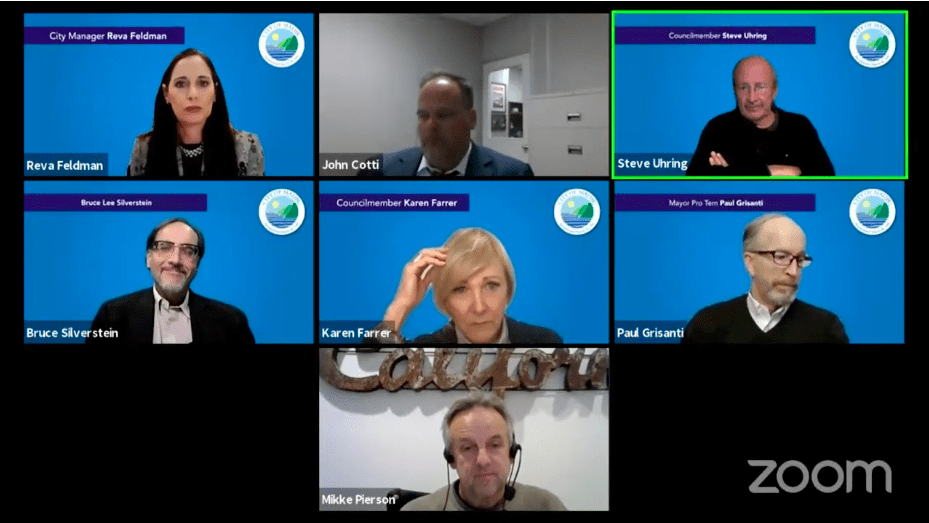 Yes, the city will debate new proposals about homelessness and accountability—but it will have to wait until after the proposals are vetted.
Malibu City Council made the decision during a special meeting Thursday, Jan. 28, when it met to address a docket overflowing with items the board was not able to get to during its regular meeting the previous Monday.
The group deemed two proposals written by new council member Bruce Silverstein and co-sponsored by new council member Steve Uhring strong starts, but decided legal analysis was needed before moving forward, as staff had been unable to analyze either proposal before the meeting. Council selected Thursday, Feb. 25, as the day city staff will report back with a legal analysis of Silverstein's proposal to address homelessness. Council sent the other, a government transparency proposal, to the City Council Policy Review Ad Hoc Committee, which Council Member Karen Farrer and Mayor Pro Tem Paul Grisanti were appointed to earlier that same meeting. 
"We can't bring something forward that's unenforceable and gets us sued," Mayor Mikke Pierson said of the homeless proposal, later adding, "We end up losing 2 million dollars in a lawsuit, there goes our ability to provide safety measures. So we have to do it right."
Silverstein's proposal to address homelessness would essentially create a permit system regulating camping in any public park, beach or street. All homeless individuals, including those sleeping in their cars, would need to sign up, stating that they have nowhere else to go. 
Several members of the public spoke in favor of addressing homelessness, an issue many fear will grow more dire when pandemic eviction moratoriums are lifted. In addition, homeless individuals' campfires have been linked to multiple brush fires recently, which residents fear could easily turn into major conflagrations in Malibu's dry mountains. 
"We ourselves don't want to be made homeless," one resident, Jo Drummond, said, adding that she lived in fire-prone Big Rock—near the recent homeless camp fires. She called the proposal "a welcome development."
But many worried the way Silverstein was going about the proposal was wrong. One resident, Howard Rudzki, wondered if the council could send it to the California Coastal Commission to get their opinion before expending time and resources on it. Another, Hamish Patterson, was concerned that the word "homeless" as an umbrella term reduced nuance among several groups of people suffering from different problems—those with mental health problems, those with drug addictions, "criminal elements" and those who had genuinely fallen on hard times—and would result in a poor distribution of city resources. 
Lieutenant James Braden of the Malibu/Lost Hills Sheriff's Station said that Silverstein's proposal was not realistic. 
"We need some plan in place. But that plan—just like Hamish brought up all these different layers—that mentally ill person is not coming to get a permit. Same with the person with the addiction issues," he said, raising the issue of legal standing.
In order to avoid any legal missteps, council voted to have staff look it over for review before a special meeting dedicated to homelessness set for Feb. 25.
Silverstein's next proposal focused on government transparency, a fundamental issue in his 2020 council campaign. The proposal includes mandates to record all meetings and phone calls and prohibit the destruction of city documents. Several residents spoke in support of his suggestions; however, other meeting attendees said that Silverstein's descriptions of Malibu city government—specifically targeting City Manager Reva Feldman—as corrupt were incorrect. 
Mario Sandoval, who spoke on behalf of the powerful Mountains Recreation and Conservation Authority (MRCA), said that while the MRCA supported transparency, it did not subscribe to allegations of misdeeds by Feldman or the former city attorney, Christi Hogin.
"Although the City of Malibu and the MRCA often disagree … we do not believe the city staff operates in an underhanded manner," Sandoval said. "We simply believe the city staff is oftentimes wrong about public access."
Later, Silverstein opposed sending his proposal to the ad hoc committee composed of Farrer and Grisanti. 
"This is a cover-up; it's a whitewash," Silverstein alleged.
"Careful," Pierson edged in. "Please act civil."
"There are members of the public clamoring for reform … and what this council wants to give them is send it off to a committee comprised of the people who they're concerned about and let them play with it for a long time, and then we'll see what they come back with, which will be nothing," Silverstein continued. 
Silverstein was voted down, 4-1. Council handed the issue to Farrer and Grisanti, who will bring it back with their recommendations during a Monday, March 8, meeting.
Council also addressed allegations launched in December by former council member Jefferson "Zuma Jay" Wagner.
Council asked staff to begin researching outside law firms to investigate claims made in the Wagner affidavit, in which Wagner alleged instances of corruption within Malibu city government. Because the affidavit implicates Hogin, who retired weeks ago from law firm Best Best & Krieger, current Interim Malibu City Attorney John Cotti, who also works for Best Best & Krieger, will not investigate the claims. He will, however, help coordinate the process of finding an outside firm. 
The LA County District Attorney's Office did not appear to be an option for investigation. 
Cotti sent the allegations to Head Deputy District Attorney Alan Yochelson's office on Friday, Dec. 18, but said he had not heard back as of Thursday, Jan. 28. Silverstein had previously offered to investigate, saying that he was willing to do it for free while an outside firm might cost the city "hundreds of thousands" of dollars, but that offer was declined.