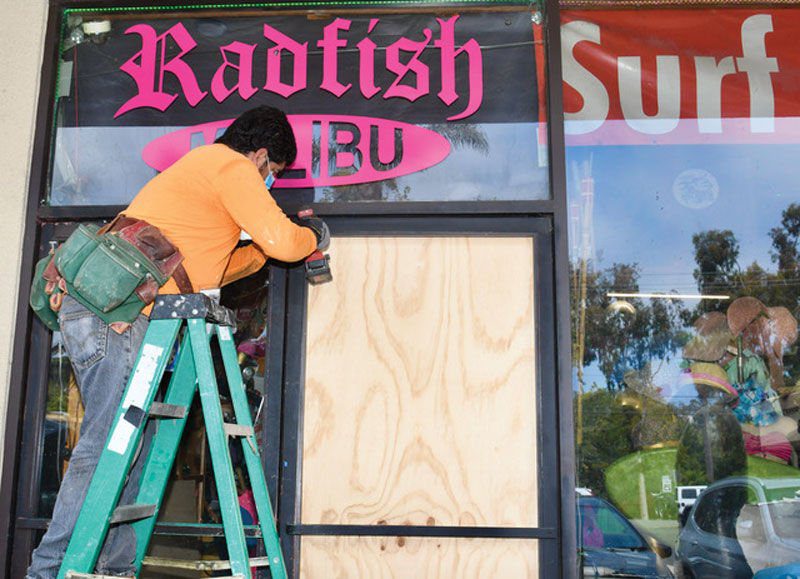 Longtime local Anthony "Tony" Stearns, 58, owner and sole proprietor of the Radfish Malibu Surf Shop in Zuma Beach Plaza, died on June 22. Not long after his death, the store was broken into and thieves spent days hauling out the merchandise—loading it into the back of a rental truck.
One eyewitness told TMT he had observed "some guys with a black pick-up truck putting things in it" from Radfish on Monday, June 28.
As the heist continued over several days, no one asked the thieves any questions, including the property manager. It appeared that no one seemed to notice the obvious evidence of a break-in with a shattered front store window. According to witnesses, "Guys were just going in and clearing out the space [of the Radfish surf shop]—taking it all."
At one point, according to one account, property management called a member of Tony Stearns' family and thanked them for their continuing work on cleaning out the store. The family said, "What are you talking about?" It was at that point that both parties realized something sketchy was happening. 
LA County Sheriff's officials were immediately contacted during business hours on Wednesday, June 30, to respond to the break-in—a "burglary now—felony in progress" situation. Eight well-armed deputies showed up at the store and arrested two suspects for burglary on the spot, according to Malibu/Lost Hills Lt. Jim Braden in a phone interview. There were reports that some of the deputies carried semi-automatic weapons.
Braden said a search of the suspects' properties resulted in finding a key that became important evidence. The day after the arrests, they recovered a rental truck that had been used to haul away Radfish merchandise; most, if not all, of the stolen goods were found.
The truck was taken to the Newbury Park tow yard and all of the stolen items were inventoried. The items are currently at the LA County Sheriff Department Property Control Unit in downtown LA.
Braden said he didn't think the two arrested were from Malibu. 
"They took a lot of stuff," he said. "I don't know why they thought they were entitled to the property. They had no legitimate reason for being in that location or for having the property, as far as we know. They must have known Stearns somehow and knew that he died. It's an odd-duck story."
A Stearns family member contacted Braden, saying they would like to sell off the stolen property and give the proceeds to Stearns' mother, Jo Stearns, 80, who resides in Van Nuys.
Braden added that a few days prior to the arrests, the LASD had been called to that same location to "investigate a chemical smell," but nothing came of it.
Tony Stearns first moved to Malibu around 1970 at the age of eight with his father. His dad, the Michael of Michael Stearns Real Estate, pulled off a huge publicity stunt in the LA area by holding a giant auction to sell off the Malibu Pier and 50 other local properties on Feb. 10, 1980. 
Tony attended Webster Elementary, Malibu Park Junior High and Santa Monica High, and then spent six years in the Navy. Through the years, he was an all-around water athlete with sponsors, good at surfing, windsailing, stand-up-paddle boarding and scuba diving. 
After the Navy, Stearns lived in Maui for a time running a wind surfing concession and photo service, and eventually returned to Malibu. Besides giving lessons in water sports, he later had his own line of boards made by a factory in Camarillo; then opened his first storefront in Zuma Plaza five years ago. He not only sold boards and beach supplies, he also made and repaired boards, and gave surf and stand-up-paddleboard lessons. According to the LA County Department of Medical Examiner-Coroner, Stearns died on June 22 in Sherman Oaks; there was no information available about Stearns' cause of death.