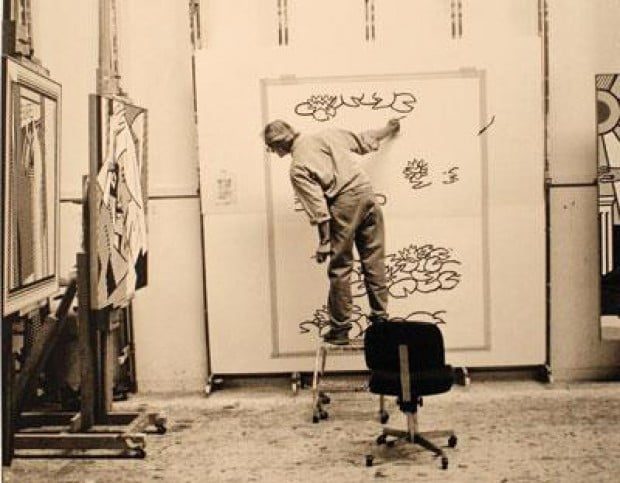 An exhibition at the Weisman Museum of Art marks the grand opening of the first solo showing of Lichtenstein's work in Los Angeles since his death.
By Paul Sisolak / Special to The Malibu Times
Curators of Pepperdine University's Frederick R. Weisman Museum of Art came across a brilliant idea when planning their newest Roy Lichtenstein exhibit: Rather than reserve their walls for a series of 60 well-selected pieces, chronicle instead the evolution of each, from first rough scrawl to final finished product.
"Roy Lichtenstein: In Process," which debuted Saturday, is a perfect yet constraining title for an artist whose nonlinear and unpredictable style never flowed within a pattern of simply beginning, middle and end-the vivid, bright colors and parodies of comic book imagery birthed through basic sketches.
This creative progression from one of pop art's most revered figures drew more than 100 onlookers last weekend, marking the major grand opening of Lichtenstein's first solo Los Angeles showing since his death nearly 14 years ago.
"It looks at his working progress and answers the question of, 'How did he come to make the art he makes?'" Michael Zakian, the university's museum director, said.
Much of the bulk of "In Process" spends time with the latter half of Lichtenstein's career, the mid 1970s to 1990s, a period of fascination with homes, their rooms and the relationship between interior and exterior spaces. As such, it's a study of architectural design, and an enlightening glimpse into ideas the artist both expanded upon and abandoned simultaneously.
In one set, a composite pencil rendering sits side-by-side with its more fleshed-out self, flanked by Lichtenstein's completed canvas. Up close, it is unpolished, eraser marks and all, with ghostly visible remains of a wall moved 10 feet away, a vase or chair added in one corner.
"When it came time to do a painting, he [Lichtenstein] would never take out a canvas and paint," Zakian said. "He would work out all the intermediate steps."
Lichtenstein's interior/exterior pieces, however structured, aren't without his wry look at the trappings of suburban life-no matter how much space one has, one is always stifled. Money never buys taste in Lichtenstein's world.
The American, Disney-fied Beethoven pedestal bust replaced with a Donald Duck head, in 1995's "Interior: Portrait of a Duck," sits in the foreground of beautifully square high ceilings and archways. In another, George Washington's portrait is Ben-Day dotted out-a commentary, perhaps, into how the sterility of the traditional home dulls one's identity.
"He was very astute in visual puns, and enjoyed giving the viewer the least amount of information," Zakian said.
The exhibit excludes most of Lichtenstein's familiar winks and nudges to the 1960s and its comic books, cartoons and kitsch, are not entirely absent; one can still find Dagwood and Tintin suffering through their own brand of troubling domestic to-and-fro.
Visitors to the Weisman gallery on Saturday night came from far and wide across Los Angeles for the event.
"I want to see what made this guy legendary. I want to see legend," Silverlake resident Charles Phoenix said. "I want to touch it with my eyes."
The "in process" format from which the exhibit draws its name also left an impression, with most attendees concentrating less on Lichtenstein's paintings than the stark, bare drawings from which they were borne.
"I think the way he goes from drawing to final product is an interesting process," Norma Freeman of Malibu said.
"What's nice is the pre-sketch, to see where he's headed and where he ended up," Eric Rose, an adjunct professor at Pepperdine, said.
For the exhibit, the Weisman gallery dedicates its upper floor to Lichtenstein's long love of studying females, appreciating their physical form and beauty, as is the case with 1973's "Still Life with Picasso," an homage to Picasso's mistress, Dora Maar.
Lichtenstein's criticism of social mores was never without some sympathy, even on how women have become demeaned as vapid sexual objects in comic books, movies and advertising media.
Most of the women in Lichtenstein's paintings don't seem to mind or know any better, though. In "Nudes with Beach Ball," painted three years before his death, the artist's bathers, hopelessly bored and elegant, share the same vacant expression.
According to literature from the exhibit, Lichtenstein had gone back to his sixties work for this piece, where he lampooned the U.S.'s embrace of the ideals of beach party culture through a series of empty clichés, as seen in surf fare like "Beach Blanket Bingo." The film, shot primarily on Surfrider Beach, shows that the connection between Lichtenstein and Malibu extends beyond the exhibit itself.
A Family Art Day for "Roy Lichtenstein: In Process" will take place March 12, from 11 a.m.-1 p.m., at the Frederick R. Weisman Museum of Art, 24255 Pacific Coast Highway. More information on the exhibit, which ends on April 3, can be obtained online www.arts.pepperdine,edu/museum or by calling 310.506.4851.