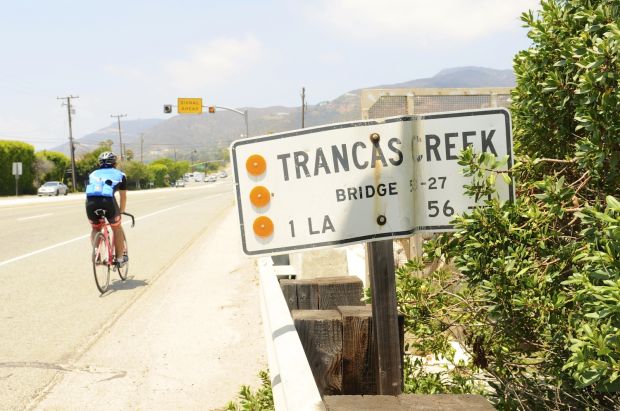 The second Trancas area/western Malibu stakeholders meeting was held last week to review the status of three government-initiated projects slated for one general location: restoring the long-gone Trancas Lagoon, reconfiguring the Trancas Creek flood channel that runs through the Malibu West subdivision, and an $8 million project to replace the aging Pacific Coast Highway bridge over the creek.
Caltrans is heading the bridge replacement project, but the lagoon and flood channel plans are being managed by the Santa Monica Mountains Resource Conservation District (RCD) and the National Park Service (NPS). Caltrans representatives said they "want to make the projects complimentary in terms of work and schedule," but that could be in jeopardy since RCD and NPS are playing the waiting game in an ongoing divorce battle between Trancas Country Market owners.
In a saga that began in 2008, former Trancas Country Market owner Dan Bercu agreed to dedicate the adjacent 7.6-acre vacant lot with Trancas Creek as permanent open space in return for concessions on his property remodel. But before turning the land over to NPS, Bercu sold that and the shopping center to Zuma Beach Properties, LLC, owned by Paige and Bo Dubbert (Paige is a Wal-Mart heir).
In a 2010 legal settlement with local resident Hans Laetz, the Dubberts agreed to Bercu's original offer to hand over the lot. However, the couple is now embroiled in a lengthy divorce and lawsuit, and title to the vacant property still has not been cleared to NPS.
Legal representation for Zuma Beach Properties at the meeting confirmed the ongoing "dispute" would prevent a property transfer "at this time." They had only informed RCD about this latest delay the day before the stakeholders meeting.
During the meeting, officials had yet to evaluate how the delay would affect their coordinated timeline and other joint agency efforts. They said the Dubbert divorce will likely hold up the lagoon restoration, but have no effect on the bridge replacement. They also confirmed that flood channel upgrades could probably proceed independently of the lagoon restoration.
The agencies had hoped to save time and money by submitting joint permits and grants. One master environmental report might be prepared for all three projects.
"It could provide a very streamlined way of permitting," said Rosie Dagit, senior conservation biologist with RCD.
Caltrans' timeline for replacing the bridge:
January 2015: Prepare the California Environmental Quality Act (CEQA) document
June 2016: Release the draft environmental impact report (DEIR) for public review 
March 2017: bridge design 70 percent complete and permit applications begin
March 2018: release bridge bid packet
April to October 2019: bridge construction
Caltrans officials reaffirmed the agency's belief that the 1925/1946 bridge is "ancient and needs to be replaced." The $8 million estimated cost for the project has already been set aside. The new bridge will be longer in length – at least 120 feet instead of the current 97 feet, "in order to accommodate creek flow" and "reduce its impact on the creek," said Karl Price, senior environmental planner for Caltrans.
Local residents raised concerns about whether Caltrans intends to put a footpath under the bridge so beachgoers can safely cross under PCH to get to Trancas Country Market. The existing bridge is fenced off by Caltrans, effectively blocking access underneath to most pedestrians. Caltrans offered no explanation for why the bridge is fenced off, but seemed receptive to the footpath idea.
Clark Stevens, executive officer and land planner for RCD reviewed in detail several possible designs for a Trancas Lagoon restoration.
Laetz was concerned the proposed lagoon could reach his back patio in flood stage, but Stevens said it would not come close.
Randy Chapman, associate engineer with Huitt-Zollar Engineers, reviewed proposed changes for the concrete flood channel. 
"Current designs don't allow for fish passage, but new design concepts will allow for fish passage all the way up to the headwaters," he said.
New design alternatives include a soft bottom as opposed to solid concrete, vertical sides, a low-flow fish passage channel and low vegetation for fish refuge. Two designs have been submitted to the National Marine Fisheries Service for a preliminary fish passage analysis.
Some Malibu West residents were also concerned that changes to the flood channel could make their homes more vulnerable to flooding, but were told the new designs actually increase the channel's water- and debris-carrying capacity.