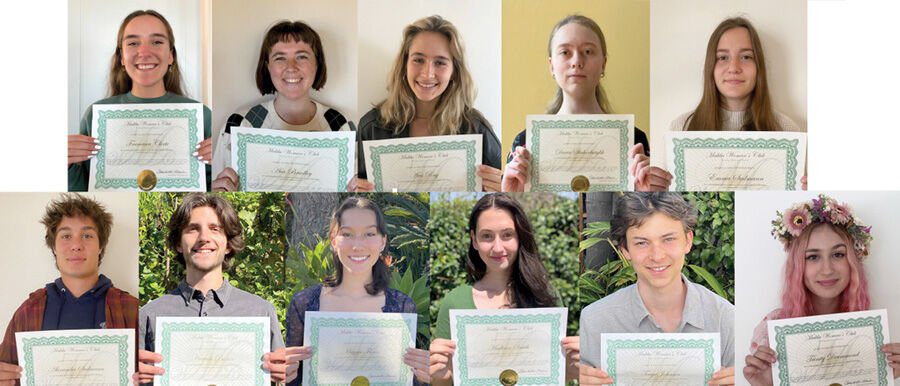 Eleven outstanding and deserving students have been recognized by the Malibu Woman's Club for their academic and community service achievements in high school. Dozens of area high schools were notified about the annual scholarship program that is available not only to seniors graduating Malibu High School, but also to residents who attend school elsewhere. 
After serving 16 years in some capacity on the scholarship committee, this year's Malibu Woman's Club Scholarship Chair Charlotte Ward said this is one of the brightest and most promising group of scholars ever chosen in the group's 60-year history. In fact, usually the Malibu Woman's Club awards 10 senior scholarships of $1,000 each, but in a year with so many outstanding students, 11 were distributed.
The application process is multi-layered. Students submit an essay (usually their college application essay) and list their extracurricular activities and community service along with accredited grades from ninth through 12th grades. Also, three recommendations—two from school and one personal—are required.
Ward commented the scholarships are not awarded based on grades alone. 
"They had stunning grades. There were seven valedictory students, but scholarship is only one part because we have a three-pronged interest. One is their scholarship, another is their community service, which is very important to the women in the club, and then the third is their activities.
"Through the years we have had such interesting people," Ward continued. "They go to extraordinary camps in the summer—Stanford, engineering, there's been an opera singer, there have been multiple musicians and dancers who have achieved major important things."
This year, one scholar, Trinity Drummond, appeared on TV's American Idol and The Voice. Another overcame dyslexia, created a cookbook and has now been accepted to some of the most competitive colleges in the country. This year's winners include business owners, accomplished musicians and multi-lingual students.
"It is the highlight of the year for the members of the club to award these students," Ward said. "We work all year to earn the money to give the money in order to award the community. Our motto is 'nurturing the leaders of tomorrow.' And it's not just one kind of leader. It's not just the academics. It's the overall marvel of these children. They promise in so many different ways. It's worthy of noting that sometimes people who don't know about our club say, 'they're just rich kids in Malibu so why would you work so hard just to give to rich kids?' 
"This is not the way it is at all," Ward continued. "We look at these applications blind. We don't know who they are. Sometimes there are famous names, but we are not aware of that when we are judging. We find these kids remarkable. Sometimes when we read their essays we note that their house burned down or they moved nine times or a parent has died. They've had siblings who have special needs or they care for their grandparents until they die—the service part of their lives and overcoming their own illnesses or hardships is a major condition in their whole presentation. We take all of that into account."
The 11 winners this year are: Francesca "Frannie" Cloete, MHS; Ava Bradley, MHS; Ava Ray, MHS; Daria Shcherbatykh, MHS; Emma Sudmann, MHS; Alexander Sudmann, MHS; Hamish Buran, MHS; Maggie Flores, MHS; Madison Smith, MHS; Teage Johnson, Viewpoint School; and Trinity Drummond, MHS.
Malibu Woman's Club was established in 1961. The club is dedicated to the purpose of promoting the education of the youth of Malibu. Through its fund-raising activities, it provides annual scholarships for academically deserving Malibu fifth grade and senior high school students.
More than 100 fifth graders from Webster, Malibu Elementary and Our Lady of Malibu applied for the Malibu Woman's Club fifth grade scholarships. This year's youngsters were given a prompt to create a fire prevention campaign along with a Malibu mascot. The essays are graded anonymously. "It's unbiased judging," said fifth grade scholarship chair Pam Feldsted. Each school's fifth grade classes were awarded a first and second place winner. There were a few honorable mentions. First place winners were awarded $150. Second place winners received $100.
"This year we opened it up to any kind of media," Feldsted explained. "The last 59 years were only essays. This year we allowed any form of artistic expression. Some of them did dances, videos, puppetry, posters, claymation. Some wrote essays or poems. They were very creative and very protective of the Malibu environment."
---
Senior Scholarship Winners:
Francesca "Frannie" Cloete, MHS 
Frannie Cloete is an accomplished soprano who has performed in venues around the world. She sings to make money and contribute to arts programs. In her personal life, she has overcome struggles including losing her home in the Woolsey Fire and moving nine times.
Ava Bradley, MHS, Valedictory 
Ava Bradley is a high achieving student in Spanish and math who spends her free time volunteering at a nursery school as well as at the Boys and Girls Club of Malibu. She is also active in Model UN at Malibu High School and works a part-time job.
Ava Ray, MHS
Ava Ray is a math whiz who is also a small business owner and published author. She is also active in chorus and acting at Malibu High School and wants to pursue behavioral neuroscience as a career.
Daria Shcherbatykh, MHS, Valedictory
Daria Shcherbatykh moved to the United States from Russia shortly before entering high school. Daria hopes to one day find work as a lawyer and diplomat, making use of her passion for writing.
Emma Sudmann, MHS, Valedictory
Emma Sudmann is an accomplished cellist as well as a volunteer on horseback at Triple J Ranch. The trilingual MHS senior earned a place as a National Merit Scholarship Finalist and hopes to one day apply her passion for robotics in a career as an engineer.
Alexander Sudmann, MHS
Musician Alexander Sudmann plays for both the Malibu High School and Pepperdine orchestras and took first place in the Optimist Club Music Festival. He is also a chef and founder of Alex Food Table and a two-sport varsity athlete who speaks three languages.
Hamish Buran, MHS, Valedictory
Hamish Buran's life experiences include working as a handyman, moving five times in six years and living with a close relative with special needs; Buran also found time to pursue athletics and music, in addition to volunteering as a peer counselor and a Best Buddy.
Maggie Flores, MHS, Valedictory
Maggie Flores overcame dyslexia to edit and design for the Malibu High School Current Newspaper, as well as creating and publishing a cookbook of family recipes. She is also a Spanish speaker, junior lifeguard and recipient of an Optimist Club Award.
Madison Smith, MHS, Valedictory
Madison Smith hopes to apply a diverse set of interests including art, design, math and engineering to architecture. Smith is president of MHS's Zanmi Club, as well as a peer mentor, graphic designer and varsity athlete.
Teage Johnson, Viewpoint
Teage Johnson is a member of Viewpoint School's Cum Laude Society and hopes to use his interest in math and finance for algorithmic trading, economics, and risk management. 
Trinity Drummond, MHS 
Trinity Drummond is an award-winning performing artist who has appeared on American Idol and The Voice, as well as donating her time and talent to charity performances.
---
Eighth grade poetry scholarship winners:
The Broken Bench by Jude Cupp
I remember when we all first sat on the bench,
I remember when we all first talked on the bench,
I remember when we all first laughed on the bench,
And I remember when we all broke the bench.
I remember seeing the bench be taken away,
I remember seeing it later discarded in the trash,
I when remember the bench was gone,
But we were not.
Some of us were always there,
Some of us were barely ever there,
But we all sat on that bench,
And we were all there to see it break.
We were still there after the bench,
Wandering the grounds,
Seeing each other in other ways,
But the bench was forever gone.
We moved on,
We no long belonged to the bench,
But to each other.