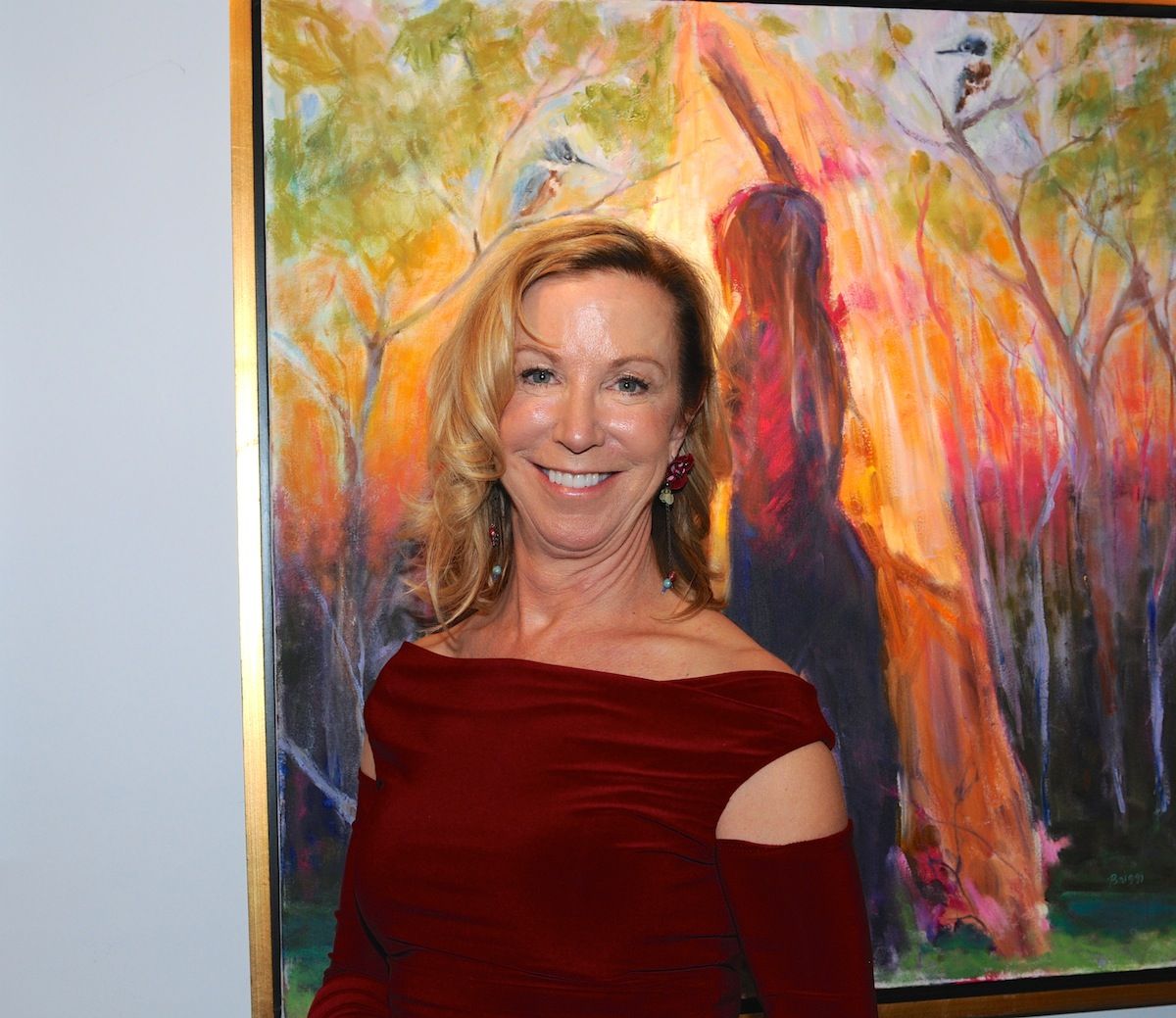 After 25 years as a highly successful and critically acclaimed artist in New York "doing paintings that hung over people's sofas," artist Briggs Whiteford moved to Malibu and decided to try something different.
Although she didn't label it a midlife crisis, after the youngest of Whiteford's two children entered college, she yearned to break free – free of a 20-year marriage as a "corporate wife" in New York. Free of her wealthy conservative South Carolina upbringing as a debutante. Free of the impressionist landscapes she'd been painting for decades.
"I was in New York studying at the New York Studio School and realized I was done with the New York art scene. Some of the world's best living artists had taught me," Whiteford said. "It was time to take everything I'd learned and use it."
"I'd been artist of the year at Huntsville Museum of Art, I was selling my work everywhere, and I had a following; so I kept doing it," Whiteford said of her earlier art career. "But finally, it wasn't me anymore – I'd run the course of impressionist landscapes."
About five years ago, Whiteford enrolled in the master's program in spiritual psychology at the University of Santa Monica, fell in love with the area and decided to make the move to the West Coast. Although not a member of any particular religion, she wanted to learn more about herself and find her voice.
Eventually, Whiteford set up her own art studio in an old building inside Cosentino's nursery, where she began transforming her art to reflect her own process of self-discovery. 
"This particular studio was a shack with no electricity, and I made it into a gallery," she said. "I began painting much more soulfully and freely; and my images are now much more surreal. It's part of my own development in wanting to go deeper."
"My practice for 25 years was painting from life. Now, I paint from my imagination.  I can now paint the forms without looking at them, and that was a big step for me," Whiteford said. "All the freedom and beauty out here [in the Malibu area] allowed me to liberate myself."
On November 8, Whiteford held a reception at her studio for her newest and most creative body of work so far, a collection of 20 thematically related paintings she refers to as "Unreasonable Women." 
"The event was magical," she said. "Over 100 people came out from all over. I love connecting with people over the artwork."
"It was a nine-month process to make all these paintings — it's all very new and edgy," Whiteford said. "I put my whole life and every experience into each painting. Some works happen quickly while others take months because they come from such a deep place."
The paintings are various sizes. One of the first in the series shows a woman hesitantly setting out on a path leading away from her home – symbolic of Whiteford herself entering unchartered territory in her own life. In another painting, a woman on a tightrope over a gorge is being watched by a white owl, also symbolizing Whiteford's leap into the unknown. That painting was sold to be used on a book cover.
Dreamlike images of women, birds and/or elephants make up many of the pieces. 
"I love the feminine," Whiteford said. "I also love the species intermingling, and where animals look like people and people look like animals, especially elephants because they have a lot of human qualities of compassion and feelings. They mourn their dead and have love and family connections."
Whiteford decided on the name "Unreasonable Women" for the exhibit because "all of the women in this series are stepping outside the realm of reason and into the realm of magic, miracles and creativity. They're in between worlds. And putting the woman and the elephants together is unreasonable."
When asked what her two 20-something children thought of her new art, she said they went, "Whoa, Mom!" after seeing it for the first time.
As to what's next, Whiteford is still giving it some serious thought. Her work "will probably still involve elephants," she said. Otherwise she wants to focus on portraying "strong and clear feelings of what it is to be alive in this moment."
Briggs Whiteford Studio is located at 25019 Pacific Coast Highway. Her work can be viewed online at BriggsWhiteford.com.