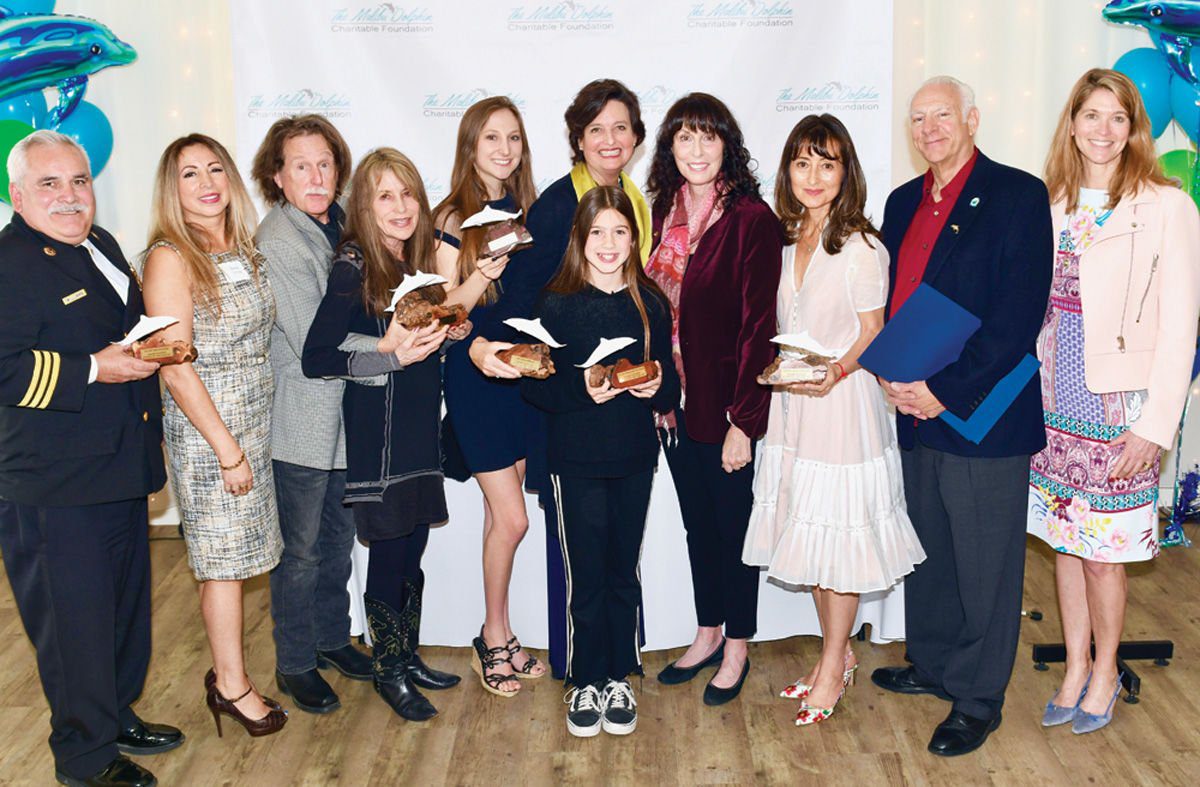 The Malibu Dolphin Charitable Foundation has announced the 2020 Citizen of the Year Award honorees. The following candidates are commended for their hard work and commitment to the Malibu community, and will be honored at the Dolphin Awards Ceremony in October. The ceremony, which usually takes place each March, will be scheduled in accord with health department safety recommendations and will honor this year's winners as well as the 2019 Dolphins (last year's luncheon was suspended due to the virus).
Malibu Times Publishers Arnold and Karen York were foundational board members of the 501(c)3 nonprofit Dolphin Charitable Foundation and currently sit on its board of directors.
Homeless outreach workers
Tiffany Stewart, Scott Edens and Gabriel Graham, Malibu's three homeless outreach workers, were nominated for Dolphin Awards for having "worked tirelessly in our community, five days a week for several years to connect our homeless friends with the services they need when they are ready for a fresh start." The three rolled with the punches through the pandemic, navigating shifting rules and processes to continue to serve those who need their help most in Malibu.
Siugen Constanza
Malibu Boys and Girls Club's Siugen Constanza, director of community affairs and outreach, was nominated by multiple people for this year's Dolphin Award. "In addition to all of her responsibilities at the Boys & Girls Club and Wellness Center, Siugen was instrumental in the emergency relief effort in the aftermath of [the] Woolsey Fire, coordinating volunteers, donations of goods and services, and counseling," one nomination stated. She has been active in the local school and youth community for 23 years—"she does it with all her heart, hours and hours of her time," another nominator said, with "an expertise that is astonishing."
Michael Smith
Our Lady of Malibu School Principal Michael Smith was nominated for a Dolphin Award this year after having "built deep within our community and developed a rigorous academic program for all grades (K-8) including a TK program which he introduced in 2019-20," his nomination stated. Smith was described as a "beacon that guided us through the Woolsey Fire," and a determined, dedicated leader.
Didier Beauvoir
Didier Beauvoir, a Malibu Middle School math teacher, teaches his students more than math—"how about pride, self-confidence, responsibility, assertiveness, respect, teamwork, problem solving (not just the math kind) and citizenry?" his nomination said. Beauvoir teaches eighth grade math, algebra honors and geometry honors, as well as character building skills. He is known as a tough teacher whose students learn the subject matter while being treated with fairness, compassion and understanding. In addition, his nominator pointed out, he fosters rescued rabbits.
Jodi Plaia
The force behind Malibu High School's thriving theater arts program, Jodi Plaia, earns a Dolphin Award this year, having "teased out better than the best from hundreds of students as actors, stagehands, musical backup, costume and wardrobe specialists, PR and advertising people, and more." Plaia has more than 45 plays under her belt as director at the high school, including overcoming the challenges of COVID-19 to produce the socially distanced "She Slays Dragons," via Zoom. She is nominated for having made "significant and indelible contributions" to the community.
Harvey Baskin Business Award—Doug Burdge
Architect Doug Burdge earns this year's Harvey Baskin Business Award for his efforts to help rebuild Malibu following the Woolsey Fire. The effort, called ReBu, was founded in spring 2019 with the goal of giving support—and hope—to fire victims. In addition, Burdge sponsored a rebuild fair to help victims find options that would work for their needs, as well as collecting resources for recent fire victims (items like deodorant and diapers) in the immediate aftermath of the fire.
Sean Penn and Dr. Lisa Benya
Anyone who received a COVID test at Malibu City Hall over the past year has two people to thank: actor Sean Penn and Dr. Lisa Benya. Penn, a humanitarian who founded the nonprofit CORE, is responsible for facilitating testing in Malibu and across LA County, mobilizing as soon as the virus took hold in Southern California. Locally, Benya has dedicated herself to providing testing to the Malibu community, "on her feet for hours, administering tests to endless lines of cars at City Hall," her nomination stated. For this, each has earned a Dolphin Award this year.
Malibu Urgent Care doctors
Malibu Urgent Care doctors David Frankle and Jill Furgurson have been named Dolphin Award recipients after having been on call in the community for over 25 years, from day-to-day illnesses and injuries through the Woolsey Fire and into the pandemic, where they stepped up to provide testing to the community. The Urgent Care center, run by the dedicated team of Frankle and Furgurson, "has enabled our community and visitors the opportunity to be treated for everything from finger amputations to the common cold," their nomination stated.
Youth Dolphins
Three Malibu young people have been named Youth Dolphin Award recipients for 2020: Linda Morazan, Jaz Abbey and Drake Dejute-Erickson. All three have spent countless hours volunteering in the community as well as in various leadership roles. 
Public Service Dolphin—Craig Sap
Longtime Angeles District Superintendent for California State Parks Craig Sap retired in 2020 after 31 years in public service and 10 years as supervising ranger in the Santa Monica Mountains. Sap saw the park through numerous fires, landslides and other emergencies, "everything from the ocean to the mountains to the Adamson House … everything from wildfires to the Rindge Dam project to the Malibu Lagoon reconfiguration, not to mention fish die-offs, dead bodies and shootings."
Public Service Dolphin—Christi Hogin
Christi Hogin receives a 2020 Dolphin Award upon her retirement from the City of Malibu, where she served as city attorney beginning in 1990, before the city was incorporated, as well as serving for a stint as city manager. Hogin, who retired in December, helped shape the city in its early ears, defended the city's interests to the California Coastal Commission numerous times and provided expert legal counsel to council members and city staff. She earns a Dolphin Award for her service to the City of Malibu.
Public Service Dolphin—Rick Mullen
LA County Fire Captain and former Malibu City Council Member Rick Mullen earns a Dolphin Award for his work on Malibu City Council from 2016-2020, including guiding the city through the Woolsey Fire and its aftermath. Mullen, on call with the fire department during Woolsey, worked to save homes during the initial firestorm, before stepping into his role as mayor to communicate and coordinate needs in the days, weeks and months following the fire.
Jefferson "Zuma Jay" Wagner (certificate)
Jefferson "Zuma Jay" Wagner, an eight-year council member (2008-12, 2016-20), will receive a certificate for his service on city council. Wagner earned a Dolphin Award in 2012, after dedicating "endless numbers of hours to the service of the city and the citizenry of Malibu."
See a complete list of former recipients here.